Dee Gordon 'surprised' but excited by trade to Miami Marlins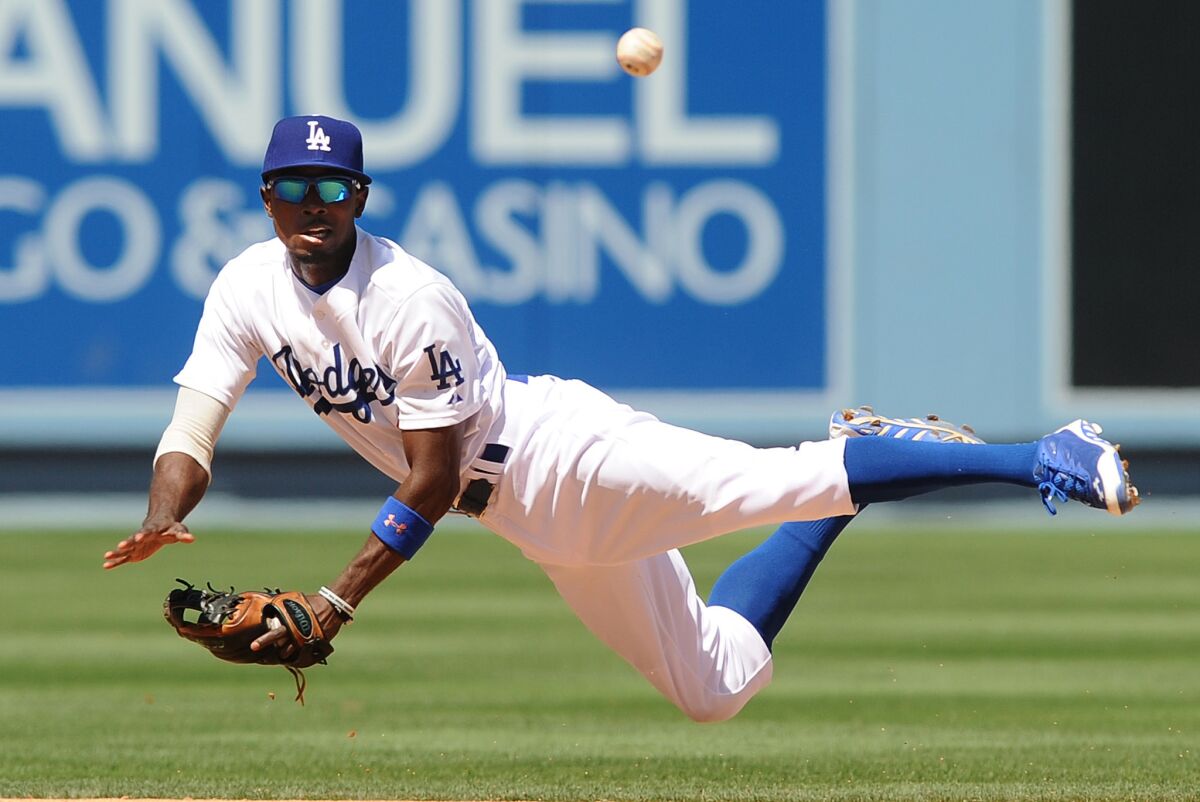 REPORTING FROM SAN DIEGO —
For a few minutes on Wednesday, Dee Gordon was excited about turning double plays with Jimmy Rollins.
The excitement did not last. Not long after Gordon represented the Dodgers at a charity event, he learned that the team had traded him to the Miami Marlins.
"I was definitely surprised," Gordon said Thursday. "I was happy about the Jimmy Rollins deal. Then I found out I got traded."
Gordon, who reported last spring with the hope of winning a utility job and ended up as an all-star second baseman, said he did not expect a trade this winter after hearing his name in rumors the previous two winters.
He said he did not have cellphone service at his location Wednesday afternoon, so it took him some time to learn of the trade that already had become public.
"It seemed like it took forever to get that phone call," Gordon said.
He said he was not disappointed that the Dodgers had traded him -- "My dad [former major league pitcher Tom Gordon] told me this is part of the business" -- and that he was looking forward to showing the Marlins how well he could play.
"I did that with the Dodgers," he said. "I showed everyone I could play after a few rough seasons."
Gordon lives in Florida and said he was "definitely excited" to play in his home state.
"I've got grandmothers who haven't been able to leave to see me play," he said.
The Marlins plan for Gordon and Christian Yelich to bat atop their lineup, a speed duo reminiscent of the Juan Pierre-Luis Castillo pairing that sparked the Marlins to the 2003 World Series championship. Marlins Manager Mike Redmond was a catcher on that team.
Redmond, who met Gordon at 1 a.m. Thursday, called his speed a "game changer." "He reminds me a lot of Juan Pierre," he said.
"This is an impact player. What a great kid. He's excited to be a Marlin. He'll fit perfectly for us," he said
The Marlins plan for Giancarlo Stanton to drive in Gordon all summer. Gordon recalled playing against Stanton in double-A.
"He hit the farthest home run I think I've ever seen in my life," Gordon said. "It's going to be amazing to hit in front of him."
Follow Bill Shaikin on Twitter @billshaikin
---
Get our Dodgers Dugout newsletter for insights, news and much more.
You may occasionally receive promotional content from the Los Angeles Times.