Dodgers' Adrian Gonzalez supports new pace-of-game rules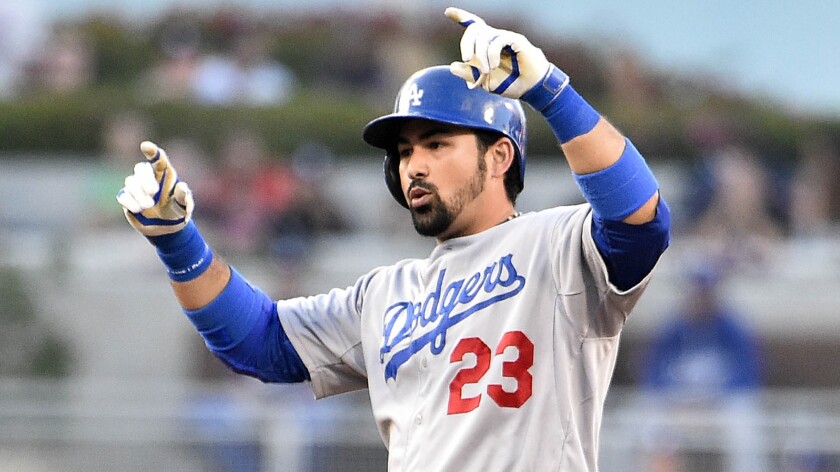 Dodgers first baseman Adrian Gonzalez said he understands why baseball's new pace-of-game rules are necessary.
"It's a TV-driven game, at least the financials of it," Gonzalez said. "TV wants the game to end in three hours. Everything that's going on with increased payrolls is because of TV. We have to be OK with that. That's the way the game is going. If they ask for us to keep the game under three hours, we have to try to keep the game under three hours."
Gonzalez likes that rule violations will result in fines instead of automatic balls and strikes.
"I don't think it should be a ball or a strike call because that completely changes the game," he said. "You don't want that, a ball or a strike without a pitch being thrown.
"The one thing we don't want is for the game to change. But keeping a foot in the box isn't changing the game. It's changing the way people get ready for a pitch, but it's not changing the game."
The four-time All-Star said he would like for the fines to go to players' charities, including the Players Trust, and not the league office.
Gonzalez envisions some problems arising, particularly with the rule that limits time between a third out and the first pitch of the following half-inning.
"Obviously, there should be exceptions and I think there will be," he said. "What if an outfielder makes a diving catch deep in the gap to end an inning, does he still have two minutes to get in, put his helmet on, catch his breath? It's a long ways to come in. There should be an exception to that."
As for players who are complaining about the new rules, Gonzalez thinks they should have spoken out earlier.
"I think it's funny for me to hear players complain about not liking the fact they can't get out of the box, but every spring training, we have the players' association come in and give us all the tools so we can be plugged in and be involved. If you don't like something, you can voice your opinion. The fact this got through and the players' association signed off on this means the players weren't against it. Now, people are speaking against it? Why weren't they speaking before? I think it's something we all agreed on and it's something that's good for the game.
"The players association, we have a website, we have an application, we have accessibility to the player reps. We have to be accountable. We shouldn't be going against something after the fact."
Because Gonzalez doesn't step out of the batter's box often, he thinks the rules will have a minimal effect on him.
Still, Gonzalez said he's thought of fun ways to skirt the rules.
"I was thinking the other day that if I come out with some goofy shoes to make my foot bigger, I could say, 'Hey, my toe's still inside the box,'" Gonzalez joked. "I thought that would be funny, wear like a size-30 shoe."
---
Get our Dodgers Dugout newsletter for insights, news and much more.
You may occasionally receive promotional content from the Los Angeles Times.