New baseball rules should speed up games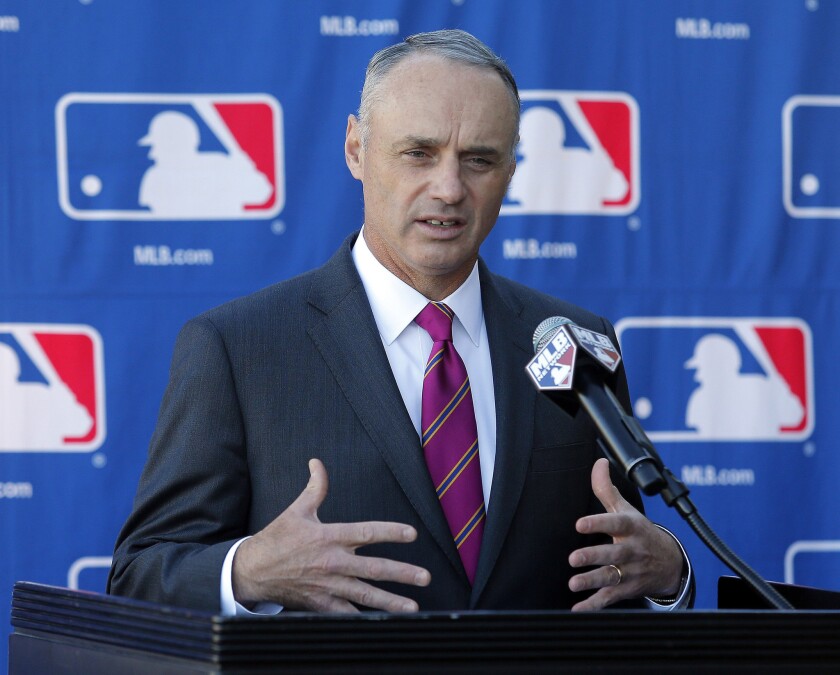 No longer will baseball fans be subject to a batter stepping out of the box, adjusting his batting gloves, taking a practice swing, spitting a couple times — and then repeating the entire routine between each pitch.
Major League Baseball announced rules Friday designed to quicken the pace of its games, most notably a requirement that batters keep one foot in the batter's box.
MLB also said clocks posted in each ballpark would count down to the resumption of play after each TV commercial break, with pitchers required to end warm-up throws with 30 seconds remaining and batters required to enter the box with no fewer than five seconds remaining.
Managers Mike Scioscia of the Angels and Don Mattingly of the Dodgers lauded the intent of the changes. Scioscia said the games — specifically the time it takes a pitcher to enter from the bullpen and the span between pitches — needed to be "tightened up."
"I hope it doesn't go to the extremes of a pitch clock and limiting the number of throws to bases that will affect strategy of the game," Scioscia said, "but there's no doubt something has to be done and there are some common-sense things that we can apply that will make the game flow go better."
Mattingly said he was "all for us playing at a better pace. The dead time in between pitches, cut out some of that. I think it will be good for the game."
Angels catcher Chris Iannetta said the league and players should strive "to put the best product on the field and [deliver] the best fan experience we can have.
"The game is driven by fan interest," he added, "and if something is hurting from the fans' perspective, that's a detriment in their eyes, we have to make adjustments."
Angels star Mike Trout is among the players who often step entirely out of the box between pitches, but Scioscia didn't anticipate that the new rules would hinder a player's ability to mentally prepare for the next pitch.
"Some guys are going to have to adjust what they do," Scioscia said. "Walking 15-20 feet out of the box between pitches serves no purpose, and that needs to be eliminated."
Said Iannetta: "Everyone likes to step out and collect their thoughts at some time. I'm sure there will be some time for that."
Dodgers pitcher Brandon McCarthy expects the players will easily adapt. We all are creatures of habit," he said, "but we can all adjust pretty quickly. Everything feels unnatural until it's natural."
Scioscia said he considered the changes "a work in progress" but sounded hopeful that MLB was committed to doing whatever it took to make a game "more reasonable" in length. "Our game should have a certain pace to it, of getting on the mound, making a pitch, getting prepared, making another pitch, in a reasonable amount of time," he said.
Another change is that managers wishing to call for an instant-replay challenge will now be able to do so with a signal from the dugout, rather than walking out to an umpire on the field.
"I don't think there's any reason to have to leave the dugout," Mattingly said.
Baseball officials have fretted as the average game time has passed three hours, but Atlanta Braves President John Schuerholz — chairman of MLB's pace-of-play committee — said the primary goal of the new rules was to eliminate routines that put a drag on the game.
"It is not an objective of ours to achieve a dramatic time reduction right away," Schuerholz said in a statement. "It is more important to develop a culture of better habits."
Under the rules, players will be subject to warnings during spring training and in April, with fines thereafter. The league promised to donate to a players union charity "based on the level of adherence to the new rules."
Batters still can step out of the box under several conditions, including a swinging strike, wild pitch, passed ball, pickoff play or meeting at the mound.
Pitch clocks will not be used in the major leagues, although they will be used in selected minor-league games.
MLB also unveiled refinements to the instant-replay system introduced last year: In postseason, tiebreaker and All-Star games, managers will get two challenges instead of one. Also, a manager winning a challenge is no longer limited to a second challenge. As long as a manager wins a challenge, he gets another.
Follow the reporters on Twitter @BillShaikin and @MikeDiGiovanna
Staff writer Dylan Hernandez contributed to this report
---
Get our high school sports newsletter
Prep Rally is devoted to the SoCal high school sports experience, bringing you scores, stories and a behind-the-scenes look at what makes prep sports so popular.
You may occasionally receive promotional content from the Los Angeles Times.