Dodgers catcher A.J. Ellis to undergo knee surgery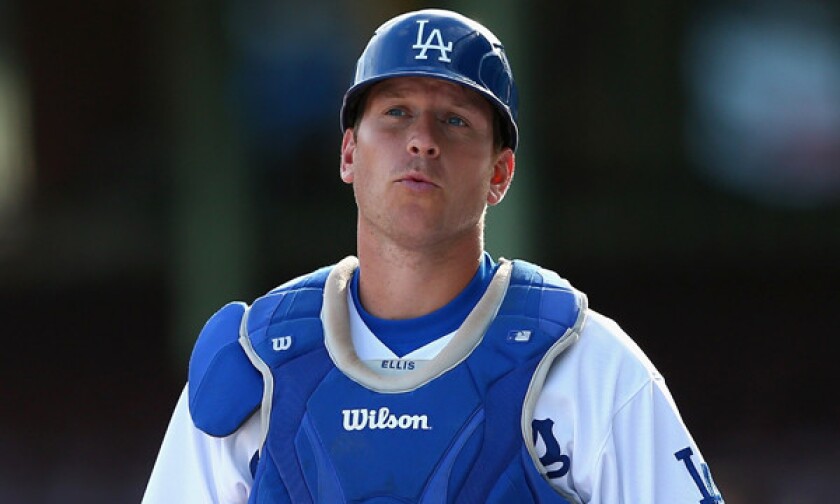 The Dodgers are expected to be without catcher A.J. Ellis for at least the next month.
Ellis will have an arthroscopic procedure Tuesday for torn cartilage in his left knee.
Provided the damage to the knee isn't more extensive than the Dodgers believe it to be, Ellis could return in four to six weeks, according to a person familiar with the situation who spoke under the condition of anonymity.
The person said Ellis was injured Saturday when he planted his left leg rounding third base in the seventh-inning of the Dodgers' 7-2 defeat to the San Francisco Giants. He was thrown out at home on the play.
Ellis didn't play Sunday. Drew Butera started in his place.
The Dodgers said they would make a roster move Tuesday before they face the Detroit Tigers. Ellis will be on a disabled list that includes Clayton Kershaw, Brian Wilson, Josh Beckett and Chad Billingsley.
The team is expected to recall Tim Federowicz from triple-A Albuquerque. Federowicz, 26, will likely be the team's primary catcher in Ellis' absence.
Federowicz has caught 51 games in the major leagues, including 44 last season. He is a .227 hitter in 66 games.
To safeguard against this very scenario, the Dodgers included Butera on their opening-day roster instead of Federowicz. The decision came down to this: Federowicz could be sent to the minor leagues without clearing waivers and Butera couldn't be.
Butera, 30, is defensively solid but a career .180 hitter.
---
Get our Dodgers Dugout newsletter for insights, news and much more.
You may occasionally receive promotional content from the Los Angeles Times.