Dodgers call it a camp, but decisions still loom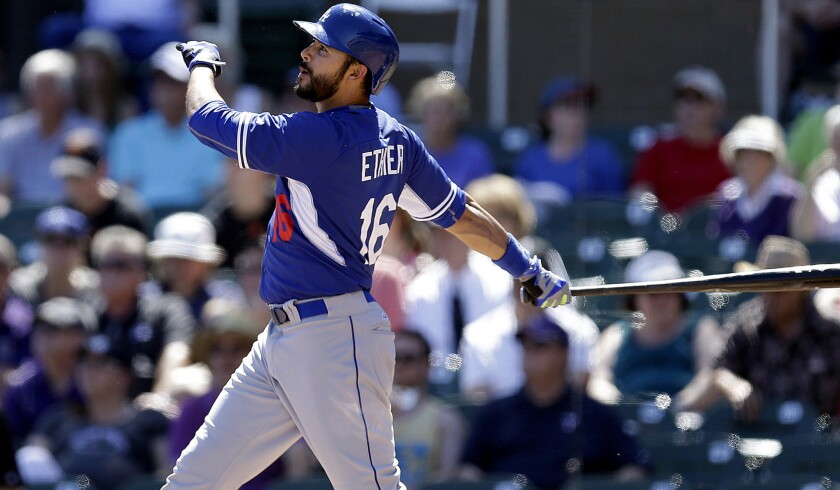 They packed their bats and gloves and laptops and called it a camp. For the Dodgers a spring's work was done. Or as close as they could manage, anyway.
The Dodgers completed their Cactus League season Wednesday with an almost fitting 4-4 tie with the Royals in Surprise, Ariz. They finished the desert league schedule 16-9, with a record seven ties.
Almost all of the team was long gone before Wednesday's game started, headed back to Los Angeles to begin the Freeway Series on Thursday in Anaheim. As scheduled, Clayton Kershaw went three efficient innings Wednesday. Back at Camelback Ranch in Phoenix, Zack Greinke threw seven innings in a camp game.
All fine, end of the spring tuneups. Kershaw gave up one unearned run on his own error, allowed one hit, struck out two and walked two. Greinke allowed two runs on solo homers, five hits and struck out nine.
Mostly they got out of Arizona healthy, sans Hyun-Jin Ryu and Brandon League. At least there were no glaring physical setbacks for any position players.
But if they were satisfied with the work of their new double-play combination, happy enough with their catching duo of Yasmani Grandal and A.J. Ellis, and more than happy with the play of Joc Pederson in center, the Dodgers nonetheless broke camp with several unanswered questions:
--They did not uncover a temporary closer to fill in for Kenley Jansen, would could be out until mid-May. Not only that, but the bullpen remains their most unsettled area.
If they were hoping Chris Hatcher, Sergio Santos or even David Aardsma might step into the role this spring, it never happened. They figure to open the season with an actual bullpen by committee.
Yet who will be in the bullpen remains their toughest call. J.P. Howell and Joel Peralta are locks, Juan Nicasio and Hatcher are semi-locks, and you would hope so is Paco Rodriguez.
Then they'd have to pick two more between young arms who have all been impressive -- Pedro Baez, Yimi Garcia, Adam Liberatore -- and veterans looking to rebound -- Santos and Aardsma. Liberatore, despite not allowing a run in nine appearances, probably doesn't get the call because he'd be a third left-hander. Right now, I'd guess Garcia and Santos.
--They still have to identify a temporary fifth starter for Ryu. It appears to be down to Joe Wieland or David Huff. Zach Lee may have put himself back in the conversation by throwing five strong innings after Kershaw on Wednesday, until faltering in the ninth.
--Because their schedule means they won't need a fifth starter until April 14, Manager Don Mattingly said they would probably open the season with an extra position player.
--To this point, the Dodgers have traded neither Andre Ethier nor Alex Guerrero, so assuming Pederson starts in center, there are two backups. Justin Turner and Scott Van Slyke are assured of spots. And normally that would be it, but with Ryu out the Dodgers can pick one more from among Darwin Barney, Enrique Hernandez and Chris Heisey. I'd give the nod to an infielder, and Barney (.341) probably earned it.
Nine days later, though, Wieland or Huff will probably be called up and one more will have to go. The Dodgers essentially have to make six more cuts. Rosters, of course are constantly in motion, even after a productive spring.
---