Chris Withrow pitching like someone who doesn't want to go back down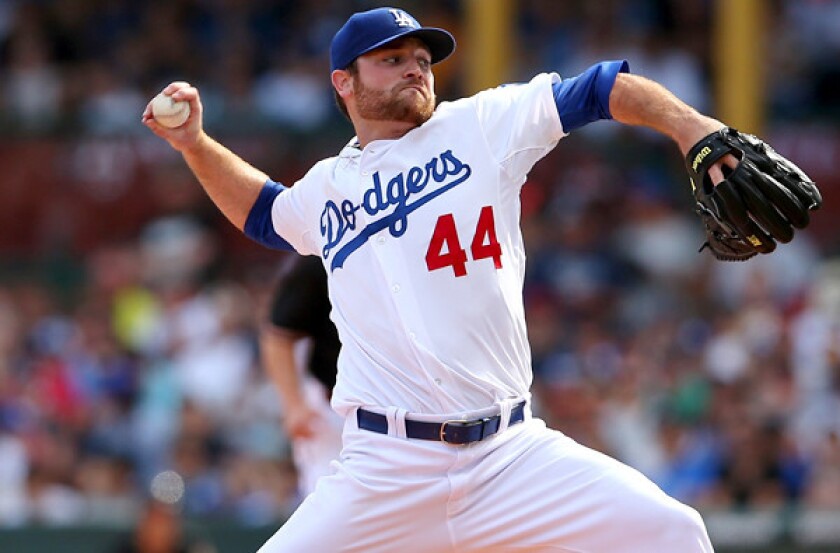 When do some really good baseball numbers still manage to come out looking bad?
When they belong to Chris Withrow.
Withrow has picked up where he left off last year in his rookie season, which was just shy of brilliant. The hard-throwing young right-handed reliever is even hinting at being better.
In his five appearances, he's given up one hit. That works out to a 0.33 WHIP. As I mentioned, really good numbers.
Withrow, 25, is pitching like a reliever who has no interest in leaving the major leagues.
"I've always heard once you get up, it makes you realize the little stuff you take for granted and how much better it is than pitching in the minor leagues," Withrow said. "You do everything you can, on and off the field, to make that a possibility."
However, a bad result could yet be waiting. Reliever Brian Wilson is eligible to come off the disabled list April 15, and Dodgers Manager Don Mattingly said he should be activated somewhere around that date.
That means that if no other reliever is forced on the DL in the interim, one of the current ones will have to go. Withrow and left-hander Paco Rodriguez are the only two relievers with options left, other than closer Kenley Jansen.
"You can't worry about the numbers," Withrow said. "You can't worry about anything but getting the job done when you get your name called. I guess you can try and make the decision harder, but the only thing you can control is how you perform on the field."
Mattingly doesn't want to send Withrow down simply because he has options remaining, though that's essentially what happened to catcher Tim Federowicz this spring. With options left, he went down so the Dodgers could keep Drew Butera. Now that A.J. Ellis is on the DL, Federowicz is back and starting.
Withrow has the kind of arm managers love to see coming out of the bullpen.
"His stuff is power stuff, it's back-end, late-in-the-game stuff," Mattingly said. "And we're seeing it. He's pretty much been going out and being lights out."
That's a difficult pitcher to send back to triple-A. But by next week, if Brandon League or Jamey Wright or some reliever hasn't come up with a sore arm, Mattingly and General Manager Ned Colletti will have a hard decision to make.
"That's what we ask for, is guys to make us make tough decisions," Mattingly said. "We want guys competing, really saying, 'I don't want to go down' by their performance. It's what we ask for."
---
Get our Dodgers Dugout newsletter for insights, news and much more.
You may occasionally receive promotional content from the Los Angeles Times.