Comeback heightens Dodgers' feeling something special is going on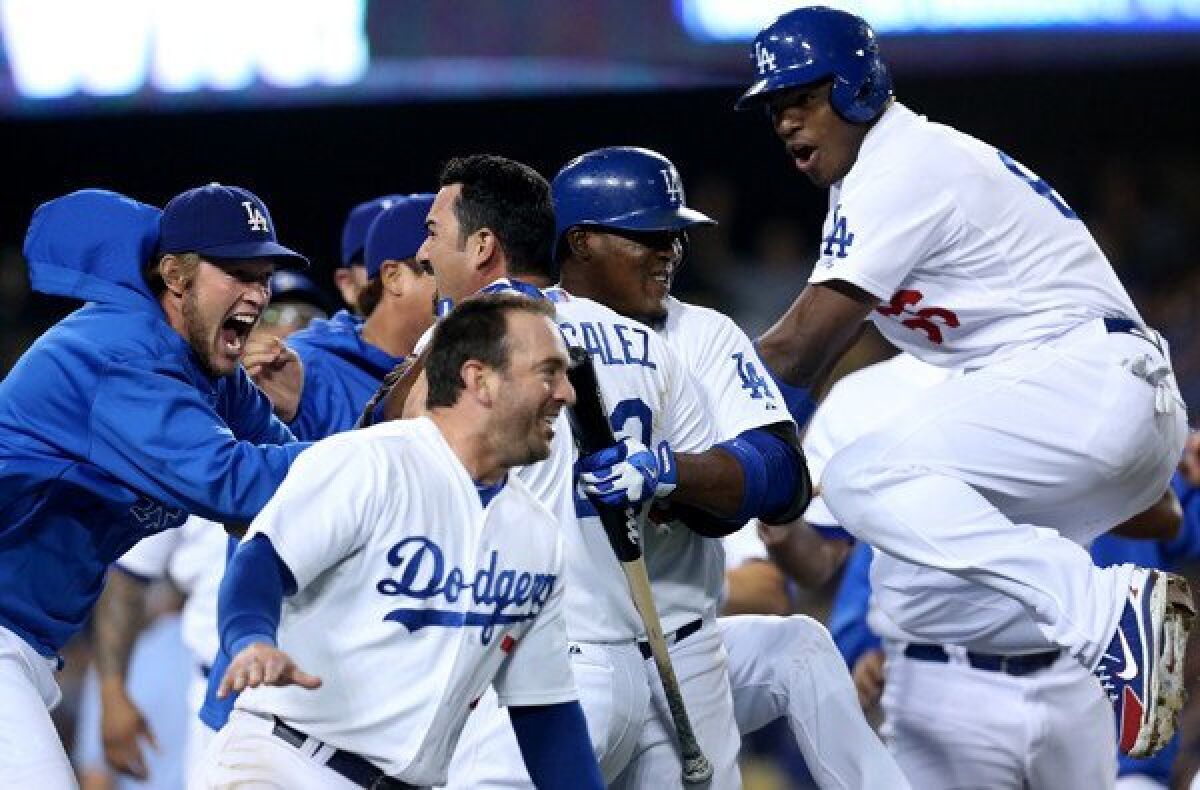 Careful now, don't get too excited. Anyway, try to remember the date and the 47 games still to go and all the strange things that can yet happen.
Are you pulling it off? It can be tough after games like Friday's victory over the Tampa Bay Rays. Probably be a tad tough for the Dodgers, too.
They have been a team playing with supreme confidence for more than a month now, and then they go and stage a remarkable, you've-got-to-be-freakin'-kidding-me rally. Fall behind, 6-0, to reigning Cy Young Award winner David Price and the Rays, and win, 7-6.
When they had no real business winning. Winning after getting home about 4 a.m. following an eight-game road trip, on which they happend to win seven of eight games. Winning by rallying for four runs in the bottom of the ninth inning against Fernando Rodney, he of the 27 saves.
"Coming into the clubhouse every day, you feel like we're going to win," said Skip Schumaker. "That's been a good feeling for the last couple of months. That hasn't changed at all.
"It didn't matter what inning we were in, we felt like if we could keep adding on runs, you never know what's going to happen at the end of the game."
Like Friday. Still down, 6-3, entering the ninth inning, the Dodgers staged one of those beautiful baseball innings that just seems to build with every at-bat, with every pitch. Schumaker singles. Mark Ellis triples him home. Nick Punto singles in Ellis. And then Adrian Gonzalez doubles in Punto to tie the score, 6-6.
By now even the skeptics had to be thinking the Dodgers were going to find a way to win this game.
"We feel we're never out of it," said Jerry Hairston Jr. "Especially when we're at full strength. We just want to give ourselves a chance. Our biggest thing is in the ninth inning, get the tying run to the plate. We were able to do that and found a way to win."
Hairston hit a comebacker to Rodney, who despite his 11 years in the majors, seemed rattled by the Dodgers' attack. He spun to try to start a double play with a throw to second base, but his ball sailed wide right into center field and Gonzalez scored to complete the improbable comeback.
"I've thought something was going on here for the last three weeks, but it was incredible," Punto said. "The crowd was incredible. I think the fans are feeling what we've been feeling for a month inside the clubhouse.
"Now the fans are really getting involved. I was standing on second base in the ninth inning and it was deafening how loud the crowd was. A lot of excitement in this clubhouse and in L.A. -- and for good reason."
The six-run comeback tied the Los Angeles Dodgers' record for largest in their history. Almost like something special is going on.
A season is typically filled with highs and lows, but right now the Dodgers have won 35 of their last 43 games, and games like Friday's only swell their confidence and fuel dreams of greater days ahead.
"This team has so much fight in it," Punto said. "As we've gotten healthy, things have really turned around. [Yasiel] Puig has brought an unbelievable amount of energy to this team. And we're pitching outstanding. It's going to be a fun end of the summer here."
Get our Dodgers Dugout newsletter for insights, news and much more.
You may occasionally receive promotional content from the Los Angeles Times.