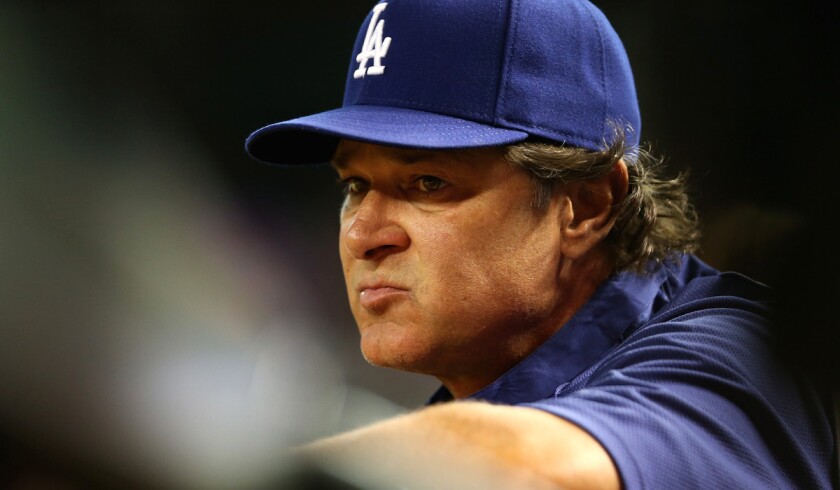 The Dodgers have spent only four days out of first place since July 3, yet Manager Don Mattingly said this season has, in some ways, been more difficult than last year, when the Dodgers entered July in last place.
"We've had a little more turmoil back and forth. A lot of things that happened behind closed doors and stuff that's going on that has just been tedious this year," he said. "But it's what the job [is]."
Mattingly didn't go into specifics -- but then he really didn't have to. Early in the season, when the Dodgers had four healthy outfielders, Matt Kemp and Andre Ethier didn't hide their disappointment over limited playing time. And though Kemp played himself back into the everyday lineup with a blistering second half, Ethier has only nine at-bats this month -- fewer than Scott Van Slyke, Joc Pederson and even pitcher Clayton Kershaw.
Mattingly has also had to manage the health and ego of Hanley Ramirez while dealing with Yasiel Puig's frequent brain cramps, both on and off the field.
"You're trying to get the best out of this club," Mattingly said. "I'm not saying it's bad. It's just part of a group of a lot of personalities and things like that."
And in Ethier's case at least, Mattingly said the turmoil has not disrupted the clubhouse.
"Andre's been a great teammate," Mattingly said. "Andre and I have talked. He's not happy with the situation but he's going to be a good teammate. And he's going to be professional about it.
"That's great for me as a manager and he's great for the guys in [the clubhouse]. It makes it easier for everybody. It doesn't mean he likes it any better."
---