Dodgers -- and someone else -- are going to miss Matt Kemp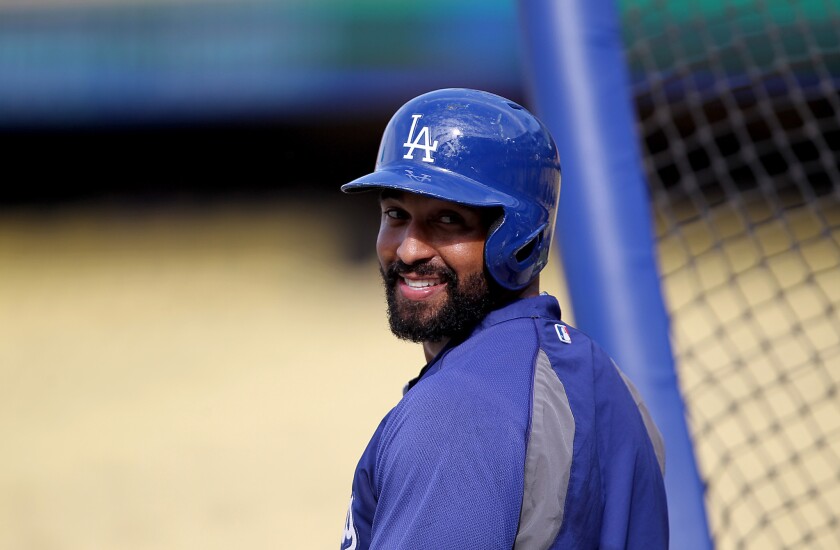 I'm going to miss Matt Kemp. That may come as a shock to many -- particularly Matt Kemp -- but in truth he became my favorite Dodger.
Never felt comfortable, or at least comfortable in the right moment, to share that with him, but guess I can do it now that he has been sent to the Padres in a trade that makes little sense.
Kemp and Hanley Ramirez, the two most dangerous bats in the Dodgers' lineup, are now gone. You could argue they were both on the wrong side of 30, were massively injury prone and divisive in the clubhouse, though I never felt the latter was typically true of Kemp.
Ramirez could be charismatic or sulking into his own world. Kemp could be self-centered, but mostly he was upbeat and like a happy kid in the clubhouse. Certainly he had his moments, but I would never describe him as some clubhouse cancer.
He's spent his entire career with the Dodgers, and in those nine years his talent was never questioned. He could have mind-numbing lapses on the bases and get horrendous breaks on balls while still in center, but when he was focused and healthy like in 2011, he was one of baseball's best players.
Yeah, he enjoyed the spotlight. Loved the attention and celebrities and the whole glamour thing. That's not the worst thing, though sometimes there seemed too much effort in looking cool on a play and not enough hustling his butt off.
But he was unvarnished talent and the dramatic moments he brought the Dodgers far outweighed the mental lapses. He brought excitement to the plate, which is a rare quality these days, and one now missing from the Dodgers lineup.
And deep down, he was a good guy. Demonstrated not only by the constant pleasure he derived in working with children, but for me personally. In truth, Kemp had a problem with me. He refused to explain it. Maybe it was one too many snarky comments or he didn't like my questions or that I had him second in the MVP voting in 2011 or he just didn't understand the difference between straight newspaper reporting and the commentary awarded to a blog.
But last season the Dodgers were on a road trip in Milwaukee and the traveling beat writers were gathered around several players before a game in the clubhouse and the conversation turned to: What if players were going to do a writing job on a sports writer?
I was not there, and players had nominated several scribes when Kemp announced he knew exactly who he would do a piece on, but struggled to come up with my name. My feelings have recovered. He described me as gray hair with glasses and slightly hefty. The scribes were throwing out various names when one finally said "Dilbeck" and Kemp lit up and said, "Yeah, that's the one!"
To which my close Times comrade, peer and ex-friend, Dylan Hernandez, shouted: "Why didn't you just say the old, fat (guy)?"
But see, Kemp didn't go there. Even for a scribe he would just as soon see transferred to another beat, he could not bring himself to say anything derogatory. And so, he became my favorite Dodger.
Assume he will soon become everyone's favorite Padre down San Diego way. In the short term, he will likely make the Dodgers pay for this trade. Down the road, maybe he physically breaks down again and the Dodgers look good for this odd deal.
For today, however, I am privately left without a favorite Dodger.
---
Get our Dodgers Dugout newsletter for insights, news and much more.
You may occasionally receive promotional content from the Los Angeles Times.