Jamie McCourt on lessons learned from divorce, the Dodgers and pink slips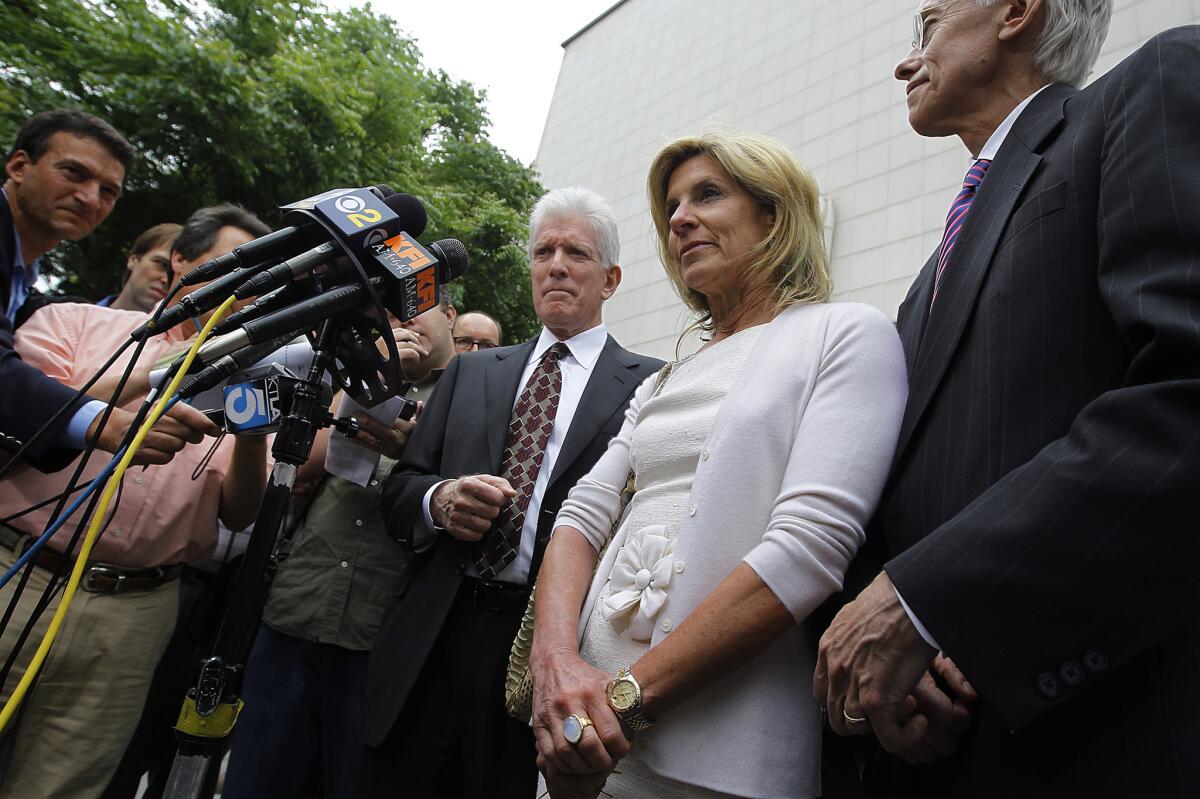 When things got ugly in the divorce between Frank and Jamie McCourt -- and they got cover-the-eyes ugly -- most couldn't pick sides.
They were the couple who spent lavishly on themselves while bankrupting the proud Dodgers organization.
Now, whatever level of esteem you held for the McCourts, divorce is not something to wish even on a Giants fan. It too often gets vengeful, nasty and scandalous, and theirs was all that -- plus very public.
It's been almost four years since they sold the team to the Guggenheim group, and for the most part, they've vanished from public view. Frank still owns the L.A. Marathon, not to mention half of the Dodger Stadium parking lots and a horse-jumping tour.
He has apparently remarried and recently purchased a little chateau in Yellowstone, to go along with his places in New York, Florida, Massachusetts and Los Angeles. Of course, when you sell something for $2.1 billion, you're left with some spending money.
Jamie, who seemed to relish the spotlight so much while operating as the Dodgers CEO -- you know, Stan Kasten's job -- has also gone relatively quietly into her new life. This from the woman who once considered running for president of the U.S.
After the price of the team sale was revealed, she did go back to court to request more than the $131 million and four homes she had agreed to take in their divorce settlement, but failed.
She has been involved in some start-ups, bought a small Napa vineyard, is active in the arts and has learned to make do with her homes in Malibu. But she will also make the occasional speech, and last month did so at an MIT conference covered by Boston Globe columnist Shirley Leung.
She was pretty honest about her time with the Dodgers.
"I got to know everyone -- business people, politicians, everyday citizens, actors, actresses, activists and heads of state. I loved every single minute of it. Right up until the day I was fired. By my husband," McCourt said. "That's right. He gave me a pink slip. And not the kind from Victoria's Secret."
Jamie -- who has a bachelor's degree from Georgetown, a law degree from the University of Maryland and a master's in business administration from MIT -- claimed she was snookered in her divorce agreement because she failed to pay attention to the family finances.
" ... I could not have been more ignorant or naive about my own financial situation, and I ended up paying dearly for that mistake," she said. "In fact, I have a thesis that the smarter a woman is, the more she thinks she can handle everything and fix everything. And I'm here to tell you that's not true."
See more of our top stories on Facebook >>
The Globe's Leung paints a sympathetic picture. There's no reference to Jamie's favorite Russian psychic. Though it's not exactly Powerball money, most could get by on $130 million. Still, that's not exactly half of $2.1 billion.
Jamie wants to reach women and let them know that it's OK to want wealth She also wants to teach them how to get it. Leung said Jamie is exploring the launch of a national initiative to teach financial literacy to grade-school girls.
"I had comingled all of my money -- handed it over to him with no questions asked. I thought we were in it together, for the four boys. I could not have been more wrong," she said. "I had to listen to him and his lawyers tell the court that, in spite of our 40 years together and 32 years of marriage, I deserved nothing. And I mean nothing. He said, and I quote, 'She's lucky to have been along for the ride.'"
Alas, not for the rest of us.
Follow Steve Dilbeck on Twitter @SteveDilbeck.
MORE DODGERS NEWS
Dodgers near deal with Cuban right-hander Yaisel Sierra
Kenley Jansen, Justin Turner lead six Dodgers filing for arbitration
Never enough chiefs: Dodgers add Alex Anthopoulos to front office
Get our Dodgers Dugout newsletter for insights, news and much more.
You may occasionally receive promotional content from the Los Angeles Times.