Dodgers' Josh Beckett says he will pitch again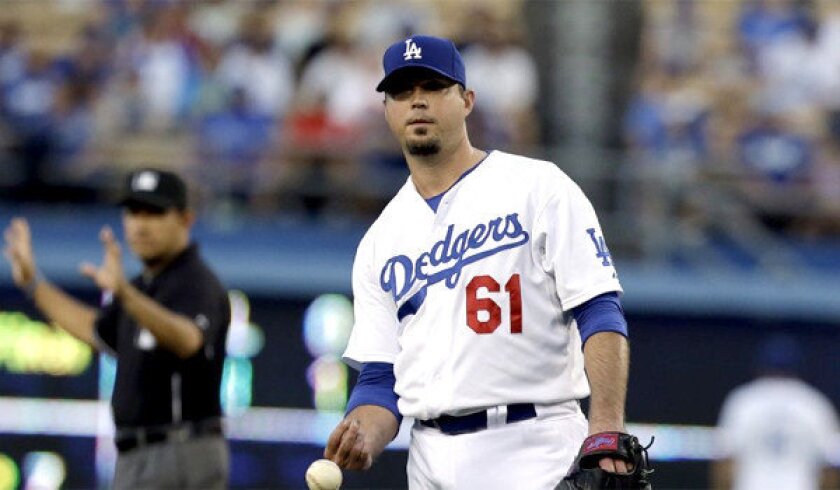 There's good news. And then there's bad news. And Dodgers pitcher Josh Beckett isn't really sure where his current situation lands him.
Beckett will be shut down from pitching over the next four weeks, during which he will undergo "aggressive rehabilitation" and then determine whether he will pitch again this season or have season-ending surgery.
"Surgery is Plan F," Beckett said. "You always want to avoid surgery if you can. We are going to try a lot of different things in the next four weeks to try to reassess things."
The righty was in Dallas over the last three days seeing a specialist to examine the nerve irritation and numbness in his fingers over the last few weeks. Concerns arose over the last few days about whether Beckett will ever pitch again, but the former World Series MVP quelled those rumors when asked if he would pitch again.
"Absolutely," Beckett said, adding, "You really just want to make a decision. What's best for me and what's best for the organization moving forward. Those two things probably go together. What's best for the organization is me being healthy and helping this team win next year if I can't do it this year."
Beckett posted an 0-5 record with a 5.19 ERA in eight starts this season before he was placed on the disabled list May 15 due to a strained groin. The injury is similar to that of Cardinals ace Chris Carpenter, who suggested Beckett see nerve specialist Dr. Greg Pearl.
"There's a lot of guys that have had this, and there's a lot of guys who have had surgery who were successful. There's a few guys it hasn't been successful," Beckett said. "We're going to do everything we can to beat this thing without surgery. If we have to move that way, that's what we'll do.
For now, Beckett said he will contact former four-time All-Star pitcher Kenny Rogers and Rangers pitcher Matt Harrison. Both underwent similar surgeries throughout their careers.
"It's tough. I don't want to walk around here with a ski mask and steal paychecks," he said. "That's not fun and I want to help these guys win and be a part of that."
---