A fractured city demands Dodgers stop losing to the evil Giants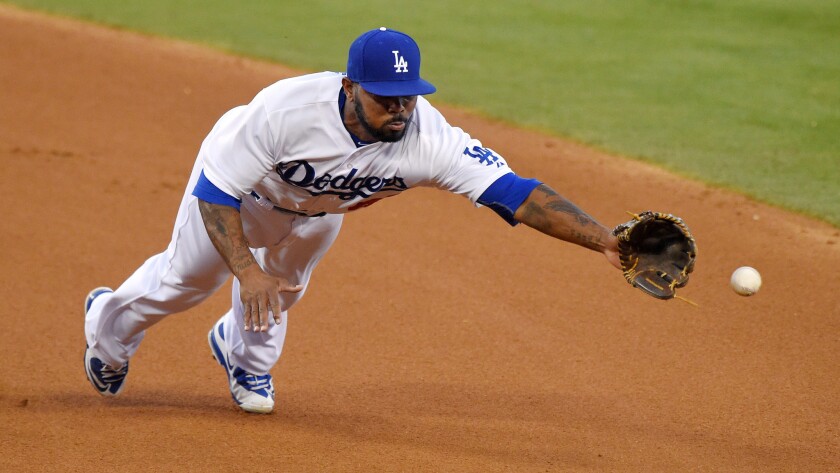 OK, enough of that. Seriously, stop it.
All this losing to the dastardly Giants must come to an end today. Go ahead, stumble against the Cardinals if you must, struggle against every team in baseball with a winning record, but the Dodgers must stop rolling over to the team decked out in Halloween colors.
All right, they're good. They've won a fairly stunning three World Series in five years. Over 18 million people in the greater Los Angeles area have respectfully, if painfully, tipped their caps.
But they're not that good, not that much better than the Dodgers. Only right now they sure look like it. Right now the Giants are 8-2 against the Dodgers. I can hear the entire Bay Area laughing. It's impossible to measure how much they have to be enjoying this.
The Giants beat the Dodgers again Friday night, though at least this time they were polite enough to allow the Dodgers to actually score. The Dodgers had gone 32 consecutive innings without pushing a run across against the Giants until scoring in the second inning.
I swear, they're just toying with the Dodgers now. The Giants have to be getting into the Dodgers' craniums by now.
"Obviously it's in the back of your head and you know it's a rivalry game," said right-hander Mike Bolsinger. "Obviously you have to just go out and treat it like any other game."
Right, how's that working?
Bolsinger had been a gift from the baseball heavens this season, but Friday was the first time in nine starts he had been charged with as many as five runs. The Giants don't care if the Dodgers have discovered some right-hander suddenly throwing pixie dust. Serve up whomever, they're jumping on him these days. Face it, at the moment they own the Dodgers.
"I'm not going to concede that at all," said Manager Don Mattingly. "We have a long way to go, a lot of baseball to be played. We got a game tomorrow actually. We plan on winning that game.
"But to this point they've beat up on us pretty good."
I guess so. The Dodgers are 2-8 against the Giants and 36-22 against everyone else. Maybe it would not be better the other way around, but it almost feels like it.
"I mean, it's a 162-game season," said third baseman Justin Turner. "It's something where, yeah, we want to beat every team and have a good record against everyone in our division. But all that matters is at the end of 162 we have a better record than them."
Right now the Dodgers have a better record by 1½ games. They play the Giants nine more times. If they want to finish with a better record, they'd best remember how to beat up on the Giants.
If only for the sanity of Los Angeles.
---
Get our Dodgers Dugout newsletter for insights, news and much more.
You may occasionally receive promotional content from the Los Angeles Times.