The Dodgers and the pursuit of Japanese pitching star Masahiro Tanaka
Don Sutton was voted the 20th-greatest Dodger of all time, which seems appropriate, considering his uniform number.
(Richard Drew / Associated Press)
Dodger pitching great Don Newcombe at Dodger Stadium in L.A.
(Richard Hartog / Los Angeles Times)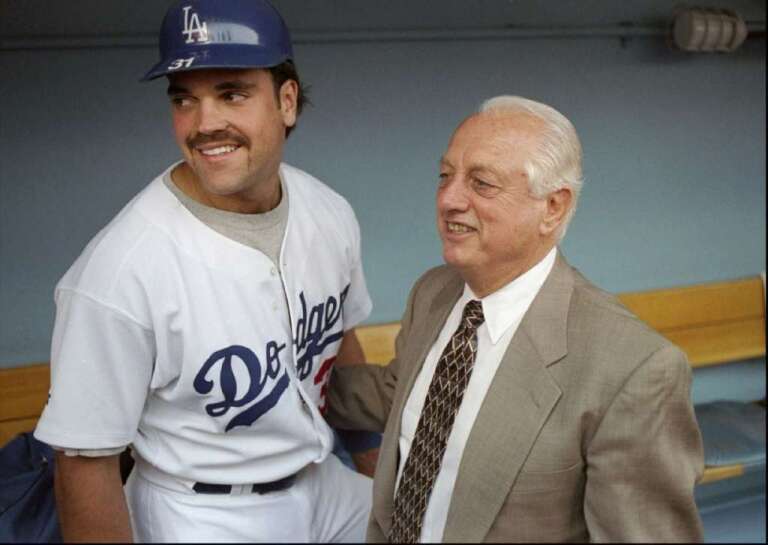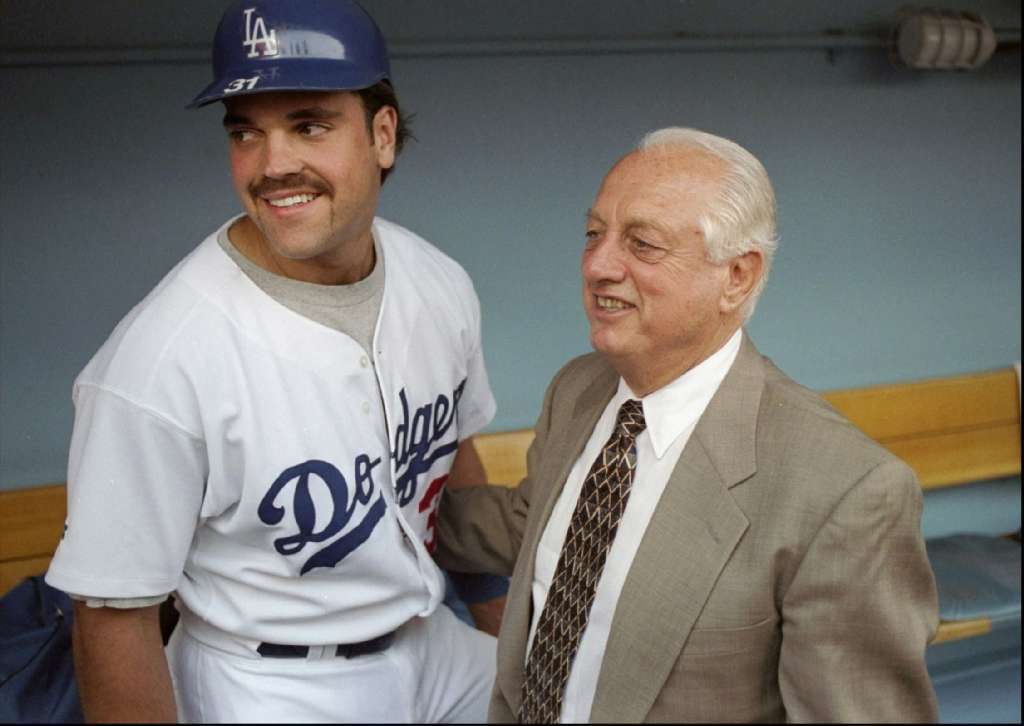 Mike Piazza stands with Tommy Lasorda in the Dodgers dugout in 1997.
(Elsa Hasch / Getty Images)
Orel Hershiser is the 12th greatest Dodger of all time.
(Tom Gannam / Associated Press)
Tommy Lasorda was voted the eighth-greatest Dodger of all time.
(Doug Benc / Getty Images)
Vin Scully is the third-greatest Dodger of all time.
(Gary Friedman / Los Angeles Times)
This is the place where I would like to share my incredible personal connections to reveal the Dodgers' double-secret plans to snare Japanese star pitcher Masahiro Tanaka.
Alas, there is none to offer. But, come on, does this not look like the most obvious move since Brad Pitt sidled up to Angelina Jolie? If the Dodgers' new ownership taught us one thing in the last year, it's that they are not afraid to spend in the international market.
The fact that they gambled on Hyun-Jin Ryu ($36 million) and Yasiel Puig ($42 million) last year and won, only figures to encourage their international efforts. They've already spent on Cuban infielder Alexander Guerrero ($28 million) this off-season.
And now comes the next latest, greatest thing in Tanaka.
The right-hander has had himself a season to remember for the Tohoku Rakuten Golden Eagles in the Japanese Pacific League. All he did was go 24-0 with a 1.27 earned-run average during the regular season. He is currently 2-0 in the playoffs after throwing a complete-game, 12-strikeout 2-1 victory Sunday in the Japanese Fall Classic.
The Dodgers have been unusually open in their interest in signing Tanaka. At that infamous season wrap-up press conference, General Manager Ned Colletti was asked about the team's interest.
"We've scouted him a lot, we're very much aware of him," said Colletti. "We saw him as recently as two days ago."
The Dodgers currently have three locks for their 2014 rotation – Clayton Kershaw, Zack Greinke and Ryu. Chad Billingsley and Josh Beckett are coming off surgery and their status is unknown, and thus unreliable. Ricky Nolasco was a nice midseason pickup, but he struggled at the end and is a free agent who might want more years than the Dodgers are interested in signing him to. Chris Capuano and Edinson Volquez are free agents with uncertain L.A. futures.
Tanaka is projected as a front-of-the-rotation starter. If he's something less than Texas Rangers star Japanese pitcher Yu Darvish, most still see him in residing in the same neighborhood.
Masanori Murakami, the first Japanese citizen to play in the majors when he pitched for the Giants in 1964 and '65, is now a national broadcaster in Japan and his high on Tanaka.
"He has such great control and is so good at hitting the corners, that he is only overpowering hitters when he gets into a pinch and really needs a strikeout," Murakami told Sports on Earth. "Darvish has a tendency to struggle with his control in the early innings of games, but Tanaka does not. He is very consistent."
These superstar Japanese pitchers have had mixed results coming over to the majors. Hideo Nomo and Darvish made smooth transitions; Hideki Irabu and Daisuke Matsuzaka disappointed.
The Dodgers have shown they're not shy about taking their best educated gambles on international prospects, which doesn't mean they necessarily have the inside track.
The Rangers paid $52 million for their winning post on Darvish and then signed him for $60 million. Tanaka doesn't figure to come any cheaper.
Plus, the posting system is close to being revamped. Reportedly instead of one winning post, there will be three finalists for the player to choose from, the intent to get more money to the player. The change would be immediate.
The Dodgers' biggest competition for the winning bid figures to be that original free-spending club, the Yankees.
The New York rotation is in dire straits and signing Tanaka figures to be a higher priority for the Yankees. The Mets and Red Sox are also interested – and maybe the Angels – but Tanaka is said to favor signing with the Dodgers or Yankees.
That could prove an interesting financial battle.
---
Get our Dodgers Dugout newsletter for insights, news and much more.
You may occasionally receive promotional content from the Los Angeles Times.