Matt Kemp begs manager to play, backs it up with game-saving grab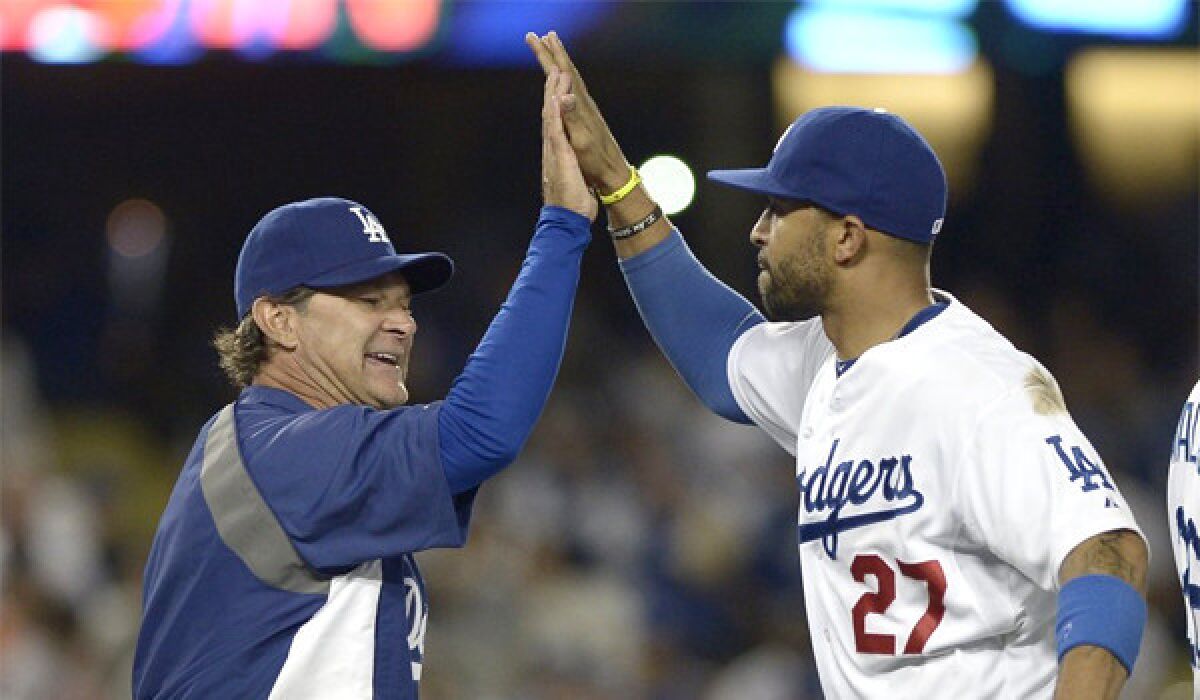 Matt Kemp had to beg Dodgers Manager Don Mattingly to let him play in the team's 6-5 win over the Giants on Tuesday.
And although Mattingly said the stress of what could have been another ninth-inning meltdown took a year off his life, he may have saved the victory by succumbing to Kemp's pressure.
Out with a strained right hamstring since May 29, Kemp went just 1 for 4 with a run scored in his return. But more important, the center fielder made a game-saving catch with two outs in the ninth.
BOX SCORE: Dodgers 6, San Francisco 5
The Giants had already scored two runs in the frame and had runners on first and second base when second baseman Marco Scutaro drove a 1-1 Paco Rodriguez slider to deep center.
"I was expecting him to hit a ground ball up the middle," said Kemp, who was playing shallow. "... Scutaro doesn't usually drive the ball to center."
Running back toward the warning track, Kemp turned his head over his left shoulder as his hat fell to the grass. Stretching out his glove, he made the grab, slid feet-first onto the dirt and hopped up quickly to smack the wall in celebration.
"I was excited," Kemp said. "I thought it was a big catch."
The catch sealed the Dodgers' first four-game winning streak of the season. And with everyone but Carl Crawford back, fans are finally seeing the ball club for which the Dodgers paid more than $220 million.
"I was just sick of watching my team play without me," Kemp said.
On Wednesday, the Dodgers have a chance to sweep just their second series of the season.
Get our Dodgers Dugout newsletter for insights, news and much more.
You may occasionally receive promotional content from the Los Angeles Times.