Don Mattingly rolls the dice starting Joc Pederson over Andre Ethier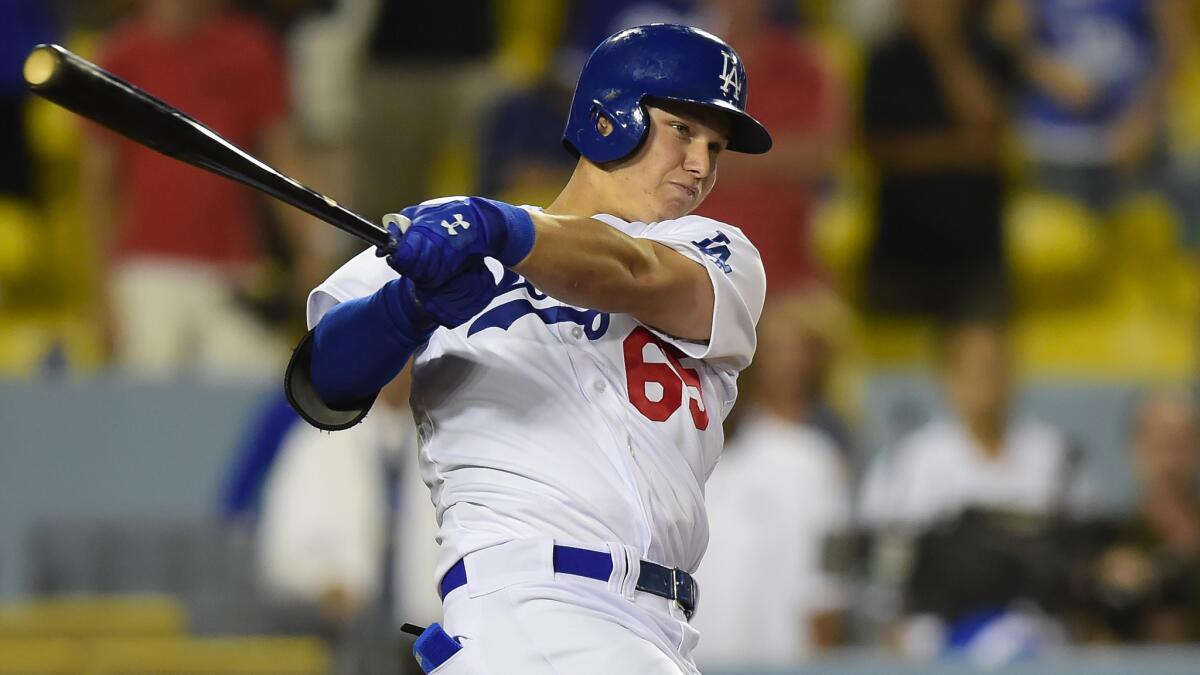 Yasiel Puig has a bad tummy Saturday, so naturally Manager Don Mattingly is going to start his left-handed hitting backup center fielder … Joc Pederson.
That makes three times in the last four games Pederson, fresh up from the minors, has started while Andre Ethier sat.
This is an interesting gamble, and make no mistake, that's exactly what it is. I don't care if you buy Mattingly's spiel about Pederson being their only true center fielder, playing the completely unproven Pederson at the major league level during the stretch drive over Ethier is a risk.
You can't trust Pederson because you can't be certain what you're going to get. Mattingly is willing to gamble that it will be better than the known entity of Ethier.
Mattingly said he had no reservation about putting his Pacific Coast League MVP in the middle of a pennant drive, just days after being called up for the first time in his career.
"Not really," he said. "I think he's a good defender. I think he's a baseball player. Who knows what's going to happen?"
Ah, yes, who knows?
Now there's no arguing Ethier has had a disappointing season (.251, four homers, 40 RBIs), but it hasn't been completely awful either. He did the rotation shuffle in the outfield, playing all three positions, until Mattingly decided without any announced reason, that he planned to go with a set outfield of Carl Crawford, Matt Kemp and Puig, with Scott Van Slyke starting against left-handers.
Only now there is Pederson, whom Mattingly said would not be starting when he arrived Monday, again playing in center. He said Pederson was starting for his defense, also very unproven at this level.
"You want to try and play your best defense," he said. "That's all that's about.
"Andre and I have talked about this. I know it's not a great situation for him. There are so many spots for so many guys."
Should the team make the postseason, does that mean Pederson is on the roster and Ethier is not? By Mattingly's current logic, that's the scenario. They would hardly need a second left-handed hitting backup outfielder.
"It's a professional situation," Mattingly said. "I love Andre. It's not about how I feel about him. None of this is personal. And he doesn't have to agree with it, honestly.
"We're in a pennant race and at this point we're trying to put the best club out there for all different reasons. There are situations here that need to be worked out in the off-season and they're not going to be worked out now."
Ethier, 32, still has three years and $56 million left on his contract. If he's not playing and putting up some numbers, that would be one difficult contract to move.
For now, Pederson gets a look. Mattingly has never been afraid to play youngsters, but normally it's when the other choice is clearly inferior. If his defense made Pederson such an obvious choice to start now, why wasn't he here months ago?
Meanwhile, Ethier's role continues to be diminished.
"I have compassion for all these guys if they're not playing as much as they want and the situation's not perfect," Mattingly said. "But at some point it becomes what it is."
Get our Dodgers Dugout newsletter for insights, news and much more.
You may occasionally receive promotional content from the Los Angeles Times.