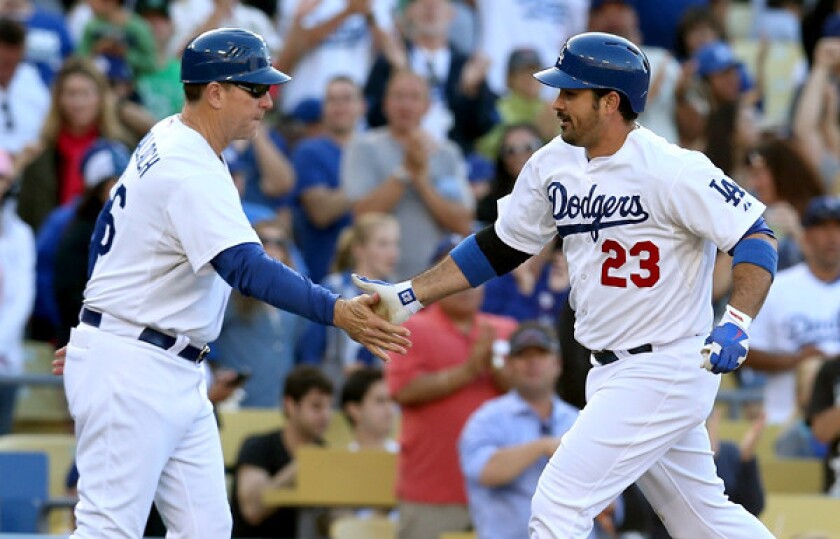 Give the Dodgers a moment for it to soak in, to refresh memories. It has been awhile.
The Dodgers lost a lead, rallied to regain it and then even built upon it a tad. All around a little Matt Kemp drama.
After losing a 3-1 lead almost solely provided by Adrian Gonzalez, the Dodgers came back on a double by Mark Ellis to down the Cardinals, 5-3, before a Dodger Stadium crowd of 49,368.
On a day when Ted Lilly gave the Dodgers five strong innings and a frustrated Kemp became irate when lifted in a double switch in the seventh inning, the Dodgers found a way to grasp a much-needed victory.
Lilly had retired 14 consecutive batters when he walked Allen Craig with one out in the sixth inning. Ronald Belisario allowed that runner to score as well as one more when he gave up three hits in the inning and the Cardinals tied the score.
But the Dodgers took back the lead with an unearned run in the bottom of the inning after St. Louis second baseman Matt Carpenter dropped a Carl Crawford grounder. Ellis then delivered his double to left, Crawford putting on the burners to score from first base for the go-ahead run.
The Dodgers added another run in the eighth inning on a pinch-hit double by Juan Uribe.
After the Cardinals opened the game with an unearned run on a Yadier Molina first-inning single, the Dodgers tied it in the bottom of the inning when Nick Punto walked and scored on a double by Gonzalez.
When St. Louis starter John Gast left the game in the second inning with shoulder tightness, the Dodgers took the lead in the third when Punto doubled and scored on a Gonzalez single.
Gonzalez added a solo home run in the fifth inning for the 3-1 lead. He was a triple shy of the cycle.
Kemp, who had struck out twice with runners in scoring position and been booed Saturday, was taken out of the game in the seventh inning during a double switch when Mattingly brought in reliever Kenley Jansen.
Kemp was not happy to be removed in the one-run game. He yelled at Manager Don Mattingly, flipped his glove against the dugout wall, barked a little more and then momentarily left the dugout.
Lilly was charged with two runs on only two hits, with one walk and three strikeouts. Brandon League pitched a scoreless ninth inning to earn his first save since May 15.
---