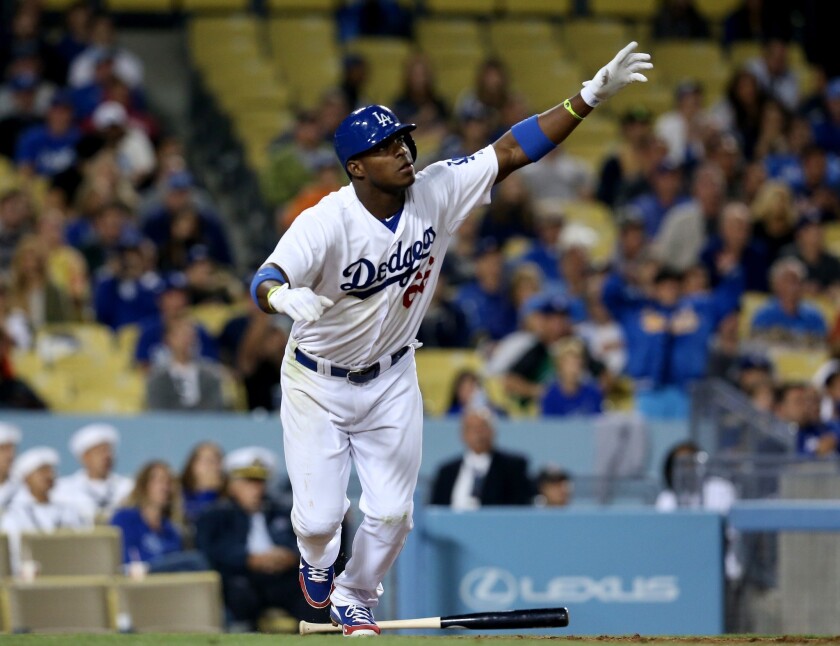 The lights were wrong and the throws were wrong, and this whole Dodger Stadium thing just looked wrong.
And then suddenly, things went right, things went very, very right.
After falling behind six runs to Cy Young winner David Price and Tampa Bay, the Dodgers rallied late, rallied some more and then finally rallied once more to stun the Rays.
The Dodgers scored once in the seventh inning, twice in the eighth and then four times in the bottom of the ninth to defeat the Rays, 7-6, before a Dodger Stadium crowd of 51,083.
After hits by Skip Schumaker, Mark Ellis, Nick Punto and Adrian Gonzalez off Tampa closer Fernando Rodney had tied the score, 6-6, in the bottom of the ninth, the winning run scored when Rodney took a comebacker from Jerry Hairston Jr. and threw the ball wildly into center field in an attempt to start an inning-ending double play.
Suddenly, the road wasn't the only place the Dodgers found a little magic.
The Dodgers had just completed a 7-1 road trip and had won 17 of their last 18 away from Dodger Stadium.
But they returned home about 4 a.m. Friday, caught some quick sleep and then came to the ballpark to face Price.
It was not pretty early on, and that's just talking about their defense. Hairston and Yasiel Puig each lost balls in the lights. Puig missed the cut-off man twice, each time allowing runners to advance. Punto booted a ball for an error.
Not that the roller-coaster man known as Chris Capuano was pitching particularly well, but it's not like he was given sterling support.
Capuano was rocked for 10 hits and six runs (five earned) in 4 1/3 innings. That makes nine consecutive starts where Capuano has amazingly allowed either zero or five earned runs; he's allowed none five times in that stretch.
The Rays scored three times in the second inning and three more in the fifth, and with Price in control, it seemed almost overkill.
The Dodgers' only run against Price was unearned and came in the seventh inning. Hairston walked and was safe at second base when Evan Longoria threw the ball away for an error on a Juan Uribe grounder.
Tim Federowicz bounced into a double play, but Schumaker doubled down the left-field line to score Hairston.
Maybe Puig noticed, but it's doubtful. His disdain for hitting the cut-off man and just unleashing a wild throw to show off his arm strength continues to get the Dodgers in trouble.
But the Dodgers started their comeback with a pair of runs against the Rays bullpen with two outs in the eighth inning. Mark Ellis walked and scored on a ground-rule double by Puig, and Uribe singled home Puig. With runners on the corners, pinch-hitter Carl Crawford hit a soft fly to shortstop Yunel Escobar.
Price went seven innings for the Rays, giving up the unearned run on seven hits and a walk –- his first walk in 35 1/3 innings.
Former Dodgers first baseman James Loney celebrated his return to Dodger Stadium by going three for four with a pair of RBIs, raising his average to .312.
---