Dodgers believe they have unfinished business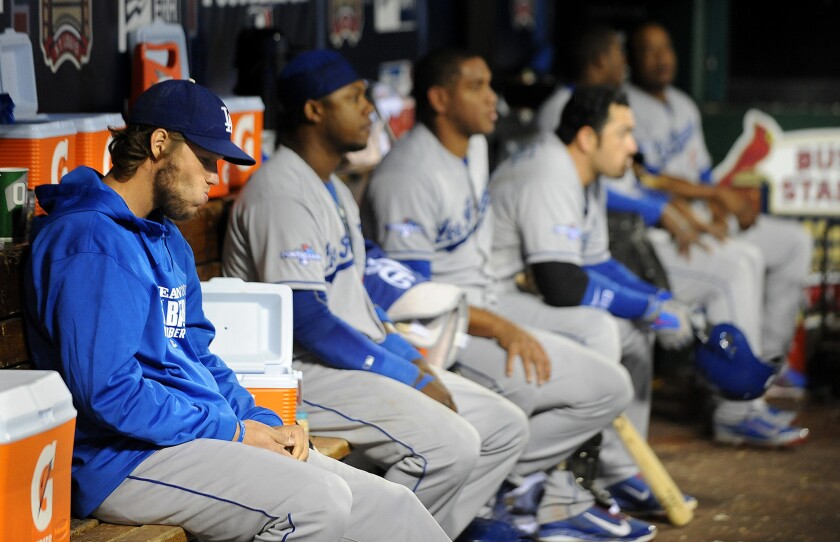 It's the standard observation about devastating loss: You let it crush and define you, or inspire you to greater heights.
The Dodgers are a team built to win it all. Of course they were last year, too, and fell in six games to the Cardinals in the National League Championship Series with Clayton Kershaw on the mound.
Now here they are again, ready to start this year's postseason Friday in the division series against the Cardinals, still built to win but stinging from last year's disappointment.
A division winner with much greater ambition.
"You come [to] spring training with this ball club and who you are, you feel like this is the first step of what you want to accomplish," said catcher A. J. Ellis. "There is that feeling of unfinished business."
The core of this team was here last season. There may be only a handful of players on the postseason roster who are different from 2014, leaving a majority who remember well how that ended.
"Most of this team was here a year ago," said General Manager Ned Colletti. "That feeling we had that Friday night in St. Louis, you can't let it overwhelm you, but you can't forget it, either.
"I think we may be better prepared than we were a year ago because of what we went through. Sometimes adversity builds a lot of confidence. You're really measured by how you handle what you have to go through it."
Kershaw was the first to flat out say during a radio interview this season what everyone knew about this team – it's World Series or bust. A statement Kershaw said could come from anyone on any team.
"Everybody is World Series or bust," Kershaw said. "If you don't make the World Series, what are you playing the game for? That's all I meant by that. There are 29 other teams that should be thinking that."
But by Friday only four teams in each league will still have that opportunity. Last year's team came within two victories of advancing to the Dodgers' first World Series since 1988.
"Last year we had a great year," Colletti said. "We stopped two wins short of getting to the Fall Classic. We had not been there as a group last year at this time. We had gone a couple of years without getting to the postseason. We had a lot of players who were new. It was a new experience for a lot of people."
Certainly, that experience from last postseason has to help. It's just not all of that experience was pleasant. Even Kershaw lost two games in the NLCS.
"We had some successes and had some failure," Kershaw said. "Me, personally, I succeeded and also failed in that last game.
"We know what to expect. We know what that ... environment is going to be like and hopefully that helps."
To complete a goal that still feels in progress.
---
Get our high school sports newsletter
Prep Rally is devoted to the SoCal high school sports experience, bringing you scores, stories and a behind-the-scenes look at what makes prep sports so popular.
You may occasionally receive promotional content from the Los Angeles Times.