Dodgers roll a lucky number in whipping Braves, 13-6, in Game 3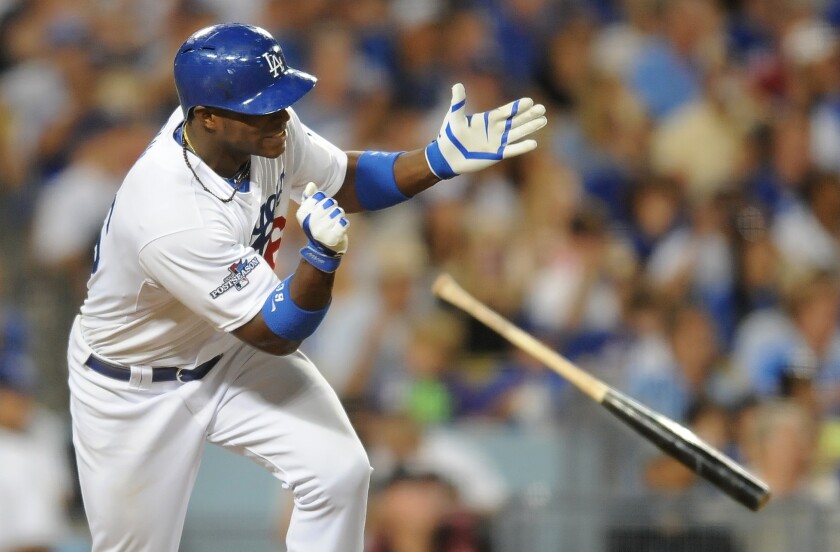 The game looked like it wanted to go in dozen different directions all at once, squirming and squealing all over the place, unable to lay claim to anything but a wild ride.
And then the Dodgers suddenly seem to say enough, that they had other things in mind, and the seized control with a 13-6 victory Sunday at Dodger Stadium that may also have seized control of their National League division series against the Atlanta Braves.
The Dodgers now lead the best-of-five series two games to one, with a chance to close it out in Game 4, scheduled Monday at 6:30 p.m. PT at Dodger Stadium.
BOX SCORE: Dodgers 13, Braves 6
The Dodgers won Sunday's battle despite a rocky start by Hyun-Jin Ryu that has to leave them concerned. They fell behind 2-0 and came back behind a three-run homer from Carl Crawford to take a 4-2 lead, only to see the Braves answer with two in the top of the third to tie it again.
Then the Dodgers took control. They scored two in the bottom of the inning to regain the lead, then four more in the fourth to make it a runaway. After four innings, they had 10 runs on 11 hits.
Just for good measure, they added three more in the eighth. The 13 runs tied a franchise record for most runs in a postseason game, tying the 1956 Dodgers who beat the New York Yankees, 13-8, in Game 2 of the World Series.
The Dodgers got a two-run homer from Juan Uribe, a triple, double and single from Hanley Ramirez, three hits, three runs and two RBIs from Yasiel Puig and three badly needed scoreless innings of relief from Chris Capuano.
Here is an inning-by-inning recap of Game 3:
Dodgers 13, Braves 6 (game over):
Reliever Paco Rodriguez came on to finish it off for the Dodgers in the ninth, but could not get it done.
After an infield hit, he gave up a two-run homer Jason Heyward. That would be the same Heyward who lined a two-run single off Rodriguez to win Game 2 for the Braves.
Rodriguez also gave up a walk and a single, before Don Mattingly had seen enough and called on Kenley Jansen to strike out Brian McCann for the final out.
Rodriguez, however, has been struggling for over a month now, and may have pitched himself off the playoff roster should the Dodgers advance to the next round.
Dodgers 13, Braves 4 (end of eighth):
Three outs to for the Dodgers.
They added three more runs in the eighth after Hanley Ramirez continued his terrific series by lining a run-scoring single. It was the first single of his seven series hits.
Adrian Gonzales collected another RBI hit when he singled off reliever Luis Avilan and Yasiel Puig singled in one more.
The 13 runs ties the franchise record for runs in a postseason game, tying the 1956 Dodgers who beat the Yankees 13-8 in Game 2 of the 1956 World Series.
Dodgers 10, Braves 4 (middle of eighth):
Things have come to such a crawl, the sellout crowd at Dodger Stadium has resorted to a bad imitation of the war chant Braves fans do at Turner Field. They need serious practice.
The highlight of the inning was Carl Crawford running down a foul ball by Brian McCann. Crawford sprinted past the foul line, made the catch at the thigh-level wall and then tumbled head-over-heels into the concrete path.
He emerged unscathed and received a rousing round of applause, including from grateful reliever J.P. Howell. Ronald Belisario took over for Howell at the point and retired both of his hitters.
Dodgers 10, Braves 4 (end of seventh):
They're playing a completely different game now. The Dodgers went in order in the seventh and now haven't had a hit since the fourth inning. Of course, they had 11 hits through four innings.
Dodgers 10, Braves 4 (middle of seventh):
J.P. Howell followed suit with reliever Chris Capuano, keeping the Braves off the scoreboard in the seventh. He allowed one hit, but otherwise Atlanta could do nothing with him.
The Braves are now in that wonderful position, down by six runs with only six outs left.
Dodgers 10, Braves 4 (end of sixth):
Geez, this game is boring. Nobody ever scores a run.
The Dodgers were held scoreless for the second consecutive inning. The highlight was when hot-hitting Hanley Ramirez had an 11-pitch at-bat he worked a walk. Second baseman Elliot Johnson made a diving stop of an Andrian Gonzalez bouncer to start a double play.
J.P. Howell is taking over for Chris Capuano to start the seventh.
Dodgers 10, Braves 4 (middle of sixth):
For the third consecutive inning, reliever Chris Capuano walked the leadoff hitter. And for the third consecutive inning, he came out of it without allowing a run. No "MVP" chants?
After walking Andrelton Simmons on four pitches, he induced Elliot Johnson to hit into a double play and then struck out pinch-hitter B.J. Upton.
That has to be it for Capuano, who has thrown 46 pitches. Battling a groin injury, he threw only 3 2/3 innings in all of September. Still, those were three innings to remember for Capuano, who was making the first postseason appearance of his nine-year career.
Dodgers 10, Braves 4 (end of fifth):
For the first time all night, they played an entire inning without ethier team scoring.
The Dodgers were retired in order buy Alex Wood.
Dodgers 10, Braves 4 (middle of fifth):
Chris Capuano has restored some much-needed order for the Dodgers. He completed his second scoreless inning. He again gave up a lead-off walk, and then retire the next three consecutive Braves.
He's thrown 32 pitches and the Dodgers have no one up in the bullpen, so it appears he'll come out to at least start his third inning of relief.
Dodgers 10, Braves 4 (end of fourth):
The Dodgers look like they don't want to play this back-and-forth game any longer.
The Dodgers tried to break the game open by scoring four more in the fourth to take a six-run lead.
Hanley Ramirez, who is hitting like someone determined to make the most of every at-bat, got it going, again.
He tripled in Carl Crawford in the fourth, continuting his remarkable first three games. Ramirez now has six extra-base hits in just three games.
That ties Steve Garvey for the most extra-base hits by a Los Angeles Dodger in a postgame series. Garvey had six in four games during the 1978 National League Championship Series in 1978.
Puig singled in Ramirez, and the Dodgers were up by four. And not nearly done. Juan Uribe drilled the first pitch he saw for a two-run homer, to put the Dodgers up by six.
It was Uribe's fourth postseason home run.
Dodgers 6, Braves 4 (middle of fourth):
The Dodgers needed that.
Chris Capuano, who had pitched only two innings of relief since straining a groin on Sept. 6, took over to start the fourth. He did walk leadoff hitter Elliot Johnson, but then retired the next three Braves, including Justin Upton on a strikeout to end the inning.
It's turned into a bullpen game now, and the Dodgers need at least two innings out of Capuano.
Dodgers 6, Braves 4 (end of third):
Yes, it is absolutely going to be one of those games. Both starting pitchers were done before the end of the third.
The Dodgers quickly regained the lead in the bottom of the inning after Hanley Ramirez led off with a double and scored on a single by Andrian Gonzalez.
Yasiel Puig then put the life of Gonzalez in jeopardy.
Puig hit a grounder to Chris Johnson at third, and he spun and fired to second to start the double-play try. But with his speed, Puig beat the relay and the wild throw got by first baseman Freddie Freeman.
Puig saw it and started sprinting to second. But Gonzalez was still on the bag after his hard slide. Seeing Puig advancing, Gonzalez quickly rose, picked up his helmet and just got out of the way as Puig slid in ahead of the tag.
Puig's hustle proved important when Skip Schumaker singled to score him from second. When A.J. Ellis singled, the Dodgers had Michael Young hit for Hyun-Jin Ryu, so the Braves countered with reliever Alex Wood. He struck out Young.
That ended the night for both Ryu and Julio Teheran. Ryu gave up four runs on six hits in his three innings. In his 2 2/3 innings, Teheran was charged with six runs on eight hits.
Chris Capuano will take over in the fourth for the Dodgers.
Dodgers 4, Braves 4 (middle of third):
Hyun-Jin Ryu doesn't look long for the night. Ryu has thrown 68 pitches in just three innings. Safe to say, he doesn't look sharp. Also, he needs dancing school.
The Braves loaded the baes on three singles to open the inning, and then Brian McCann hit a bouncer to Adrian Gonzalez to start a double play.
Ryu covered at first to catch the relay for the second out, but apparently failied to get his right foot against the bag. He then tried to swipe it with his other foot, but by then Brian McCann was safe and a run had scored. A "Dancing with the Star," judges each gave him two points.
Then he had a brain cramp, fielding a little tapper by Chris Johnson up the line and throwing home. He had no chance to get the runner Freddie Freeman, and a second run scored. A double play got him out of more trouble.
Dodgers 4, Braves 2 (end of second):
Carl Crawford was almost the forgotten guy in that big Boston trade last summer, but he grabbed the spotlight Sunday.
The Dodgers loaded the bases on singles by Yasiel Puig and Juan Uribe and a walk to -- who else? -- A.J. Ellis. Hyun-Jin Ryu then helped his cause by lining out to fairly deep right to sacrifice Puig in.
That brought up Crawford, who promptly drilled a three-run homer into the Atlanta bullpen. Crawford's last home run was Sept. 27, but prior to that he had not hit a home runs since May 6.
Braves 2, Dodgers 0 (middle of second):
The Dodgers had to find Hyun-Jin Ryu's second inning encouraging. This time it was three up, three down.
It was 87 degrees at game time, but no wind, just a gentle breeze.
Braves 2, Dodgers 0 (end of first):
No early comeback by the Dodgers. They put a runner on second with no outs after Carl Crawford singled and advanced on a wild pitch.
But rookie Julio Teheran then retired Mark Ellis, Hanley Ramirez and Adrian Gonzalez in order. He threw 16 pitches, 14 for stikeouts.
Braves 2, Dodgers 0 (middle of first):
And -- boom! -- the Dodgers are down. Didn't take long for those convinced something is not right with Hyun-Jin Ryu to gain new evidence.
Ryu gave up two quick runs on three hits and a walk in the first. A one-out double by Justin Upton just beyond the diving grasp of Skip Schumaker -- a drive that the speedy Matt Kemp probably would have run down -- preceded a run-scoring single by Evan Gattis.
Ryu walked Brian McCann and gave up an RBI single to Chris Johnson, and the Braves had the early lead.
Pregame:
The good: Fernando Valenzuela throws out the ceremonial first pitch, wth Mike Brito (the scout who signed him), leaning over the catcher wearing his white fedora, cigar in mouth and radar gun in hand.
The not-so good: They gave out blue hand towels to those in attendance Sunday. Really? This is Los Angeles, not Oklahoma City.
Some of the crowd appears late in arriving. In the house: Sandy Koufax and Joe Torre. Tommy Lasorda took the microphone to do the, "It's time for Dodger baseball" bit.
There will be more than one rookie starting pitcher taking the mound Sunday in Game 3 of the Dodgers-Braves division series at Dodger Stadium.
Hyun-Jin Ryu (14-8, 3.00 ERA) has been everything the Dodgers hoped this season after coming over from South Korea.
But the Braves had also enjoyed a standout rookie season from Julio Teheran. This is only the 11th time in postseason history two rookie pitchers have started opposite each other.
Teheran is a 22-year-old right-hander from Colombia who was ranked as the Braves' No.1 prospect for the past three consecutive years. Teheran spent the past six seasons in the minors, trying to win the Braves' favor.
They gave him a spot in their rotation to start the season, and after sporting a 4.57 ERA in his first seven starts, he put together a 2.81 ERA over his last 23 games. He finished the season 14-8 with a 3.20 ERA.
Braves Manager Fredi Gonzalez said the key for the 6-foot-2, 175-pound Teheran is getting his fastball over early in the count.
"The fastball command, that's big," Gonzalez said. "If he gets that fastball down and he gets strike one, I think the other stuff will play.
"That's the No.1 thing. If he gets that strike one or gets the fastball where he wants it to be, he'll be very effective today."
Teheran has never faced the Dodgers.
And not that Sunday's game is big, but ESPN reports that the last 15 times a division series was tied 1-1, the team that won Game 3 went on to win the series 14 times.
---
Get our Dodgers Dugout newsletter for insights, news and much more.
You may occasionally receive promotional content from the Los Angeles Times.