Troy Tulowitzki considering Dodgers' Yasiel Puig for Home Run Derby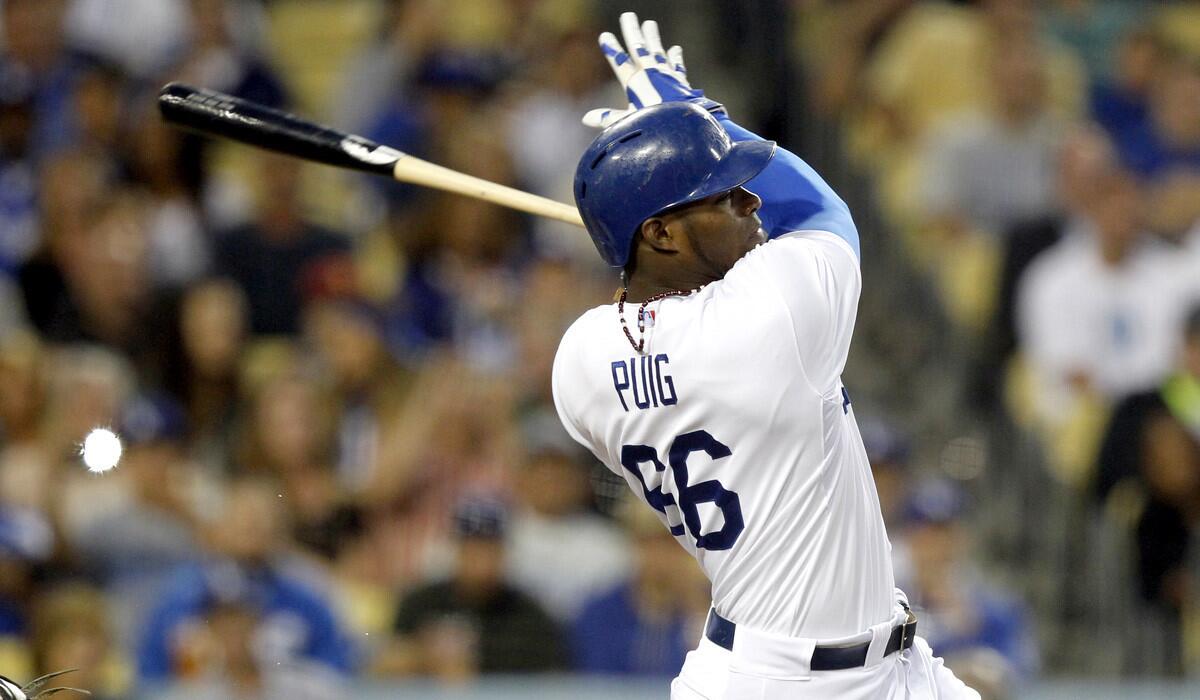 Reporting from Denver —
Yasiel Puig is under consideration for the Home Run Derby, National League captain and Colorado Rockies shortstop Troy Tulowitzki said Thursday.
"He's on the list," Tulowitzki said. "He's someone that has a good chance. I'm not going to sit here and say he's one of the guys I'm going to select, but he's right up there with the top."
Tulowitzki spoke highly of Puig's raw power.
"I think, as you guys from L.A. know, he has tremendous power," Tulowitzki said. "I've seen his BP a couple times. He's definitely on my list. I'll probably talk to him here in this series, first of all, see if he's interested, which, hopefully, he is and we'll go from there."
Puig has said he would take part in the competition if he's invited by Tulowitzki.
Puig and Tulowitzki embraced on the field in the Rockies' visit to Dodger Stadium last month.
Asked whether he thought Puig was lobbying for a place in the contest, Tulowitzki smiled and replied, "I think more so the respect that we have from across the field. I have a lot of respect for him. He plays hard. He's someone with tremendous talent. He only gets better. Hopefully, he says the same for me."
Tulowitzki said the process of selecting a team has been difficult.
"There are so many great power hitters in the game, so many players that the fans want to see," Tulowitzki said. "For me to only get to choose four other people besides myself, yeah, some people are going to be disappointed, but that's part of the job."
Puig's 11 home runs are tied for 28th in the NL. Giancarlo Stanton, who has already accepted an invitation from Tulowitzki, leads the league with 21. Tulowitzki is second with 18.
Puig didn't hit a home run the entire month of June.
"It does surprise me a little bit," Manager Don Mattingly said of Puig's home-run drought.
But Mattingly added, "I don't really look at Yasiel as a home run hitter. He has home run power. But I don't look at him as a home run hitter."
Mattingly said he isn't bothered by the lack of home runs from Puig.
"I don't mind the home runs," he said. "I'm not going to give them back. But I don't worry if guys aren't hitting home runs. I look more at their swing and how their approach is.
"Yasiel to me has been a little frustrated. The Cardinals seemed to frustrate him. Kansas City, too – he hit a few balls there right on the nose. He had a couple that would have been home runs anywhere else.
"That's the thing I worry about with young guys. When you guys write that they haven't hit a home run in a while, when that gets noted up and it's out there, they start to change their approach. He just needs to stay in the middle of the field. That's when he's going his best."

Get our Dodgers Dugout newsletter for insights, news and much more.
You may occasionally receive promotional content from the Los Angeles Times.