Yasiel Puig is making progress, but there is no guarantee he'll play in NLDS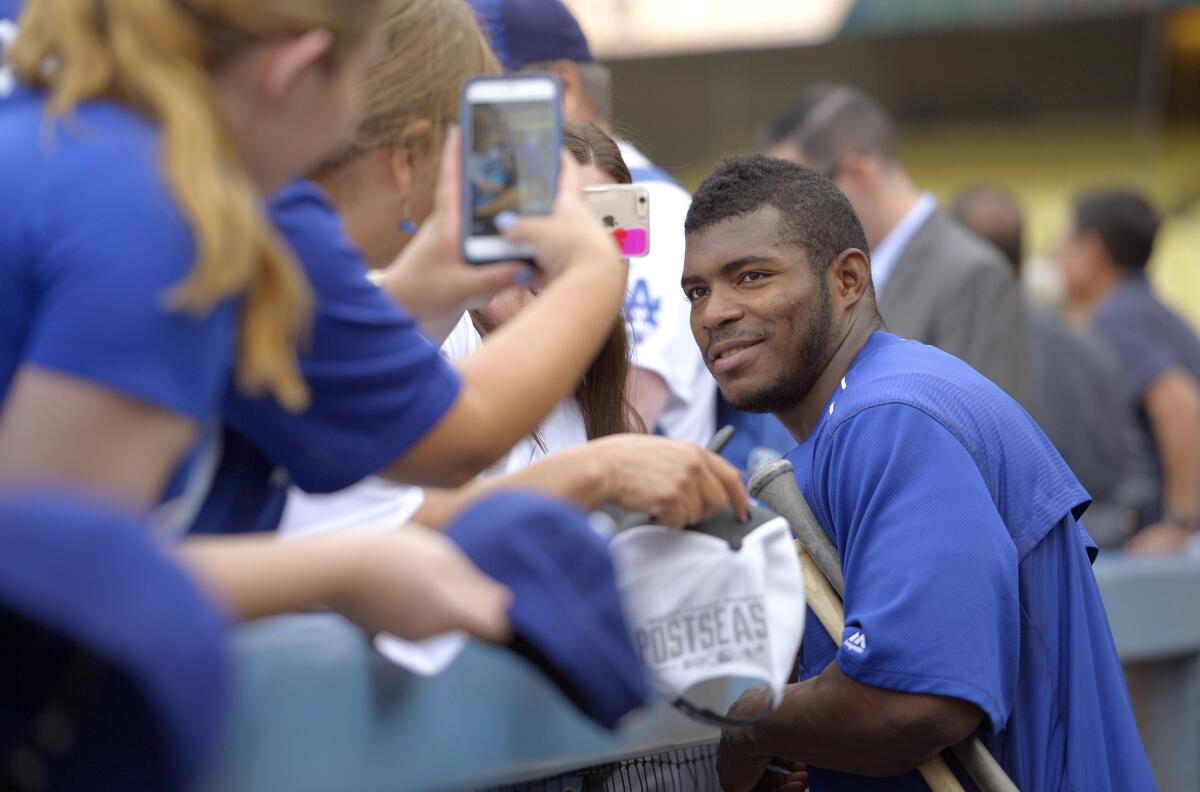 Reporting from San Francisco —
Yasiel Puig is running at full speed again at the Dodgers' spring-training facility in Arizona, an unexpected development Manager Don Mattingly described Thursday as "miraculous" and "legendary."
"Like three days ago, he was running at 80% and having pain," Mattingly said. "And then, all of a sudden, he's going 100% and feels fine."
Puig still has a week to prepare for a best-of-five National League division series against the New York Mets, which opens Oct. 9. By Thursday, his strained hamstring had healed enough that he played four innings in an instructional league game.
If they aren't already, Mattingly and the team's other decision makers could soon be asking themselves a critical question: If Puig is available for the first round of the playoffs, do they want him back?
SIGN UP for the free Dodgers Dugout newsletter >>
The Dodgers have played as well, if not better, without him.
They are 38-32 when he is in their starting lineup and 51-38 when he isn't, counting their 3-2 victory Thursday over the San Francisco Giants at AT&T Park. His absence didn't prevent the Dodgers from securing their third consecutive division title this week.
Puig remains a polarizing figure on the team. Some players have privately said they would prefer he not return, fearing he could alter what they describe as a positive clubhouse atmosphere.
While Mattingly never identified Puig as a potentially disruptive presence, he said he was mindful of anything that could alter the team's collective mind-set.
"I think you concern yourself with everything," Mattingly said.
Mattingly offered the example of excluding a well-liked player from a postseason roster.
"I think when you talk about setting your roster for the postseason, that affects guys," Mattingly said. "Myself personally, I pay attention to it a lot, because I feel like it affects the dynamic of your clubhouse. Sometimes it doesn't matter, sometimes it does. You can't put a number on it, you can't quantify it in any way. It's speculation, but as a person who's been in the clubhouse your whole career, you understand there is a dynamic there that affects guys."
General Manager Farhan Zaidi downplayed concerns that Puig could be a distraction.
"He has been here at times when the team has played very well," Zaidi said.
In the five weeks Puig has been out because of his most recent hamstring strain, Andre Ethier has started the majority of games in right field.
Ethier is batting .297 with 14 home runs and 52 runs batted in. While Ethier lacks Puig's athleticism, he is viewed as a steadier defender.
Puig, who also sat out five weeks earlier in the season because of a strain of his other hamstring, has played in only 77 games. He is batting .256 with 11 home runs and 38 RBIs.
"When you have injuries, you never, ever get into any kind of rhythm," Mattingly said. "I don't really feel like he's ever gotten into any kind of rhythm this year, where he was just playing baseball."
Mattingly sounded as if the Dodgers would evaluate whether Puig could be used as a reserve, perhaps as a pinch-hitter. The majority of the Mets' starting pitchers are right-handers and the Dodgers could be inclined to start Ethier ahead of Puig against them.
However Puig is used, if he makes the 25-man NLDS roster, he would probably do so at the expense of Scott Van Slyke or Justin Ruggiano, who have formed the right-handed-hitting portion of the team's corner outfield platoons.
Mattingly said he considers the thought of including Puig on the postseason roster to be premature, noting that playing instructional league games against first-year professionals doesn't equate to playing in the major leagues.
"Like a lot of the other stuff with the roster, we haven't got there," Mattingly said.
Still, he said he was encouraged by news of Puig's progress.
"It's been pretty miraculous, actually, for me," Mattingly said.
Was Mattingly being sarcastic and implying that Puig had overstated the severity of his injury? Mattingly said he wasn't.
Mattingly compared Puig's recovery to that of second baseman Howie Kendrick, who returned from the disabled list on Sept. 18.
"We went from Howie at 80 to 90 and then stayed at 95 for like 10 days," Mattingly said. "Yas was able to go from 80 to like almost 100 in two days.
"I think that's legendary."
Twitter: @dylanohernandez
MORE DODGERS NEWS:
Brett Anderson helps Dodgers defeat Giants, 3-2, in series finale
Are the Dodgers the favorites in the NL to reach the World Series?
Get our Dodgers Dugout newsletter for insights, news and much more.
You may occasionally receive promotional content from the Los Angeles Times.