Pieces may change, but it's still a second-base jumble for Dodgers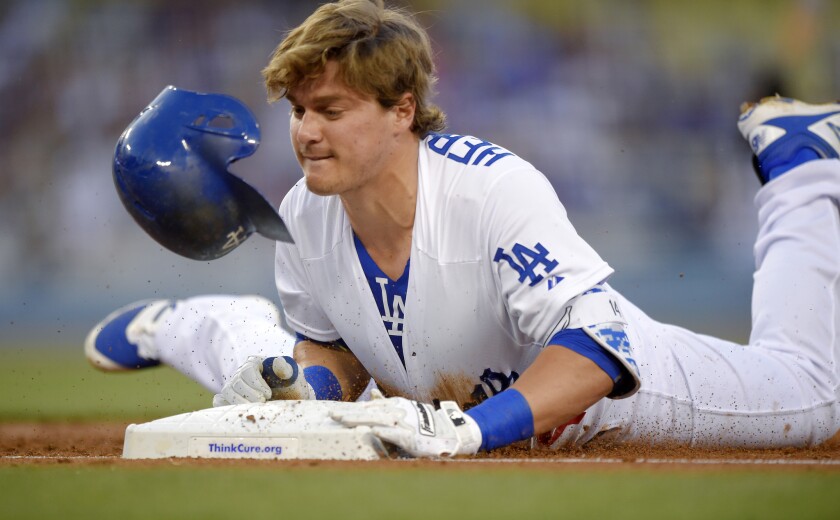 When we last looked at that second-base hole in the Dodgers lineup, it was a three-headed mess, and that wasn't counting incumbent free agent Howie Kendrick.
Six weeks later it is a three-headed mess, still not counting Kendrick. It's just not the same three guys.
Before, the Dodgers were looking at Enrique Hernandez and Jose Peraza, plus free agents Chase Utley and Kendrick. Since then they re-signed Utley for one year. And just after Steve Harvey announced Peraza as the starter, sent him away in a three-team trade.
In the process they acquired White Sox second base prospect Micah Johnson. So now they have utility man Hernandez, 37-year-old Utley and Johnson, who hit .230 in 100 at-bats last season for the White Sox.
Getting all tingly, are you?
With Kendrick still a free agent and presumably too expensive and too old (32) for the Dodgers to extend a long-term contract, the Dodgers are planning to figure it out amongst Hernandez, Utley and Johnson.
"Exactly," said Dodgers President of Baseball Operations Andrew Friedman. "I mean, we're real excited about the three guys that we have. [Hernandez] obviously has a lot of versatility. We feel like Chase brings a lot to our group, both on the field and off the field.
"We'll get into spring training and kind of figure it out. But we expect Chase to get a lot of at-bats this year. We expect [Hernandez] to get a lot of at-bats this year. And with Micah, we'll have a chance to be around him a lot more and get a better feel for how he fits both short term and long term."
In truth, they have two guys. Johnson -- who by the way is almost four years older than Peraza (21) -- doesn't really fit into their 2016 plans. Like Utley, he bats left-handed (though he throws right). And two left-handed hitting second baseman is one too many.
They signed Utley -- despite his coming off his career worst season (.212/.286/.343) and entering the twilight of his career -- for $7 million with the idea of playing him against right-handers. Unless he completely bombs or suffers an injury, there's no room for Johnson next season.
Oh, for the days of just writing Kendrick's name in the lineup every day. He remains, of course, available to re-sign. He did hit second, third and fourth in the lineup all season, and was remarkably consistent (.295/.336/.409). But if he's looking at something like four years and $50 million, it doesn't seem to fit the Dodgers' desire to get younger and reduce payroll.
And it bears repeating, the Dodgers traded away left-handed prospect Andrew Heaney for one year of Kendrick. And they currently have two holes in their rotation.
So the current plan is apparently to play Utley against the bulk of right-handers and Hernandez against left-handers, which naturally would mean he's not splitting time in center with Joc Pederson.
At least that's the plan at the moment. Still over seven weeks until spring training starts. Time for another three-headed answer, or a whole new one.
---
Get our high school sports newsletter
Prep Rally is devoted to the SoCal high school sports experience, bringing you scores, stories and a behind-the-scenes look at what makes prep sports so popular.
You may occasionally receive promotional content from the Los Angeles Times.