No plans to air Dodgers games on KDOC for playoff run this year: Time Warner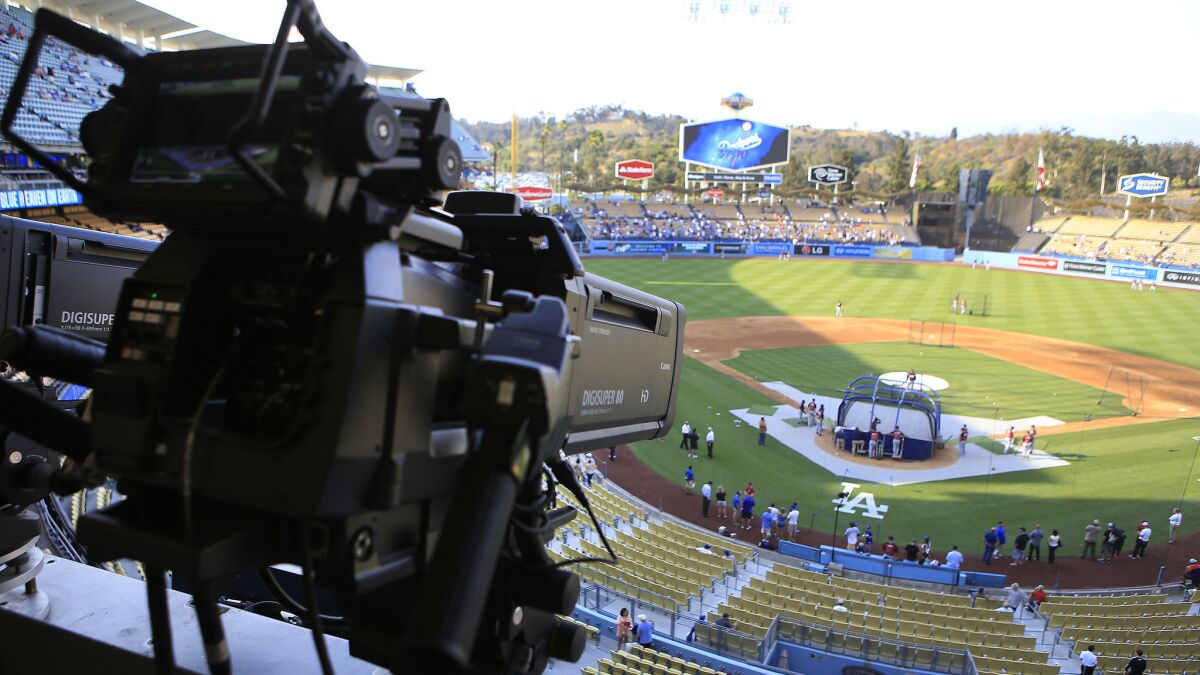 When the Dodgers were about to clinch the National League West last year, Time Warner Cable extended a goodwill gesture to fans without SportsNet LA, airing the final six games of the regular season on KDOC (Channel 56).
Not this year.
"We have no plans to do that," TWC spokesman Nadia Gonzalez told The Times on Tuesday.
The Dodgers had no comment, team spokesman Steve Brener said.
KDOC General Manager John Manzi said he had not had any discussions with TWC but would welcome the Dodgers back.
"I'd love to have them again," Manzi said.
The Dodgers, on the verge of making a third consecutive postseason appearance for the first time in franchise history, led the NL West by 8 1/2 games entering play Tuesday.
SportsNet LA made its debut last year, but TWC has not been able to sell the Dodgers' channel to distributors across the Los Angeles market, including DirecTV, AT&T, Verizon and Cox Communications.
Charter Cable added SportsNet LA in June, after Charter announced its proposed merger with TWC, and the Dodgers' channel more than doubled its audience. TWC has renewed talks with other distributors, without success. Federal regulators are expected to approve the Charter-TWC merger after the current baseball season ends, after which Charter would take over negotiations with other distributors.
The first Dodgers broadcast on KDOC last season attracted an average of 259,000 viewers, more than triple the number that watched on SportsNet LA. On the night the Dodgers clinched the NL West last season, the KDOC broadcast averaged 459,000 viewers.
The usual weeknight lineup on KDOC last September averaged 18,000 viewers.
Looking ahead
Outfielder Carl Crawford was relieved when he saw the Dodgers' preliminary schedule for the 2016 season.
The National League West will be matched up the American League East in interleague competition, but the Dodgers won't have to visit Fenway Park, where Crawford became a reviled figure over two injury-plagued seasons with the Boston Red Sox.
Instead, the Red Sox will visit Dodger Stadium for an interleague series from Aug. 5-7.
"Angels must have been with me and [Adrian Gonzalez] on that one," Crawford said with a laugh. "The heavens were with us because Lord knows, that would have been terrible for us. Good thing we get to avoid that."
Gonzalez also was subjected to criticism in his two seasons with the Red Sox.
In addition to the Red Sox, the American League teams that will visit the Dodgers next season will include the Angels (May 16-17), Baltimore Orioles (July 4-6) and Tampa Bay Rays (July 26-27), Crawford's first team. Interleague road series will include visits to the Rays (May 3-4), Toronto Blue Jays (May 6-8), Angels (May 18-19) and New York Yankees (Sept. 12-14).
The Dodgers will open their season in San Diego on April 4. Their home opener will be April 12 against the Arizona Diamondbacks.
The Dodgers will end the regular season on Oct. 2 in San Francisco.
Extra bases
Brett Anderson said he expects to be able to take his next turn in the rotation, because his left calf has felt normal in workouts. Anderson made a premature departure from his start Sunday with a cramp in his calf. … Howie Kendrick batted against a Dodgers minor leaguer in a simulated game. Manager Don Mattingly estimated Kendrick had nine or 10 at-bats.
Twitter: @BillShaikin
@dylanohernandez
Get our Dodgers Dugout newsletter for insights, news and much more.
You may occasionally receive promotional content from the Los Angeles Times.