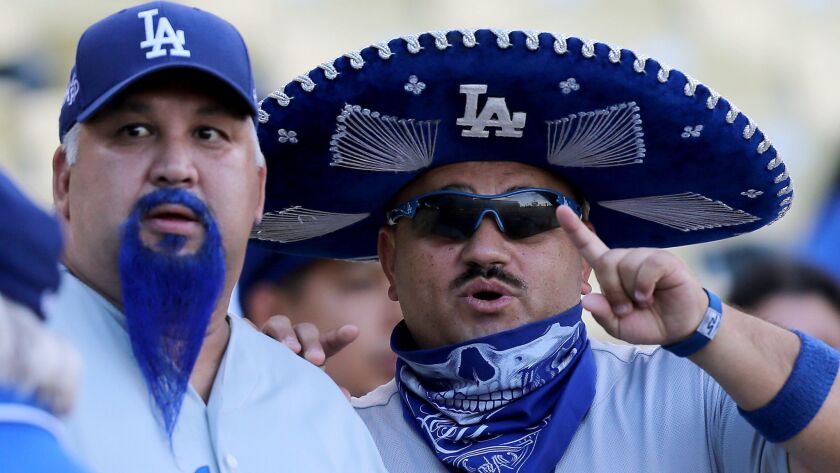 Where Dodgers fans gather, blue heaven is found. We asked readers where they go to be with other Dodgers fans if they can't make it out to Chavez Ravine, and like Dodgers bullpen coach Mark Prior during a ninth-inning save situation, you answered the call.
The Greyhound Bar & Grill (Highland Park)
The Greyhound opened the first year of the blackout, and they have made every single game special since then. Everyone who walks in the door knows they're in for a good time. The staff and management have created Dodgers special after Dodgers special — faux Dodger dogs, garlic fries, loads of drink specials. Just constant attention to the food, drink and experience.
End of the night, if the Dodgers win, you hear "I Love L.A." by Randy Newman and if they lose, you hear Kendrick Lamar's "Alright." During the World Series last year, having the whole bar sing "we gon' be alright" after a tough loss feels like family, and the celebrations are even better. The regulars are great, but everybody is welcome. Truly the best Dodgers bar in the city. — Gabe Smalley
RELATED: I'll never be a regular at Koreatown's OB Bear, but I'm glad to be a guest »
With game time specials named after Dodgers greats like Clayton Kershaw, Sandy Koufax and Jackie Robinson, you can't go wrong. All the food is great and the wings are even better. It has drinks to fit any taste bud and budget. The big screen is lowered for all Dodgers games. The crowd is dominated by good-natured Dodgers fans who know how to have a good time and respect opponents' fans so they have a good time also. — Frank Halstead
Sandy's (Big Bear Lake)
The owner, Brian, is a baseball nut and has two dozen screens up with all the games on. He even has a special cable package so you can catch up on Aussie rules football or the latest cricket match. — Ian Marks
Grunions (Manhattan Beach)
Tons of TVs. Great menu. Good quality food. Reasonable prices. Stiff drinks and a great, fun and happy crowd. — Bo Pollard
RELATED: The Dodgers' longest-running, greed-driven, let's-take-fans-for-granted debacle in sports history »
Home sweet home (San Luis Obispo)
I'm one of the lucky ones who lives in San Luis Obispo and our cable company, Charter, bless them, carries all the games. I've been a Dodgers fan since the 1950s and have met all the old Dodgers: Don Drysdale, Sandy Koufax, Gil Hodges, Mr. O'Malley. Wally Moon poured me a cup of coffee in the coffee shop. Good memories! — Joan Sales
Taqueria St. Marks Place (New York City)
Taqueria St. Marks Place is an L.A. bar in the East Village in Manhattan. L.A. transplants come from all over the city to watch the Dodgers and Lakers, sip on margaritas and eat delicious tacos and enchiladas. On game nights, the bar will be packed with blue jerseys, hats and varsity jackets. During the playoffs, the place is standing-room only and fans keep the strikeout count across the bar. I can't wait to watch the Dodgers lose a third World Series there this October. — Sam Bleiberg
28 West Sports Bar (Alhambra)
Let's go, Dodgers! It's like being in one big luxury box. Of course TVs and Dodgers decorations are everywhere. They also have a DJ during the games who plays the same sound effects that they do at Dodgers Stadium. What I love the most is being around other Dodgers fans. It's place you go if you can't make it to the game or if the Dodgers are on the road, or like most of us who can't afford a playoff or World Series ticket. It's as loud as the stadium in there on some nights. — Matthew Romero
Oracle Park (San Francisco) and Jack's Restaurant (San Mateo)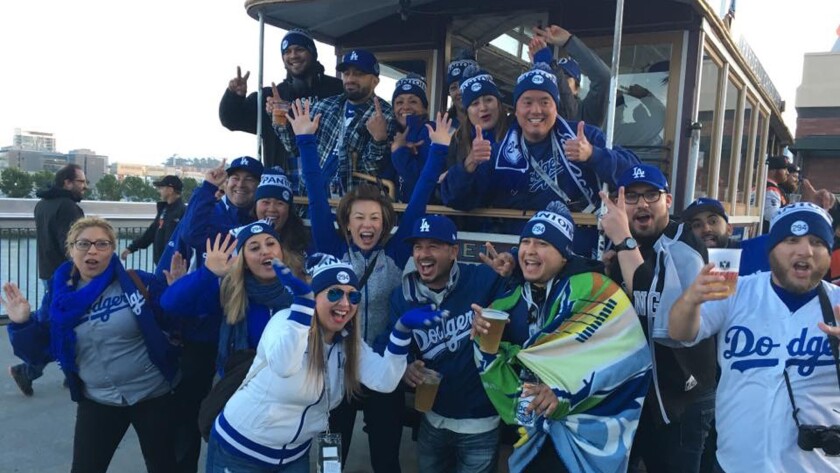 We are the Bay Area Dodger Fans, a group of almost 500 hard-core fans who live in Northern California, in the heart of enemy territory! Most of us are L.A. transplants who have friends and even (gasp!) spouses who root for that horrible orange team. We hold court for many games at Jack's Restaurant in San Mateo, about 20 miles south of San Francisco. But our favorite hangout is Oracle Park, where we invade in a large group, sit in the center-field cable car, and root, root, root for the Dodgers! — David Lim
Anywhere, as long as his bride is by his side 💙
My wife, Beth, a.k.a. "The Main Squeeze," is from San Mateo County, normally Giants country, but raised right as an A's fan. She converted for the wedding and we're living happily ever after. Priorities in order, we moved to get Spectrum, so if we're not at the Ravine, I'm happy to cozy up to the tube, bride by my side, doing the occasional wave. — Howard Cole
---