Dodgers owner Mark Walter explores possible purchase of L.A. Times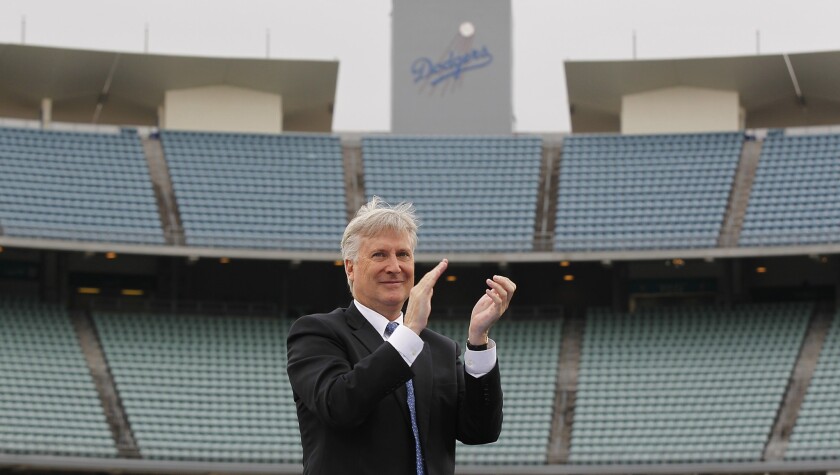 Mark Walter, the controlling owner of the Dodgers, said Friday he has been exploring a possible purchase of the Los Angeles Times.
"The Los Angeles Times says something," Walter said before the Dodgers played the Boston Red Sox at Dodger Stadium. "It means something. It's a brand. I think people have undervalued that. If the price were right, I would buy it."
Walter is the chief executive of Guggenheim Partners, a Chicago-based financial services firm that controls more than $180 billion in assets, according to its website. He said he is interested in acquiring both The Times and the Chicago Tribune — in part because he is interested in increasing the diversity and improving the quality of information available to the public. Both papers are owned by Tribune Co.
"We want the L.A. Times to be strong," Walter said. "We want the Tribune to be strong."
Walter did not elaborate on what action, if any, he has taken toward making a deal. He contributed $100 million to the $2.15-billion purchase of the Dodgers last year, with the majority of the money coming from Guggenheim insurance funds.
It is unclear whether anyone besides Walter would join a newspaper investment group and how any such group might fit into the Guggenheim corporate structure. It also is unclear whether Walter would have interest in newspapers beyond the ones in Los Angeles and Chicago. Tribune Co. owns eight newspapers, including the Baltimore Sun, Orlando Sentinel and South Florida Sun-Sentinel.
Tribune Co. spokesman Gary Weitman said the company does not comment on speculation involving its businesses.
As the newspaper industry struggles to find a sustainable business model, Walter said he did not believe The Times would be a bad investment.
He declined to say what price he would be willing to pay.
Guggenheim last year launched a subsidiary called American Media Productions, the entity with which Time Warner Cable agreed to an $8.5-billion contract to televise Dodgers games, starting next year. In recent years, Guggenheim has broadened its investment horizons into the media world and has acquired Billboard magazine, the Hollywood Reporter and Dick Clark Productions.
The prospect of a newspaper and baseball team under common ownership is not new. Tribune owned the Chicago Cubs from 1981 to 2009. John Henry, principal owner of the Boston Red Sox, bought the Boston Globe this month for $70 million. Henry has said his ownership of the Globe would not affect its coverage of the Red Sox.
If he bought the Dodgers, Walter said, he would expect The Times to continue to cover the team with a critical eye.
"I can't tell you what to write," Walter said.
Tribune emerged from bankruptcy last year and recently announced plans to spin off its newspapers from its television stations and other assets. It has been widely reported the company is interested in selling its publishing unit. However, Tribune executives say they have not made a final decision to sell any or all of the papers.
Potential buyers of The Times, according to media reports, include Rupert Murdoch's News Corp., Orange County Register owner Aaron Kushner and Los Angeles businessman and philanthropist Eli Broad.
Twitter: @BillShaikin
---
Get our Dodgers Dugout newsletter for insights, news and much more.
You may occasionally receive promotional content from the Los Angeles Times.