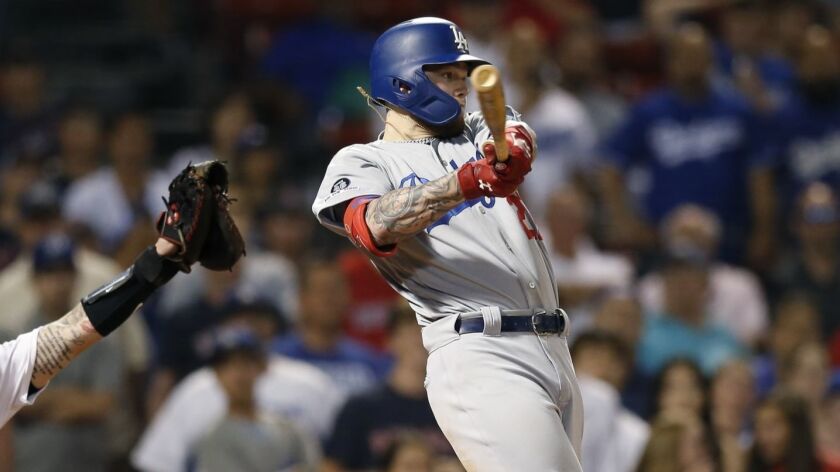 Reporting from BOSTON —
The Boston Red Sox were threatening to snatch the win late Sunday night and Kenley Jansen was restless. He watched from the visitors bullpen behind the right-field wall at Fenway Park and knew the meat of Boston's lineup was looming. He wanted to pitch. So he asked bullpen coach Mark Prior for permission to call the Dodgers' dugout. Prior granted it and Jansen got on the line.
Jansen informed manager Dave Roberts he was ready to pitch. Roberts told him to prepare to face Rafael Devers, Boston's No. 2 hitter. Moments later, after Yimi Garcia intentionally walked Mookie Betts with first base open, Jansen entered to attempt to extinguish the blaze. There were two runners and one out. It was an unusual spot for a closer on the road. It did not matter.
He got Devers to line out, altering his delivery with each pitch to throw off the hitter's timing, to bring up Xander Bogaerts and the hostile setting roared. Jansen stuck him out on three pitches to end the inning and tossed a scoreless 10th to extend a game the Dodgers won 7-4 in 12 innings, clinching the series.
"I respect all my guys but I'd rather take the ball there against the best hitters," Jansen said. "So just tried to do everything to help the team win. That's all that is."
The Dodgers, resolute and relentless, finally wore down Boston's bullpen in a game that lasted five hours, 40 minutes.
Joc Pederson led off with a walk against Hector Velazquez, pitching for the third straight day, before Cody Bellinger whacked a groundball to first baseman Brock Holt. The ball bounced off Holt. He retrieved it and tagged Bellinger in time, but Velazquez bumped into Bellinger on the baseline, not allowing him to dodge the tag. He was called for interference and Bellinger was given first base. A.J. Pollock lined a single to load the bases for Max Muncy. Last October, Muncy beat the Red Sox with a walk-off home run in the 18th inning of Game 4 of the World Series. This time, he settled for a walk. It was his league-leading fourth bases-loaded walk this season.
Two batters later, Alex Verdugo singled home Bellinger before Russell Martin beat out a double-play groundball to pad the margin. Dylan Floro and Joe Kelly, who threw 29 pitches Saturday, combined to seal the victory. Kelly was given the save — his first as a Dodger — against his former club.
"It was a grind," Roberts said.
Extra innings were necessary because Pedro Baez stumbled in relief of Hyun-Jin Ryu. In his first outing since starting the All-Star game for the National League, Ryu allowed two runs on eight hits, walked one and struck out six across seven innings. He was cruising but he also was slated to go through the middle part of Boston's lineup a fourth time at 94 pitches.
Roberts opted for Baez, one of the Dodgers' sturdiest relievers. The lead quickly vanished. Bogaerts hit Baez's third pitch, a 95-mph fastball, just over the Green Monster. J.D. Martinez crushed his fifth pitch, a hanging 88-mph slider, over the wall in right-center field to knot the game.
Roberts then walked to the mound during Andrew Benintendi's at-bat for a chat. The manager put one arm around Baez and the other around Martin, his catcher, and spoke. It was unusual. After the game, Roberts hinted that the conversation was about Baez tipping pitches. Baez struck out his last three batters.
The bullpen troubles soiled Ryu's outing and the Dodgers' methodical dismantling of another top-tier left-handed starting pitcher. On Saturday, the Dodgers chased Chris Sale after 42/3 innings. On Sunday, they bounced David Price after five frames. A.J. Pollock starred in both operations. He whacked a three-run home run and drove in four runs Sunday and finished the three-game series six for 14 with two home runs and six RBIs in his return to the team.
Both clubs benefited from fluky circumstances to score runs in a 51-pitch, 39-minute first inning. Chris Taylor worked a walk to lead the game off and Justin Turner reached on an error by Bogaerts. After Price retired the next two batters, Pollock lifted a soft fly ball down the right-field line just inside Pesky Pole for a three-run home run. The chip shot traveled 326 feet. Pollock couldn't help but smile as he trotted around the bases. It was his second home run in two nights and fourth this season.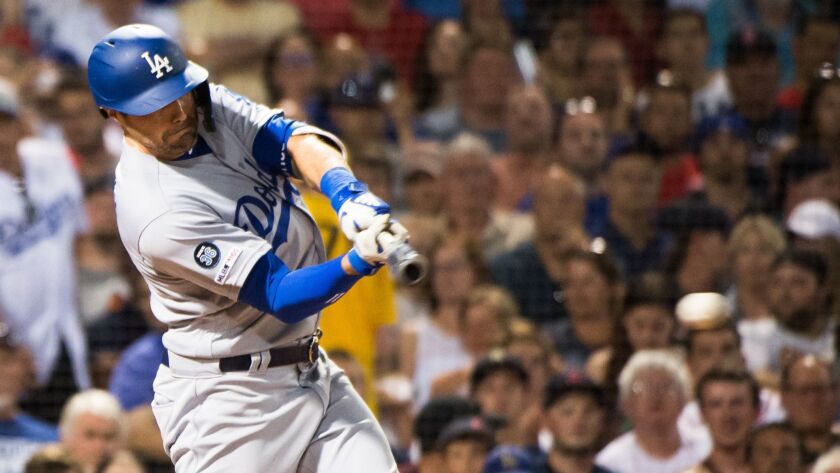 The Red Sox responded to the swat with pecks. They accumulated five hits in the frame. All were singles. The middle three did not leave the infield and were made possible by the Dodgers' infield positioning. And with help from an error by Taylor, Boston scored two runs.
Both pitchers rebounded from the oddities to stymie the offenses, but Los Angeles continued landing body blows. The Dodgers, displaying their signature relentless, made Price labor, fouling off pitch after pitch to rapidly raise his pitch count. In the fifth inning, with his pitch count over 100, Pollock smacked a two-out RBI single to left field to double the Dodgers' lead.
Sign up for our Dodgers newsletter »
Price exited the inning with 113 pitches. The Dodgers fouled off 31 of them and his night ended there, forcing the Red Sox to dip into their bullpen after using six relievers Saturday. The Dodgers' bullpen flinched first, but recovered with their closer.
"The adrenaline was up there today and it felt good," Jansen said. "If that doesn't get you going, I don't know what will get you going."
Short hops
Taylor left the game after getting hit by a pitch on the left wrist in the 11th inning. Initial X-rays were negative, but Taylor said the wrist had stiffened up and he would undergo further tests Monday. Roberts said the club would decide whether to put him on the injured list Monday.
Twitter: @jorgecastillo
---