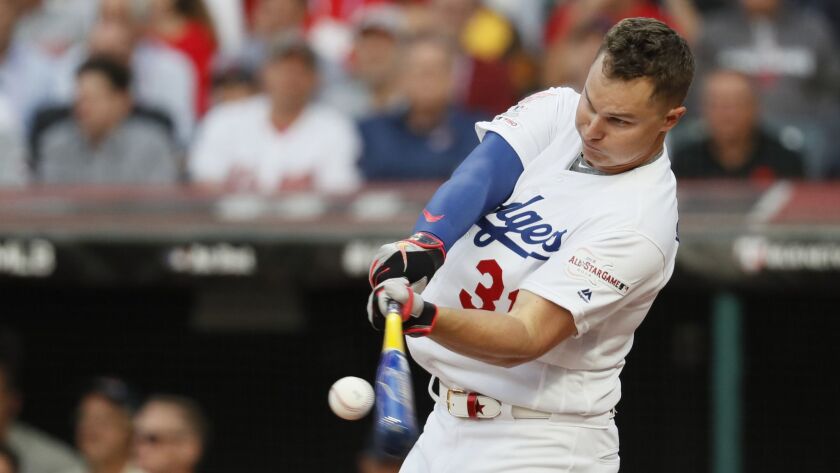 Reporting from CLEVELAND —
Joc Pederson had one swing to extend one of the most exciting rounds in Home Run Derby history and deliver more thrills for the crowd at Progressive Field on Monday night.
He and Vladimir Guerrero Jr., the youngest participant ever in the event at 20 years old, were putting on a show. After a 4-minute 30-second round, a 60-second swing-off and a three-swing tiebreaker couldn't determine a winner, Pederson needed another home run in the second three-swing tiebreaker to keep alive his bid for the title and a $1-million prize.
The Dodgers slugger had homered with his first hack and hit a line drive to right field with the second. But the third was a ground ball, finally concluding the round and pushing Guerrero to the final with a 40-39 win. The Toronto Blue Jays third baseman would go on to lose to New York Mets rookie first baseman Pete Alonso 23-22 despite hitting 91 home runs in the three rounds — crushing the previous record of 61 set by Giancarlo Stanton in 2016.
"Pretty exhausting, but it's all worth it," Pederson said. "It was a lot of fun and exciting. That's why you sign up for it. It was fun to compete out there. I loved it."
Pederson, who finished second in the 2015 Home Run Derby, was the first of the eight participants to hit after being slotted as the No. 5 seed with his 20 home runs. He got off to a slow start. When he called his 45-second timeout with 2:11 remaining in his round, he had just four home runs. An early elimination appeared likely. Then he hammered 13 over the final 2:11 and smashed four more during an additional 30-second period. He outlasted the Houston Astros' Alex Bregman 21-16 to reach the second round.
There, he met Guerrero, the mesmerizing rookie and son of a Hall of Famer. Guerrero was the eighth seed because his eight home runs in 61 games were the fewest, but he was not an underdog. He had set a record with 29 home runs in the first round to beat Matt Chapman. He followed it up with another 29 in the second round to dig a deep hole for Pederson.
Raking the grooved pitches of Dodgers third base coach Dino Ebel, Pederson answered with 14 home runs before using his timeout with 1:58 remaining. He proceeded to smack 15 more, crushing the 15th as his time expired to send the matchup to a 60-second swing-off with the scored tied 29-29.
Padres closer Kirby Yates is an All-Star the Angels let get away »
Guerrero recorded eight home runs, and Pederson responded again. His eighth sailed over the right-field wall as time expired. When it landed, the crowd erupted. A three-swing tiebreaker followed. Both hit a home run on their first swing and didn't hit another, forcing another tiebreaker.
This time, Guerrero homered with his first two swings, upping the challenge. Pederson's first swing produced a home run, but he couldn't repeat the outcome. Guerrero rushed over to bear hug a sweaty Pederson at home plate in celebration.
Mike Trout's All-Star peers readily admit his skills are peerless »
"It was special," Pederson said. "That's the youngest guy to hit in the derby. He's got a beautiful swing, obviously, and it was fun."
The final pitted the two rookies, and Alonso, who has 30 home runs this season, prevailed.
Twitter: @jorgecastillo
---