Brewers' Christian Yelich has always put in hard work to become the player he is today. Just ask this Thousand Oaks gym
The poster of Christian Yelich is almost hidden in a far corner of the gym, next to a dusty fan, above a collection of medicine balls. The accomplishments attributed to Yelich are a bit outdated: "2010 MLB 1st-round pick" and "MLB Gold Glove winner."
The walls are dominated by posters of football and basketball players, the headline clients at Proactive, a training center in Thousand Oaks. The facility is an unassuming one, in the shadow of the 101, hidden behind a Ferrari dealership, across the street from a medical office building.
Yelich has worked out here just about every winter for a dozen years, since he played at nearby Westlake High. The poster for Nick Swisher, who last played in the major leagues three years ago, is front and center.
Swisher had an excellent 12-year career, but he never received a single vote on a most valuable player ballot. Yelich, who led the Milwaukee Brewers to their first division championship in seven years, is the favorite to win this year's National League MVP award.
"We're updating the wall," said Proactive owner and founder Ryan Capretta. "He's going to get a bigger slot of real estate."
He might get a World Series ring too. In order to do so, however, he probably needs to make his October at-bats look more like his September at-bats.
Yelich led the league with a .326 batting average, and he hit 36 home runs. In September, he hit .370, with 10 home runs.
He hit a home run in the first game of the first round of the playoffs, but he has not hit one since then. He is batting .179 in the postseason.
The Colorado Rockies determined that he would not beat them, so they walked him six times in 14 plate appearances. The Brewers swept the Rockies anyway.
The Dodgers do not appear to share the fear, at least not to the same degree. They have walked him four times in 24 plate appearances.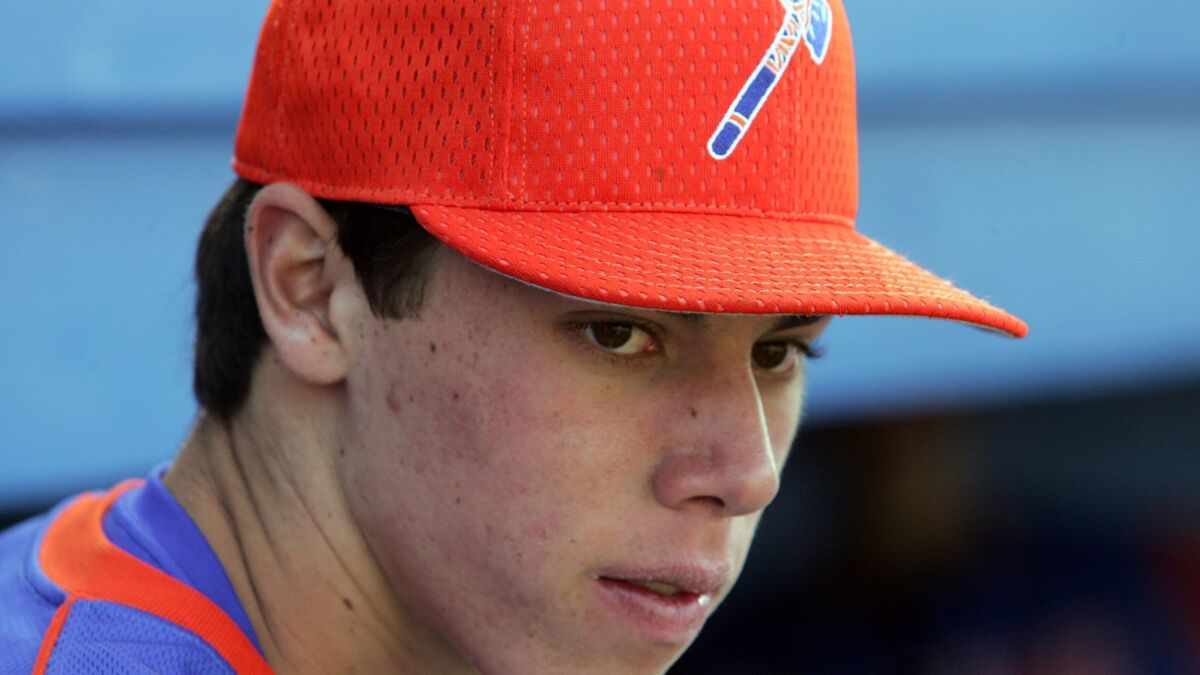 As the Dodgers and Brewers prepare for Game 6 of the NL Championship Series on Friday, Yelich is batting .150 in the series, with no extra-base hits.
"I think he's been swinging at the right pitches, as his on-base percentage all postseason has shown," Brewers manager Craig Counsell said. "He just hasn't put the big swing on the ball."
For Yelich, as for so many major leaguers, summer success stems from winter work.
Capretta can talk at length about Yelich's dedication to an intense workout program, about the personal training records he set last winter, and about his collegiality amid the circuit of strength training, tissue work and cardiovascular fitness. But Capretta sums it up nicely in one image.
"We've got a rock out there we call Barf Boulder," Carpetta said. "He's out there puking just like all the rest of the guys."
Why did this year turn out so much better for Yelich than every previous year?
"We're not taking credit for what he has done this year, by any means," Capretta said.
"We're very proud to be one spoke on his wheel. The reason it's so cool for us in here is that he hasn't changed one lick. He's consistently the same person to anybody in here: one of our coaches, or some parent or some kid who wants an autograph. He's just so friendly."
Nonetheless, Capretta and performance coach Ryan Sorensen cited several factors that contributed to Yelich's success in the gym.
First, after playing the first five years of his career in Miami, where the Marlins never finished within 15 games of first place, Yelich was driven by his trade to Milwaukee, and for a legitimate chance to play in the postseason instead of watch it on television.
"He wanted to win," Capretta said. "You could see that was wearing on him.
"With any athlete that goes through that, you could see it on their face. You go to a new city, you have a new opportunity, and you're right on the cusp of being a star. I think the ability to say, 'I know I can be a difference maker, and I'm going to a team that has that,' you could just see that in his energy."
Second, according to Sorensen, Yelich made it through last winter with none of the aches, pains and injuries that had limited his workouts in previous winters. Yelich's mental fitness improved too, Sorensen said, after winter consultation with a Navy SEAL veteran.
Third, he said, Yelich maintained his strength by consistently lifting weights during the season for the first time in his career.
After the Brewers' deep run into October, Yelich is scheduled to join a major league all-star team set to tour Japan in November. Capretta told Yelich he would understand if he wanted to get a late start on this winter's workouts.
"Dude," Yelich told Carpetta, "I can't take time off."
So Yelich will be back at his Thousand Oaks gym, where the two largest portraits on the outside of the facility feature Aaron Rodgers and Derek Fisher.
Rodgers, sure. Fisher might have won five rings with the Lakers, but he hasn't played an NBA game in four years. His image is coming down soon, and Yelich is on the way up.
Follow Bill Shaikin on Twitter @BillShaikin
Get our Dodgers Dugout newsletter for insights, news and much more.
You may occasionally receive promotional content from the Los Angeles Times.