Clayton Kershaw's adherence to routine is unparalleled among Dodgers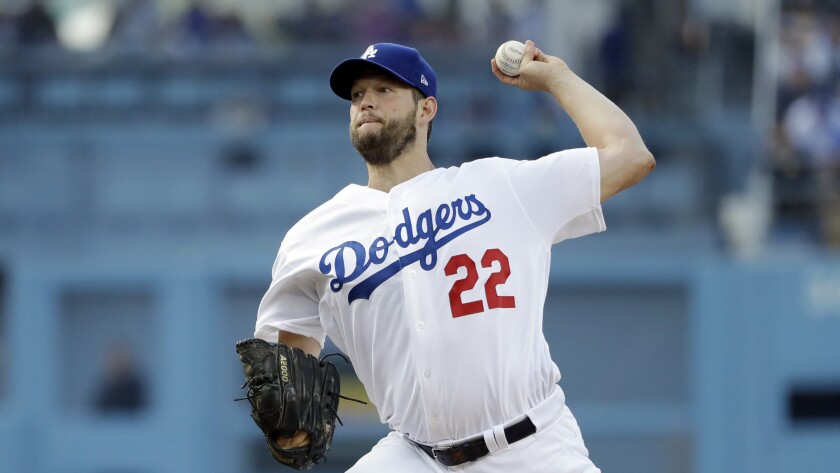 Clayton Kershaw arrived at Dodger Stadium just before 1 p.m. Tuesday, more than six hours before another Dodger would pitch. By 4 p.m., a light sheen of perspiration dotted his face as he jogged from the clubhouse toward the diamond. A round of bunting awaited. He had already spent the early portion of the afternoon working through the routine that guides him through this, his 12th season in the majors.
"Good or bad, failure or success on the field, the one thing I've always prided myself on is I will be consistent every four days in between," Kershaw said. "That's something that as a starting pitcher, you can control. Putting that work in helps me, at least, be able to live with the consequences of the fifth day."
The Dodgers will accept the outcome of Kershaw's process if he can replicate the output of his first four starts this season. As Kershaw prepared to face the Atlanta Braves on Wednesday, he sported a 2.77 earned-run average and was striking out more than a batter per inning. Still prone to home runs, he had countered by reducing the number of batters to reach base by walks or hits to 0.846 per nine innings, his lowest WHIP since 2016.
He remains vital to the Dodgers' championship aspirations despite the declining velocity of his fastball and his physical instability. Kershaw opened the season on the injured list because of a shoulder ailment, and his recent history of back issues lurk in the background. But Kershaw has demonstrated an ability to adapt to his physical limitations, expanding his curveball usage and improving the movement on his slider.
Manager Dave Roberts credited Kershaw for his willingness to adapt. Kershaw has not succumbed to the fits of stubbornness that sidetracked elite pitchers such as Felix Hernandez, CC Sabathia and Tim Lincecum.
"People talk about the velocity, but the bottom line is he's consistently getting guys out," Roberts said. "He's still one of the elite pitchers in the game."
To give context to Kershaw's enduring effort, take a look at two of his contemporaries, right-handers Jacob deGrom of the New York Mets and Max Scherzer of the Washington Nationals. Kershaw did not receive a vote on the 30 ballots cast for the National League Cy Young Award last season. The award went to DeGrom, who posted a 1.70 ERA in 32 starts. Scherzer finished second after striking out a career-best 300 batters.
As Kershaw nursed the inflammation in his left shoulder to start the season, those pitchers stumbled. DeGrom produced a 4.85 ERA in the first month; Scherzer finished April with a 4.12 ERA.
Both pitchers have rebounded in May. Scherzer whiffed 18 batters in two outings this month. After DeGrom struck out seven San Diego Padres and gave up two runs across seven innings Monday, Mets manager Mickey Callaway remarked, "He was the old Jake. He's back."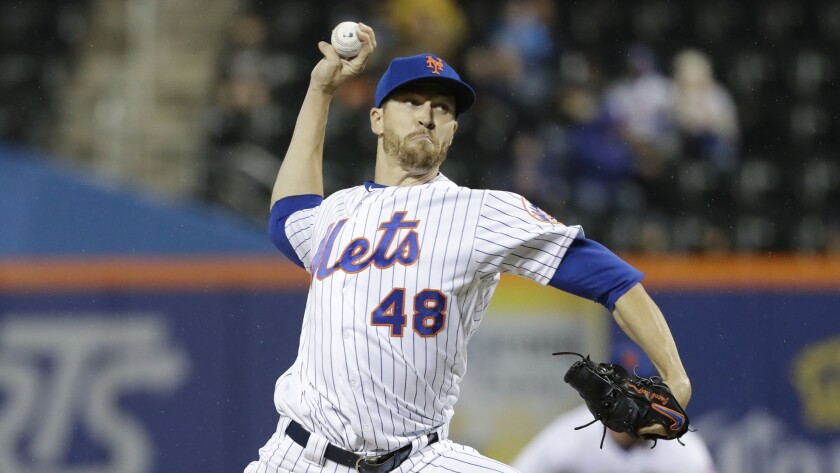 The blips do not portend doom for the duo. But these short slumps are notable because Kershaw almost never has them.
Since 2010, the season he fully incorporated a slider into his repertoire, Kershaw has completed only one month with an ERA above 4.00, when he posted a 4.08 mark in May 2014. He recovered from that stumble to win the Cy Young and NL most-valuable-player awards.
Even last September, as Kershaw struggled to generate depth on his slider, he managed to squeak through with a 3.89 ERA. He held opposing batters to a .712 on-base-plus-slugging percentage. In April, hitters had an .802 OPS against DeGrom.
Kershaw has two explanations for his ability to short-circuit extended bouts of failure. He mentioned how the quality of his teammates keeps him invigorated. If he gives up runs early in an outing, he does not get discouraged. He pointed to his outing last weekend in San Diego. He gave up two home runs in the first three innings. But he did not despair.
"If you know in the back of your head your team is probably going to win this game if you keep it there, not that you need that, but that's extra motivation," Kershaw said.
Kershaw did not give up any other runs during his six innings. The Dodgers pulled ahead after he exited.
"I don't know, man," he said. "Being on good teams helps."
Sign up for our daily sports newsletter »
So does his dogmatic approach to the four days between his outings. His adherence to routine is unparalleled within the Dodgers organization. He once lectured closer Kenley Jansen for moving back a morning meeting by 25 minutes — in spring training. On days when he does not pitch, he can usually be found running the outfield around 2 p.m. During home games, he appears at his locker about 10 minutes before the pitchers are expected to bunt.
Since injuring his back in 2016, Kershaw has edited his schedule. He aims to place less stress on his body. He concentrates on his flexibility. He spent the offseason trying to improve his range of motion so he could reproduce the bite on his slider. So far this season, the pitch is diving like it once did.
"Things change," Kershaw said. "Routines change. Things have to change. But change doesn't mean less. It just means different. So you have to find what works, and not be stubborn."
Twitter: @McCulloughTimes
---
Get our Dodgers Dugout newsletter for insights, news and much more.
You may occasionally receive promotional content from the Los Angeles Times.