Column: Dave Roberts is the Dodgers' great communicator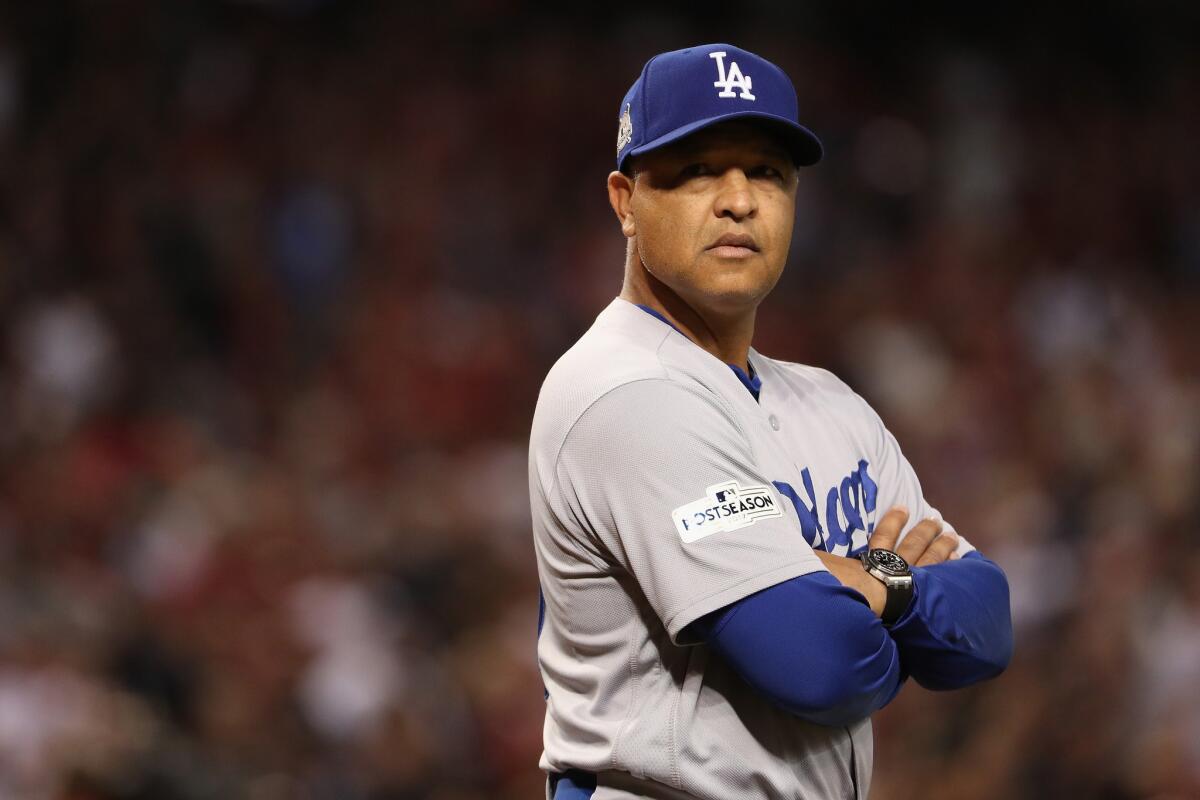 ON BASEBALL
There was joy in the air at Dodger Stadium. The Dodgers were about to open their final home series of the regular season, with a National League West lead that would turn out to be their largest of the year. Billie Jean King had just been welcomed as a new owner of the team.
Jaime Jarrin was three hours from his induction into the Dodgers' ring of honor. Jarrin is 82, and the Dodgers had just announced a new contract for their Hall of Fame broadcaster. He would be back next year, and the year after that.
The Dodgers had said nothing about a new contract for their manager, Dave Roberts, 46, or their iconic pitcher, Clayton Kershaw, 30. Whether either man would be back next year was uncertain. Mark Walter, the Dodgers' chairman, had said months ago that he would like to sign Kershaw for life.
As Walter sat in the Dodgers dugout, waiting to do a television interview, we asked whether he still wished to sign Kershaw for life.
"Sure," Walter said.
And Roberts?
"For life?" Walter said.
Well, no. Got us there. Not the most artful question. But what about a long-term contract for Roberts?
"I don't see any reason why not," Walter said.
There's the answer. The question of Roberts' return has shadowed the Dodgers for a year, from the afterglow of the World Series into spring training, to the worst 40-game start in Los Angeles history this season, to the clinching of another division championship this week.
Walter left himself a proper amount of wiggle room, saying he would listen if Stan Kasten, the team president, or Andrew Friedman, the president of baseball operations, wished to make a case against extending Roberts' tenure.
In fact, however, Roberts and the Dodgers already have started talks on a new contract, according to two people familiar with the discussions but not authorized to speak publicly about them.
For all the players who have shuffled in and out with numbing regularity — between the starting rotation and the bullpen, between the major leagues and the minor leagues, between the infield and the outfield, between an everyday spot in the lineup and a platoon spot, between being claimed off waivers and being designated for assignment — the management team has remained admirably stable.
Walter led the Guggenheim Baseball ownership group that bought the team six years ago. Kasten is in his sixth full season, Friedman his fourth, general manager Farhan Zaidi his fourth, Roberts his third.
If Roberts were to complete another three years, he would become the first man to manage the Dodgers for as long as six years since Hall of Famer Tommy Lasorda, who managed the team for 20 years.
In the 23 seasons since then, the Dodgers have employed seven managers, plus one interim manager.
In this era, stability in the manager's office might be more impressive than it was in Lasorda's day.
Lasorda could maroon a player on the bench for days on end, demand the promotion of a particular player from the minor leagues, and order a plentiful postgame buffet delivered to his office, inviting players to come in and dig in. Roberts can do none of those things on his own.
"It's a lot more collaborative now," Roberts said.
The storyline from day one: Roberts had no autonomy; Friedman and Zaidi made all the decisions, from callups to lineups, from which pinch-hitter was used in the fifth inning to which reliever was used in the eighth.
"I wanted to change that narrative, because it's not truth," Roberts said. "I think, at times, people take debate or collaboration as being told what to do. I think that's unfair. The structures have changed in baseball."
To a fan, the visible part of the manager's job might be the most important, and hence the daily complaints about how Roberts cannot make a starting lineup and stick to it, or how he constantly brings in the wrong reliever at the wrong time.
Ask Roberts what he considers the most important elements of his job and he does not mention putting together the lineup or running the bullpen.
"I would say being open-minded, being able to communicate with the front office, players and coaches, and being able to earn trust in the clubhouse," he said. "If you don't have any one of those three things, I think that you are doomed to fail."
The last of those three things might be the most challenging, given that Friedman and Zaidi can make moves that risk infuriating players but can leave Roberts to deliver the message, and try to soften the blow.
Yasiel Puig hits a home run and drives in half the team's runs one day, then sits on the bench the next. Every position player besides Justin Turner and Manny Machado is subject to platoon use.
The postseason bullpen could include Alex Wood, who made the All-Star team as a starter last season, Ross Stripling, who made the All-Star team as a starter this season, and Kenta Maeda, dropped from the starting rotation in each of the last two years.
In his first two years, Roberts said, he did not have this many conversations with players about roles, because the Dodgers did not have this much talent.
"You can't assume everyone knows their role, or everyone is content," he said. "I have to be proactive, to spur conversations, to get thoughts from players, and from coaches too.
"It's easy to talk about communication. But to do it every single day, and to make it a priority, that's a challenge. That's something that I enjoy, but it's still a challenge."
Roberts said he never has tried to deflect anger by telling a player he did not agree with a move the front office made, even if only in the interest of encouraging that player to keep giving his best effort.
"The one thing I don't ever want to do is pick sides," Roberts said. "Everyone isn't always going to agree on things. That's just the nature of life and work.
"But having a solidarity, that we're in it together, that is a message I have delivered many times to a player. You get it all the time: Why? Players want to know why, if they don't understand something or don't believe in something. It's my job to try to make it more clear."
It isn't clear why the Dodgers let Roberts dangle all year, and let him endure a trying season as a potential lame-duck manager. And, really, if the Dodgers were to simply pick up his one-year option and let him endure another season as a potential lame-duck manager, Roberts might as well ask out and try to find a better deal elsewhere.
Don Mattingly essentially did that, turning down one year from the Dodgers to take four years from the Miami Marlins. But Mattingly was here when Walter and Kasten got here, and Mattingly was here when Friedman and Zaidi got here.
Roberts is their guy. It is not that he is enamored of everything the front office does, and vice versa. But he wants to be here, and the Dodgers' management wants him to be here. The rest is just numbers, and this team does numbers pretty well.
Follow Bill Shaikin on Twitter @BillShaikin
Get our Dodgers Dugout newsletter for insights, news and much more.
You may occasionally receive promotional content from the Los Angeles Times.