Tearful thanks from Ross Stripling's father reassures Dave Roberts that he made right decision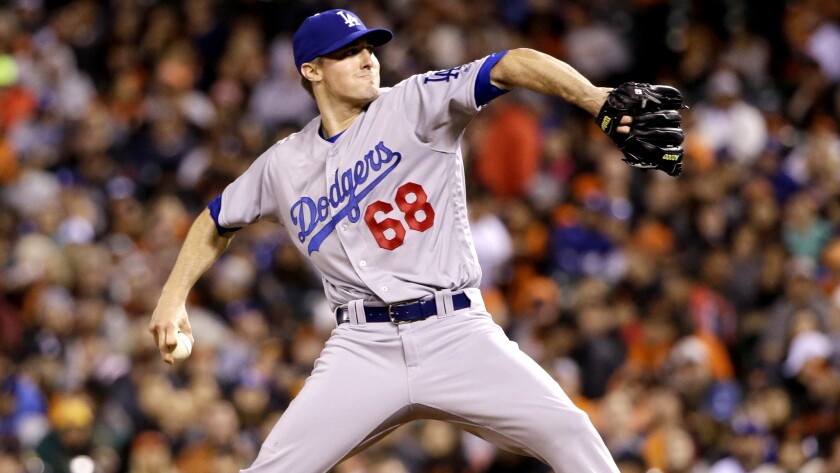 In the lobby of a hotel two miles from AT&T Park, Dave Roberts received the only validation he required after the most controversial decision of his brief managerial career. As Roberts walked toward the exit on Saturday morning, he ran into Hayes Stripling. There were tears in the man's eyes.
The night before, Hayes watched as Roberts removed his son, Ross, when he was five outs away from completing a no-hitter in his major league debut. Hayes did not seek recrimination. He wanted to thank Roberts for protecting his son's surgically repaired right elbow.
"For me, I felt good about it, regardless of that," Roberts said on Saturday morning. "But to get the parents' approval, it's always a good thing."
Rare is the event that can reduce attention from a showdown between Dodgers ace Clayton Kershaw and his Giants counterpart Madison Bumgarner, which was delayed by rain from its scheduled start. But on Saturday morning the lone topic of discussion inside the Dodgers clubhouse was the events of the night before.
Considered in a vacuum, the maneuver by Roberts backfired. After Stripling exited, reliever Chris Hatcher served up a two-run homer to backup catcher Trevor Brown that tied the score. The Dodgers lost, 3-2, in the 10th on a walk-off home run by shortstop Brandon Crawford.
Roberts and pitching coach Rick Honeycutt considered a slew of factors before pulling Stripling. Stripling had just thrown his 100th pitch after maxing out at 78 in one outing in spring training. Friday marked his 15th appearance in a game since having Tommy John surgery in 2014. His fastball velocity had fallen several ticks, and his command was shaky.
Andrew Friedman, the team's president of baseball operations, acknowledged the historical implications of a no-hitter. But he insisted the goal of each evening was a victory, not an individual achievement.
See more of our top stories on Facebook >>
"At that point in time, I agree with Doc and Honey," Friedman said. "Chris Hatcher gave us the best chance to win that game at that moment in time. It's easy if you just look at the outcome to second-guess it. But at that moment in time, it was very clear, in terms of what gave us the best chance to win that game."
Friedman watched the game from inside the visitors' clubhouse. He said he did not relay any messages to Roberts and the coaching staff in the dugout. He suggested it was ludicrous to view Roberts as a marionette operating under in-game direction from the front office.
"I've never done that in my career," Friedman said.
Before the game, Roberts outlined contingency plans with Honeycutt and bench coach Bob Geren. He admitted the team did not expect to see Stripling in the eighth inning with a no-hitter in reach.
"I thought it was a tough spot in terms of the questions after," Friedman said. "But hearing how convicted he was, talking to the guys in the clubhouse after the game, and how they appreciated how much he supports them, really stood out."
After the loss, several players poked their heads into Roberts' office to offer empathy. One of them was reliever J.P. Howell.
Watching from the dugout, Howell realized the complexity of the situation in the seventh inning. By then, Stripling looked winded. Howell considered the strain for Roberts, managing only his fifth game. "I was going, 'This is brutal,'" Howell said.
"It gets to the point where you say, 'Stop the fight. Stop the fight,'" Howell said. "So I respected it. It was tough, man ... Game 5? You don't want to deal with that. I wouldn't. But that's what he's getting paid to do."
Roberts estimated he received about 40 messages offering support after the game. Stripling could quadruple that. His phone featured 174 unanswered messages on Friday night. A day later, he was still answering them.
Stripling left 21 tickets for friends and family. He went with the group to a nearby bar and watched the highlights. The range of reactions depended on the age and temperament of his guests. "My friends were [ticked]," he quipped, but his parents understood.
As a starter at Texas A&M, Stripling regularly threw more than 120 pitches per game. But he only pitched once a week, and he often extended at-bats in search of strikeouts. He was still adjusting to the cult of efficiency in the professional game.
"In college, if I got 0-2, 1-2, I could just bounce two curveballs, waste pitches," Stripling said. "In pro ball, you can't really do that anymore, waste any pitches. It's a whole different mentality, trying to pitch to contact."
Roberts left the ballpark on Friday without any doubt about the choice he made. A day later, he only felt more proud about it.
"Everyone wants the story," Roberts said. "I wanted to see him throw a no-hitter. It's a special moment. But we're looking at the long term. We're looking at the long view. Ross can help us win many more games.
"If it would have gone south and something would have happened, I would have never been able to live with myself. Because this is this kid's livelihood. That's my job."
Follow Andy McCullough on Twitter: @McCulloughTimes
MORE DODGERS NEWS
Was Dodgers' Ross Stripling really OK with leaving the mound with a no-hitter going?
Ross Stripling's no-no try turns into oh-no cry for Dodgers in 3-2 loss to Giants
Dodgers put Carl Crawford on the disabled list because of a sore back
---
Get our Dodgers Dugout newsletter for insights, news and much more.
You may occasionally receive promotional content from the Los Angeles Times.