Curbing endless Yasiel Puig tumult: Dodgers simply need him to hit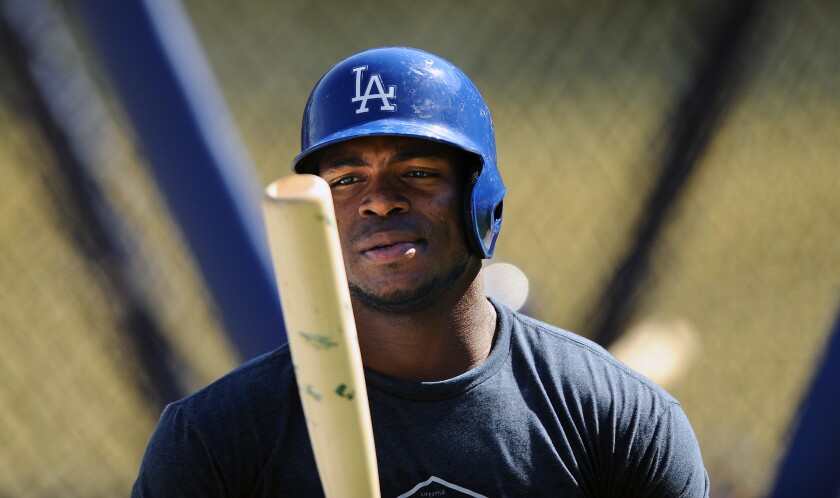 So Yasiel Puig and newbie Manager Dave Roberts finally sat down and had some face time. That's swell but hardly earth-shattering, and it certainly won't be the last time.
And Clayton Kershaw came up with one of the greatest non-denial denials since Woodward and Bernstein when asked if he had told teammate Scott Van Slyke that during a meeting with Dodgers management he had urged they move Puig.
"Scott is one of my best friends," Kershaw said. "So whatever I say to Scott is what I say to Scott. And then everything else, it might not be the truth."
Or it might be. Van Slyke said he could not recall the conversation he had with his father, Andy, that led to the infamous radio interview.
Puig and Kershaw talked during a Major League Baseball off-season goodwill tour to Cuba, and Puig said they would again in spring training to make sure they're on the same page. Roberts promised a clean slate. Puig said, as requested, he had lost weight.
And that's all fine and good, some kind of intrigue constantly tugging Puig like a blossom is drawn to the sun. It's not like none of it is important, just that it can overshadow the really significant aspect to all this:
The Dodgers need Puig to hit.
Not like he has for the past year and half, but really hit. Hit at least closer to the player who exploded upon the scene in 2013, a shooting star that left jaws agape and imaginations in hyper drive.
The Dodgers essentially have four starting outfielders – Andre Ethier, Joc Pederson, Carl Crawford and Puig. And all but Puig bats left-handed.
The re-signing of Howie Kendrick adds another solid right-handed bat to the lineup, to go along with Justin Turner and switch-hitter Yasmani Grandal, both coming off winter surgeries after hitting a career-high 16 home runs.
In his rookie season, with just 432 plate appearances, Puig hit 19 home runs and put up a .319/.391/.534 slash line. And he was a holy terror on the bases with a laser arm. He was a superstar in the making.
Yet after a blazing start to 2014, he has become something much less. He went into a horrific slump to end 2014. And after hitting coach Mark McGwire talked last winter of Puig winning MVP, he became completely ordinary in a 2015 season that included two hamstring injuries.
The Dodgers very much need him to get his groove back. Every starting player for the Dodgers this season comes with questions attached, though none may have the immediate ceiling offered by Puig.
If he can be more a lightning rod on the field than off it, the Dodgers could have a truly deep lineup. It's Puig that adds a dash of danger, who threatens the unexpected.
A pow-wow with Kershaw, losing weight, a clean slate – none are insignificant factors in the most overriding issue with Puig. He needs to hit.
---
Get our high school sports newsletter
Prep Rally is devoted to the SoCal high school sports experience, bringing you scores, stories and a behind-the-scenes look at what makes prep sports so popular.
You may occasionally receive promotional content from the Los Angeles Times.