It would serve Corey Seager better to dial back superstar storyline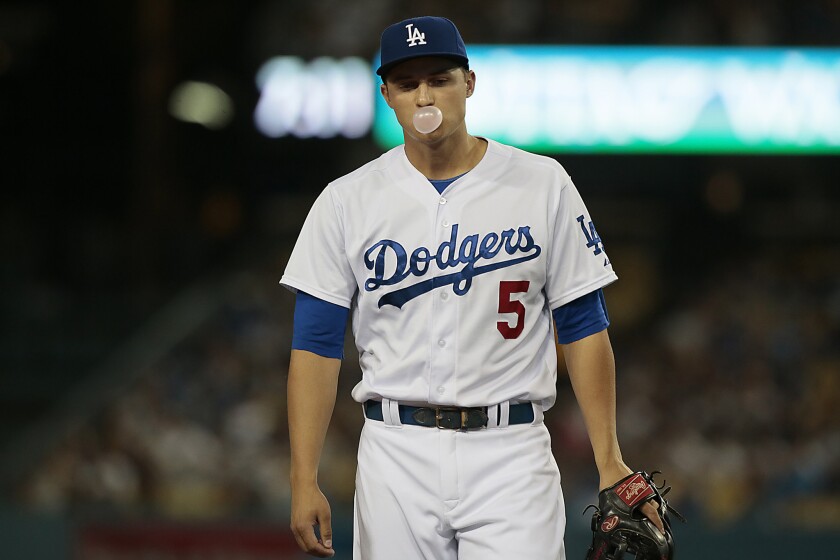 OK, all together now, slow calming breath. All that hyperventilating is so unhealthful. It's one thing to be filled with anticipation, it's another having your heart burst out of your chest. At some point, it's best to reach for the Xanax.
So can we just let Corey Seager be a kid, please? A 21-year-old rookie shortstop about to depart on his first full major league season?
An amazing kid, certainly, but still a young buck just beginning his career. Someone expected to astonish with his talent and poise, but who will undoubtedly have his stumbles along the way.
Seager has been the Dodgers' most heralded young player for a while now, and just last week Major League Baseball deemed him its No.1 prospect for 2016. That would be, in all of baseball.
Then veteran Dodgers first baseman Adrian Gonzalez threw this out there last weekend:
Not to put too many expectations on a kid who's had an entire 98 major league at-bats. Really, everyone take an enormous step back on the Seager bandwagon. Let him play without the burden of instant greatness. Like someone finding their way, not posing for the next bronze outside Dodger Stadium.
I understand Seager has brought much of this upon himself. He was called up Sept. 3, partially to back up Justin Turner at third, and almost immediately was a sensation. He reached base safely in his first 21 games. He hit right-handers (.337/.425/.561) and left-handers (.325/.426/.500). Mostly handled short efficiently. Was uncommonly calm and relaxed in the clubhouse and seemed mature well beyond his years.
By the end of September, he had unexpectedly claimed the starting spot from veteran Jimmy Rollins and started in four of the five playoff games against the Mets batting third, second (twice) and fifth in the lineup.
It was some kind of six weeks for a 21-year-old.
Now the Dodgers have passed on re-signing Rollins and turned the position over to their wunderkind. As it should be. Only in the process, try not to expect Cal Ripken Jr. meets Pee Wee Reese from opening day on. To always be clutch and not suffer missteps along the way.
In the playoffs he went three for 16 (.188), and one of those hits was a bloop double that went for his only extra-base hit and probably should have been caught. As always, pitchers will learn, make adjustments and he will have to too.
Whether you think he's going to be really good or headed for superstardom, it figures to be one fun ride. Let's just let him take it without having to carry an unnecessary load.
Follow Steve Dilbeck on Twitter @SteveDilbeck
---
Get our high school sports newsletter
Prep Rally is devoted to the SoCal high school sports experience, bringing you scores, stories and a behind-the-scenes look at what makes prep sports so popular.
You may occasionally receive promotional content from the Los Angeles Times.