Janet Marie Smith has a strong connection to World Series: She helped renovate both stadiums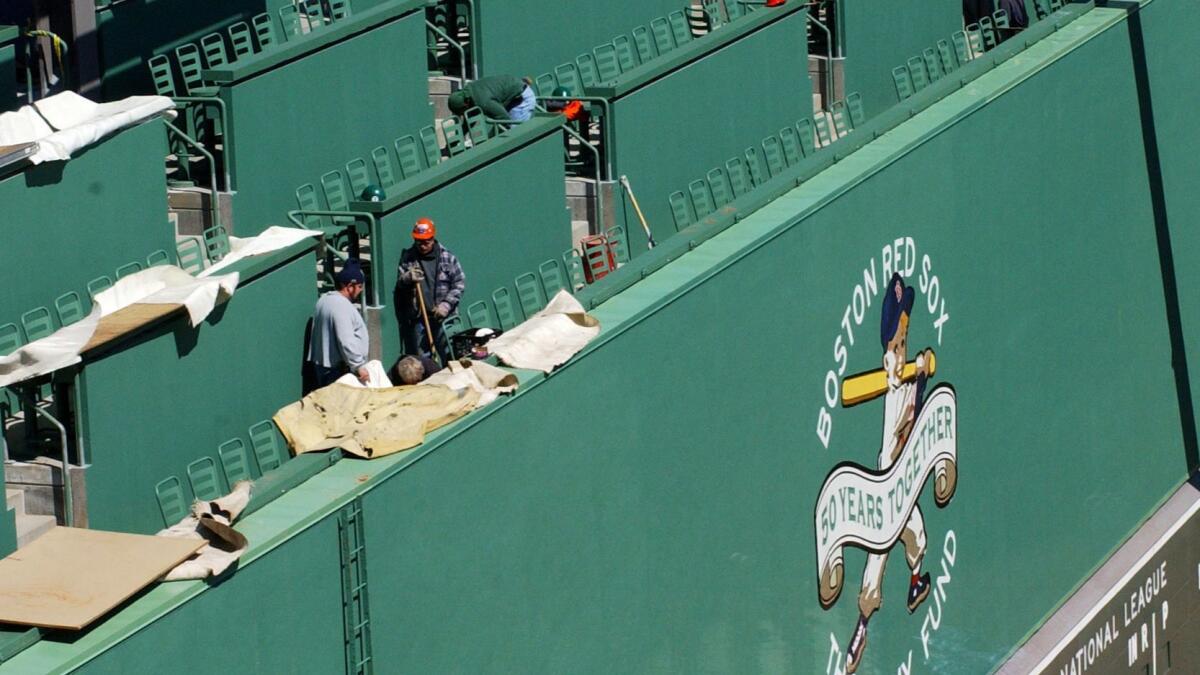 We are only two games into this World Series, but we already know who is the most valuable player.
This is not about wins over replacement. This is about beloved ballparks that did not need replacement.
This is about the joy of a World Series that celebrates two of the three oldest stadiums in the major leagues. The Dodgers and Boston Red Sox would not be as classic a matchup if the games were played in sparkling modern stadiums, rather than in Dodger Stadium and Fenway Park.
For that, we can thank America's foremost ballpark architect. With imagination, and with a love of the game, Janet Marie Smith preserved and enhanced those stadiums for future generations to enjoy.
"We're one of the few sports that has the audacity to refer to our homes as cathedrals," Smith told the Los Angeles Times this week at Fenway Park. "The idea of this being a place where families have gone for generations, in both Los Angeles and Boston, is something that we have looked to celebrate."
The fourth-oldest ballpark in the major leagues — behind Fenway Park, Wrigley Field and Dodger Stadium — is Angel Stadium. That renovation ought to be Smith's next major league project.
Boston fans nearly lost Fenway Park. In 2001, the last time the Red Sox were sold, there was no shortage of bidders interested in buying the team and moving it into a new ballpark. Our old friend Frank McCourt proposed a waterfront stadium on the parking lots he owned, the ones he would later use as collateral for his cash-free purchase of the Dodgers.
The winning bidders — John Henry, Larry Lucchino and Tom Werner — commissioned Smith to figure out how to upgrade Fenway Park so the Red Sox could stay there. That was no sure thing.
Fenway opened in 1912, wedged into a city block, and finding space to alleviate the cramped conditions appeared impossible.
Under Smith, the Red Sox expanded the miserably narrow concourses by incorporating an office building and a laundry facility into the ballpark, then using that space for new concession stands, restrooms and room to walk. They moved some turnstiles onto an adjacent street, easing congestion inside the ballpark.
They converted an outdated batting cage into a restaurant and bar, put additional gathering places atop the right-field roof and the home clubhouse, and relocated dumpsters and television trucks to open a food court and picnic area. They installed the hugely popular seats atop the Green Monster by building in midair — that is, in the space above the street behind left field.
Smith took on the Dodger Stadium challenge in 2012. McCourt had sold the Dodgers to the Guggenheim Baseball group led by Mark Walter, and the new owners had considered whether a new ballpark might make sense.
Dodger Stadium opened in 1962 and, like Fenway Park, space restrictions would limit any renovation. Dodger Stadium was built into the side of a hill.
In order to expand the clubhouses, for instance, Smith had to remove the seats on the field level, excavate the space below, and then replace the seats. Not all of them, though, because the only effective way to widen the concourse was to rip out a few rows of seats.
The Dodgers also expanded walking space by building plazas outward from the seating area, including bars and drink rails that overlook each bullpen.
"Fans don't sit in their seats for nine innings anymore," Smith said. "You see teams designing social areas, places for fans to mill around. We don't pretend we're going to be sitting here with a No. 2 pencil, like our grandfather had to do."
The Dodgers installed new and larger restrooms, in part because Walter told Smith he did not want to see fans waiting in long lines just to use the bathroom.
And the Dodgers embraced history, with displays including a bobblehead doll collection down the left-field line; a bat from nearly every Dodgers All-Star down the right-field line; a bullpen cart, equipment trunk, and Vin Scully memorabilia collection on the club level; player awards on the clubhouse level; and a half-century worth of vintage Dodger Stadium signs, dusted off from storage and affixed to the walls on every level.
Whatever new signs the Dodgers put up tend to be hexagonal, miniature versions of the iconic Dodger Stadium scoreboard shape.
"Dodger Stadium doesn't feel old, I don't think," team president Stan Kasten said. "It's never going to be a new stadium, with all the modern amenities, but I think we have done a good job of making it feel comfortable and familiar while still lending a 21st ccentury experience to it.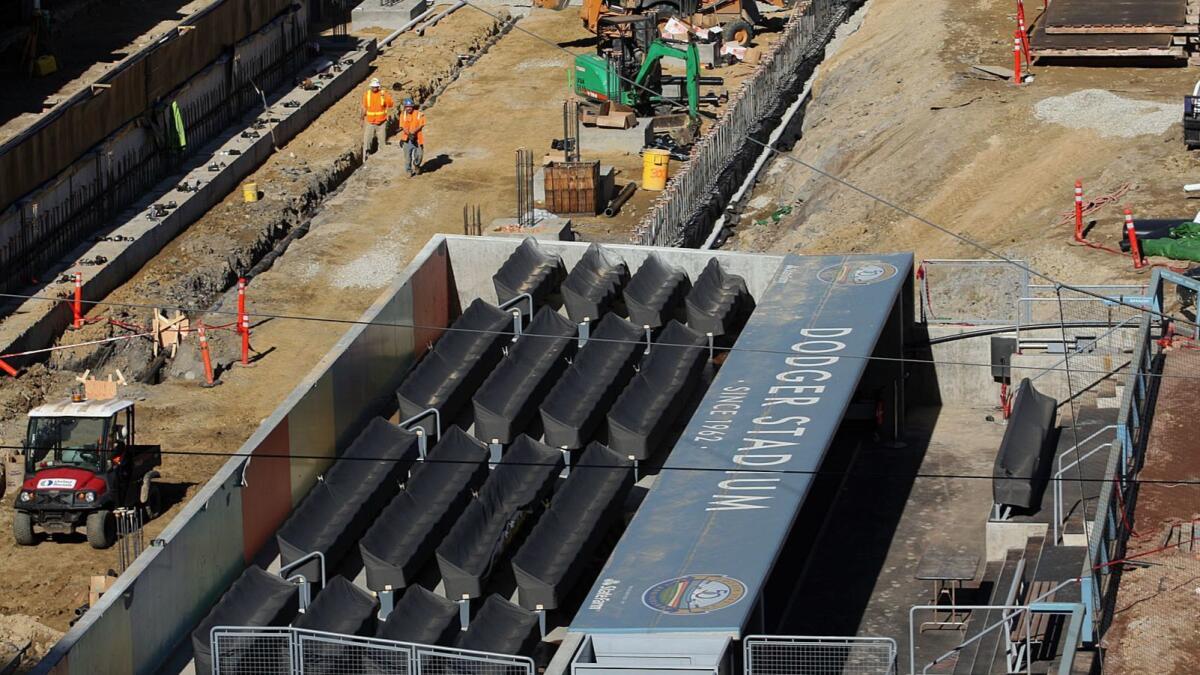 "I'm very proud of that, and Janet is a major part of that."
That is why the Angels, and the city of Anaheim, ought to give her a call.
The Angels last week opted out of their lease at Angel Stadium, which opened in 1966. There should be no need for drama.
The Angels are not moving out of the Los Angeles market. Owner Arte Moreno spent millions in legal fees a decade ago so he could call his team by the Los Angeles name, which he believed would carry a greater appeal to national advertisers. In a year when commissioner Rob Manfred said he is exercising patience with the Athletics' prolonged search for a new ballpark because "there is not another market in the United States that has the upside potential Oakland has," the idea of the Angels leaving Southern California for the likes of Portland, Las Vegas or Charlotte is laughable.
Moreno had his chance three years ago to pay for a new Orange County ballpark, in nearby Tustin. He passed, and team officials acknowledge it is highly unlikely that any Southern California city would pay to build one for him.
The Angels need Anaheim, and vice versa. Manfred acknowledged as much on Wednesday, when asked whether fans should worry their Angels might be moving because they opted out of their stadium lease.
"The activity is part of a natural negotiating process," Manfred said. "It's negotiation."
The Angels' lease now expires after the 2019 season, with no obvious place to go. Anaheim could play hardball, but why?
"We're not going to kick them out," a city official said.
This is not terribly difficult. Revive the framework of the last renovation plan, under which Moreno would pay to upgrade the city-owned stadium, and the city would let him recoup the costs by developing land in the parking lot. Negotiate a reasonable split of development profits.
Then let Smith work her magic. The Walt Disney Co. did its best two decades ago, with cartoonishly oversized baseball caps outside the stadium and a music garden inside the ballpark, but the garden and other plazas do not afford a view of the field.
In Boston, the signature view is of the Green Monster and the Citgo sign beyond. At Dodger Stadium, the mountains beyond the outfield provide a majestic sense of place.
The Angels ought to do better than fake rocks and a view of State Route 57.
Angel Stadium has terrific sight lines, and the location cannot be beat: easy in, easy out, with four freeways nearby and a train station in the parking lot. Bring that lot to life, with places for fans to eat, drink and shop.
If Smith could transform one ballpark confined within a city block and another shoved against the side of a hill, the possibilities of renovating a stadium and the flat parking lot surrounding it could be delightful for her, and for all of us.
"I can't say I've studied it," Smith said. "I'm going to enjoy this week. I've never had two places I love this much be in the World Series."
Go Dodgers. And then, Ms. Smith, please go to Anaheim.
Follow Bill Shaikin on Twitter @BillShaikin
Get our Dodgers Dugout newsletter for insights, news and much more.
You may occasionally receive promotional content from the Los Angeles Times.