Dodgers perform a juggling act in the outfield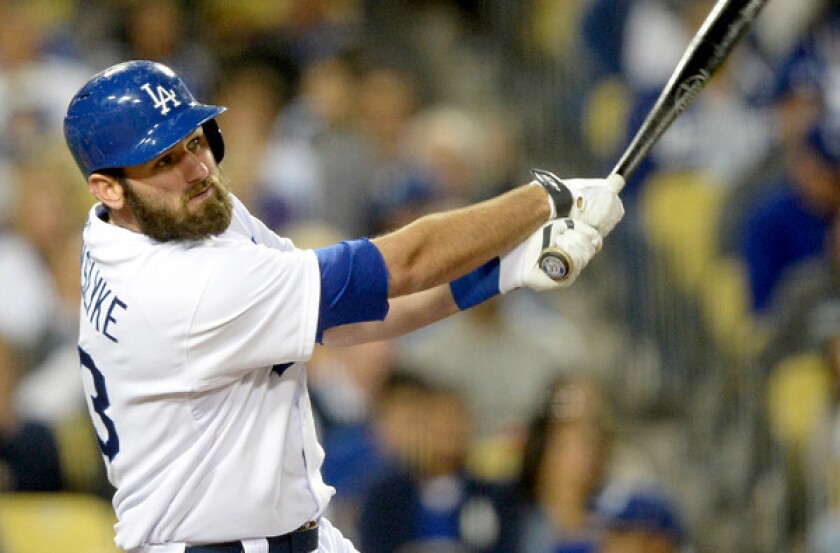 As it turns out, we all got the question wrong.
How would the Dodgers split playing time among four outfielders? By the time the Dodgers finally got their four headline outfielders healthy at the same time, they had decided to split time among five outfielders.
For now, the Dodgers have a stable outfield rotation. If they face a right-hander, the outfield consists of Carl Crawford, Andre Ethier, and either Matt Kemp or Yasiel Puig. If they face a left-hander, the outfield consists of Kemp, Puig and Scott Van Slyke.
On Friday, Van Slyke showed why. He hit a home run off Arizona left-hander Wade Miley, one of the Dodgers' five hits in a 4-2 loss to the Arizona Diamondbacks in 12 innings.
The Dodgers had almost lost in the ninth inning in comical fashion. Reliever Chris Withrow threw a wild pitch — on an intentional walk. That allowed Arizona pinch-runner Tony Campana to score the potential winning run from third base, the capper on a rally that included three walks but no hits.
In the bottom of the inning, Juan Uribe hit a home run to force extra innings. In the 12th, Aaron Hill's two-run single off Chris Perez gave Arizona its first victory against the Dodgers in six tries this season.
Van Slyke has reached base 10 times in 14 plate appearances against left-handers this season, including six hits, five for extra bases, and four walks.
This platoon business is new to Crawford, who is in his 13th major league season, and Ethier, in his ninth season.
But the Dodgers' depth gives them the chance to play the best matchups, rather than anoint three outfielders as regulars. The statistics bear out the decision to bench Crawford and Ethier against left-handers — over the last three years, Crawford has a .596 OPS against left-handers and a .774 OPS against right-handers, with Ethier at .596 off left-handers and .892 off right-handers.
"With computers and numbers and stuff like that, it's definitely changed the way lineups are made," Crawford said.
Still, the management of people arguably is the most important part of a manager's job. Crawford and Ethier each said Mattingly has not met with the outfielders to explain who would play, and when.
"Everyone wants to go out there and play," Ethier said. "At the same time, we want to win games and put our best lineup out there."
Mattingly said he does not anticipate the current platoons will hold all season. With five days off within the first two and a half weeks of the season, rest days have not been necessary.
Van Slyke should get some time at first base when Adrian Gonzalez rests. All the outfielders could get more playing time as they get hot, or less as they get hurt.
"These things tend to play themselves out," Crawford said.
If they do not, can the Dodgers juggle all five outfielders all season?
"I don't know the answer to that," Ethier said. "As long as we're winning, it'll be fine. When things slip up, it might be a different case.
"Everyone knows what the ultimate goal is. We know we're capable of doing what everyone has picked us to do."
So far, so good. The Dodgers are tied for first place in the NL West, with the richest payroll of any team in North American sports history.
"It's working," Ethier said. "I bet a lot of other teams wish they had options to flip guys in and out and put the best matchup out there every day.
"It's good to have resources."
Twitter: @BillShaikin
---
Get our high school sports newsletter
Prep Rally is devoted to the SoCal high school sports experience, bringing you scores, stories and a behind-the-scenes look at what makes prep sports so popular.
You may occasionally receive promotional content from the Los Angeles Times.