Dodgers lose, and they could use a shot in arm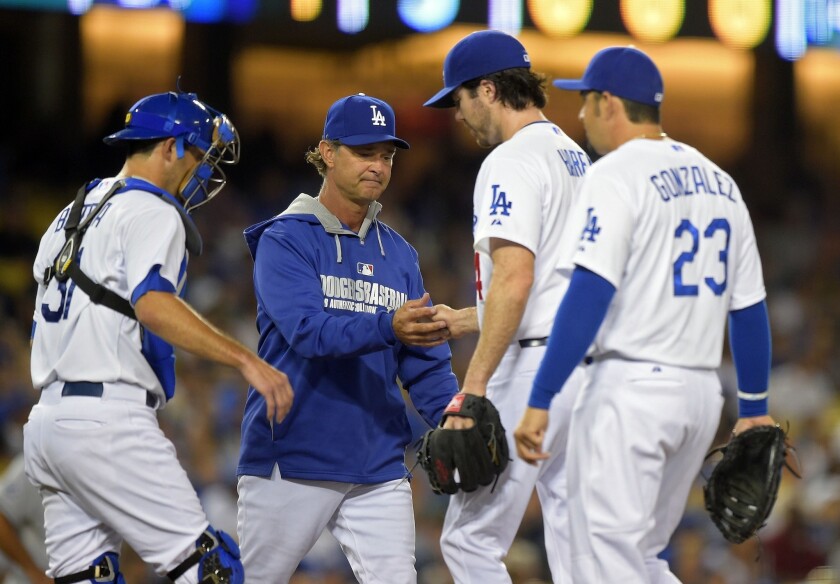 Hanley Ramirez wasn't in the Dodgers' lineup again Friday, this time because he was only a day removed from receiving a cortisone injection on his troublesome right shoulder.
Ramirez's absence is expected to be a short-term problem. When he feels better, he'll be back on the field.
Dan Haren might present the Dodgers with a more serious issue.
Haren pitched only four innings of a 6-3 defeat to the weak-hitting San Diego Padres at Dodger Stadium, an unwelcome development for a team already dealing with the loss of Josh Beckett to the 15-day disabled list.
Haren is now 8-6 with a 4.23 earned-run average, which is perfectly reasonable for a No. 5 starter, even on a team with World Series aspirations.
But Haren is trending downward.
He has won only once in his last five starts. In each of the four starts he didn't win over that period, he failed to complete six innings.
He has a 5.37 ERA over his last 10 starts and has served up 17 home runs in his last 12 games, including a two-run blast by 5-foot-7 Alexi Amarista on Friday. The home run was only the 13th of Amarista's career.
In Haren's defense, the home run counted for two runs instead of one because catcher Drew Butera couldn't block a pitch in the dirt to Will Venable, which allowed Venable to reach base after striking out.
Also, Chase Headley's run-scoring double in the fifth inning might have been caught by a center fielder with more range than Scott Van Slyke.
Whatever the details, the Dodgers can't afford to have Haren pitching like this, especially with uncertainty about Beckett.
As Beckett recovers from a hip injury, his turn in the rotation Saturday is expected to be taken by left-hander Paul Maholm, who last started a game May 14. That start didn't go well, as Maholm was mauled for 10 runs and 11 hits over 32/3 innings in a loss to the Miami Marlins.
Behind Maholm, the Dodgers have Red Patterson at triple-A Albuquerque. Patterson has made one start in the major leagues, which lasted 42/3 innings.
Mattingly offered few details about Ramirez's condition, other than to say the shortstop's throwing shoulder flared up the previous night and that he didn't have a timetable for his return.
Asked if Ramirez would have to deal with the condition for the remainder of the season, Mattingly replied, "I hope not. But we just kind of deal with what we get on a daily basis or a weekly basis, do the best we can with it and go from there."
Mattingly blamed Ramirez's
inability to find an offensive rhythm on his inability to stay in the lineup.
Ramirez is batting .275 with 11 home runs and 48 runs batted in in 83 games. His numbers are down significantly from last season, when he hit .375 with 20 home runs and 57 runs batted in in only 86 games.
Ramirez has played through an assortment of physical issues — problems with both shoulders, as well as a calf — but Mattingly said he doesn't have any regrets about not placing him on the disabled list earlier this season.
Such a move might have allowed Ramirez to return to full strength rather than continue to play compromised, which appears to be the case.
Mattingly insisted Ramirez has produced enough.
"He's been good," Mattingly said. "He's still on a pace to drive in like 90 runs, so it's not like we've got a guy that we're not getting production out of."
With Ramirez unavailable, the Dodgers started Miguel Rojas at shortstop. And with the loss to the Padres, they fell into second place in the NL West, percentage points behind San Francisco.
Follow Dylan Hernandez on Twitter @dylanohernandez
---
Get our Dodgers Dugout newsletter for insights, news and much more.
You may occasionally receive promotional content from the Los Angeles Times.