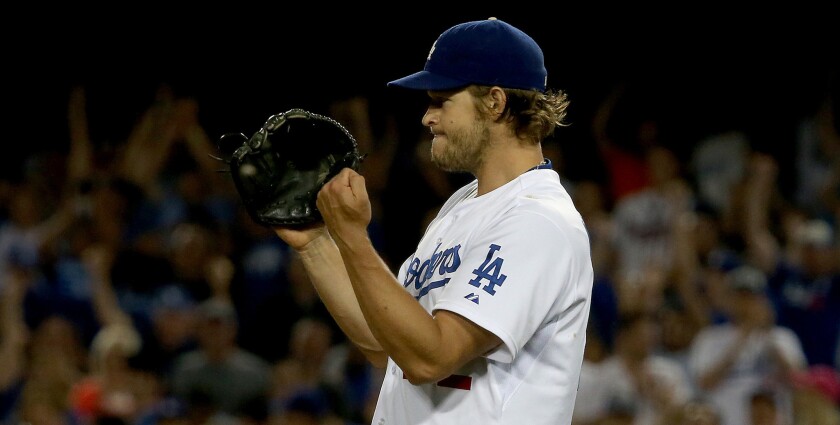 If the inability to complete a deal before the non-waiver trade deadline on Thursday drew attention to the Dodgers' perceived shortcomings, a 2-1 victory over the Atlanta Braves that night offered a reminder of the team's greatest advantage.
The Dodgers might not have added David Price to their rotation or Joaquin Benoit to their bullpen, but they still have Clayton Kershaw.
Kershaw pitched his second consecutive complete game in the sweep-sealing win over the Braves at Dodger Stadium, lowering his league-best earned-run average to 1.71 in the process. The Dodgers have won the last 11 games he has started.
"He's just on the warpath every time he pitches," Manager Don Mattingly said.
Kershaw (13-2) came within an out of becoming the first Dodger in 19 years to pitch consecutive shutouts, as the Braves scored their only run in the ninth inning on a two-out infield single by Justin Upton. Upton's brother, B.J. scored on the play, which the Dodgers asked to be reviewed. But the replays confirmed the first base umpire Mike Estabrook's original judgment that Justin Upton beat third baseman Juan Uribe's throw to first base.
Even after the run scored, Mattingly said he didn't consider removing Kershaw from the game.
"I feel like it's his game at that point," Mattingly said.
Kershaw ended the game by forcing Evan Gattis to ground into a force play.
Kershaw limited the Braves to nine hits and no walks, outdueling Julio Teheran, who held the Dodgers to two runs and five hits over eight innings. Both starters struck out nine.
Kershaw's latest masterpiece was witnessed in person by the last Dodger to pitch shutouts in successive starts: Hideo Nomo, who did it in 1995. Nomo received a warm ovation when shown on the stadium's video scoreboard.
The Dodgers extended their season-long winning streak to six games. Their lead over the second-place San Francisco Giants in the National League West is 3 1/2 games.
Yasiel Puig homered and scored both of the Dodgers' runs.
"The trade deadline is exciting," Kershaw said. 'We all watch. Usually, we're a part of it. It's weird not to be. It's probably a sign of just how good this team is."
Right fielder Matt Kemp offered similar thoughts.
"I still like our team on paper as one of the best teams in baseball," he said. "We have really good pitching, a really good bullpen and really good hitters. That's what you need to win ballgames."
They also still have Kemp.
There was widespread speculation about whether Kemp would still be with the Dodgers after the trade deadline.
Kemp and his agent, Dave Stewart, sounded in recent weeks as if they were open to a trade. Kemp said he wanted to return to center field, where Puig is now the starter.
Of remaining with the Dodgers, Kemp said, "I'm excited. I want to be here with my teammates."
Kemp said he didn't think much about the possibility of being traded over the last few days.
"I wasn't worried about anything," he said. "I was just worrying about the game and worrying about what pitcher I was facing that day and what I could do to help us win."
Kemp also said he didn't have a problem playing right field, which is where he has started in each of the Dodgers' last nine games.
"Everything is good," he said. "I'm playing. That's all I care about, playing and helping my team win."
In reality, there was little chance Kemp would be traded, as he is owed $107 million over the next five seasons. But if management felt any frustration about the inability to unload his contract, it probably was tempered by Kemp's recent stretch.
Kemp was 0 for 2 with a walk Thursday, but hit three home runs in his previous two games. He has batted .459 over his last 10 games.
"We need Matt Kemp," General Manager Ned Colletti said. "We need him to help our club, we really do."
Kemp said he remains in search of the form he displayed in 2011, when he finished second in NL most-valuable-player voting.
"I'm still trying to get it all the way back," he said. "I'm not done. I still have a lot of work to do."
Follow Dylan Hernandez on Twitter @dylanohernandez
---