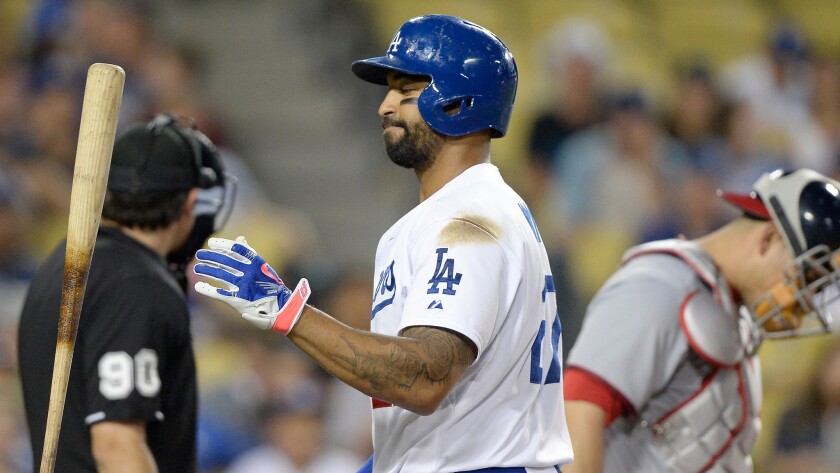 When the calendar switched from August to September early Monday morning, whatever intrigue was still swirling around the Dodgers roster vanished.
The deadline had passed to acquire players who would be eligible for the playoffs. No relief help, no power bat and no fifth starter had been added for the stretch run. And that meant the players who filed into the clubhouse Monday afternoon — a group swelled by four minor league call-ups — most likely will be the ones who determine whether or not the Dodgers reach the postseason.
"This is our club," Manager Don Mattingly said. "This is our team."
Monday that team was overwhelmed by left-hander Gio Gonzalez and the Washington Nationals, 6-4, to open a three-game series that could prove to be a preview of the National League Championship Series.
The teams started the day leading their divisions and tied for the NL lead in wins with 77. But once the game started those similarities faded with Washington pounding starter Roberto Hernandez (8-10) for five runs and five hits, including four home runs, in 4 1/3 innings, sending the Dodgers to their third loss in four days and cutting their NL West lead over the San Francisco Giants two games, the narrowest it's been since Aug. 4.
Gonzalez (7-9) was dominant for six innings, holding the Dodgers to one hit — Matt Kemp's first-inning homer — in ending a personal five-game losing streak with his first victory since early July, and helping the Nationals push their lead over Atlanta in the NL East to seven games, the second-largest cushion in baseball.
The Dodgers tried to rally in the ninth and got the tying run on base, but pinch-hitter Joc Pederson, in his first major league at-bat, took a called third strike from Washington closer Rafael Soriano.
For Mattingly, the fact both teams lead their divisions doesn't bring any additional emphasis to the series.
"If your pitcher's good, you look good. If your pitcher's bad, then you don't look as good," he said. "We're not establishing anything for later. We need to win games. We need to get there. There's too much baseball to be played to worry about something like that."
There are a few other things to worry about, though. For instance:
Is a team that is four games under .500 against the rest of the NL's playoff contenders good enough to go deep into October?
Is a bullpen that ranks second-to-last in the majors in wins and in the bottom half of the league in ERA deep enough?
And is a lineup that ranks 13th among 15 National League teams in home runs — with just one from a pinch-hitter – powerful enough?
"Better be," Mattingly said.
Before July's nonwaiver trade deadline General Manager Ned Colletti tried to upgrade, trading for infielder Darwin Barney (career average: .244). And last month he added two 34-year-old starters in Hernandez and Kevin Correia (combined career record at the time: 139-180).
"It's not the same team we had at the All-Star break," Colletti said.
But it's still a team with weaknesses, ones management couldn't plug before midnight Sunday.
"You try to add a little piece here or there. But you're not trying to aggressively change your clubhouse," Colletti said. "This isn't a Rotisserie league, where you just call up anybody you feel like adding to your team."
And that seems just fine with the players in that clubhouse, who see the lack of trade-deadline urgency as a sign of confidence in the guys who are in uniform.
"We were ready from day one in spring training [with] what we had," outfielder Andre Ethier said. "Over the course of the year things happen, you have to add guys. But I think from day one we knew we had enough.
"There's no excuse not to make it to the playoffs. You can sit there and whine, but that creates excuses. It takes the onus and responsibility away from the players, which you don't want to do.
"Be accountable and be confident with the players you have and the skills that you have yourself."
---