Dodgers excel in 4-0 victory over Padres, Yasiel Puig doesn't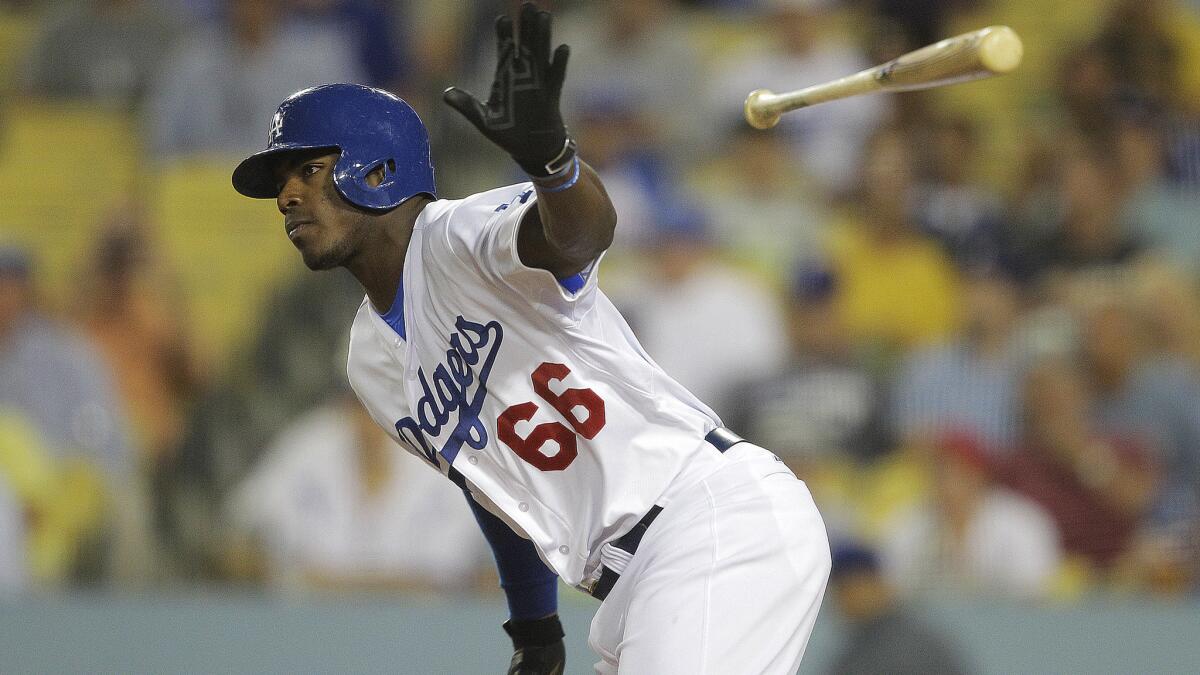 There is nothing subtle about the Dodgers' handling of Yasiel Puig. His bat has been in a deep freeze for the better part of two months, but the Dodgers have no plans to do anything other than let him play.
"Sink or swim," Manager Don Mattingly said Wednesday.
Puig continued to sink Wednesday, even as the Dodgers continued to rise. Dan Haren and two relievers combined on a four-hitter and Carl Crawford had four hits in the Dodgers' 4-0 victory over the San Diego Padres.
The Dodgers (83-63) and Washington Nationals (82-62) are essentially tied for the best record in the National League. The Dodgers lead the NL West by 21/2 games over the San Francisco Giants, and the two teams open a three-game series in San Francisco on Friday.
Puig was hitless in four at-bats, with two strikeouts. He does not have a home run since July 31, and is batting .203 since then, with a .228 slugging percentage.
Mattingly tried Puig in the leadoff spot Wednesday, one night after batting him seventh and two nights after batting him sixth.
"At the end of the day, we know we need him," Mattingly said. "We know we're going to need this guy to get going. And when he's going good, we're a better team.
"It's time. We're at that point where it's just time for him to get it rolling."
The Dodgers have options beyond Puig in center field. Certainly, Puig offers a potential offensive bonanza that Andre Ethier, Scott Van Slyke and rookie Joc Pederson do not.
Mattingly said Puig is trying his best, maybe trying too hard, and expressed sympathy for him.
"We've looked at him like he's Superman and we all build him up," Mattingly said, "and now he's struggling and we want to tear him down."
Is there a point at which Mattingly would have to consider making a change, or is Puig's talent so good that the Dodgers have to let him play it out?
"I don't know how to really answer that, honestly," Mattingly said. "Guys are going to struggle at different times. Do you stay with them? Do you show confidence? Do you not show confidence? It's a tough question to answer."
Has Mattingly thought about a change?
"Yeah, I think about it," he said. "You're always hoping a guy catches fire. You don't know why a guy gets in an extended slump. ... We've been trying different things. He's had a day off. We put him in different parts of the order to take some pressure off of him.
"All those things we're trying are to get him back to who we know he can be."
Ultimately, Mattingly acknowledges his job is to put the best possible team on the field, with or without Puig.
"I don't know that we necessarily have a better option," Mattingly said. "You may say Joc. We think Joc is going to be a great player in the future, but it's not like you bring a kid up and throw him in there and say, 'You're better than this guy' without him having proven anything yet."
No teammate has called out Puig publicly, but several Dodgers players have wondered privately how a player in such a prolonged slump can continue to show up to the ballpark too late to get in extra work before batting practice, and how long a leash management might continue to afford him, even with his unquestioned talent.
"I hear all those rumblings, and how everything goes," Mattingly said. "Maybe there are things I don't agree with in certain areas, with a number of guys. That being said, you still try to get the best out of the club you have right now. That's what we are trying to do. We have an opportunity to get into the postseason and win a world championship.
"You manage the players you have, to get the best out of them. And then, in the off-season, if the organization doesn't like certain things, that is when you have to address it. It's hard to do that now. We're trying to win now. He is part of what got us here."
Get our Dodgers Dugout newsletter for insights, news and much more.
You may occasionally receive promotional content from the Los Angeles Times.