Dodgers produce a Giant rout with 24 hits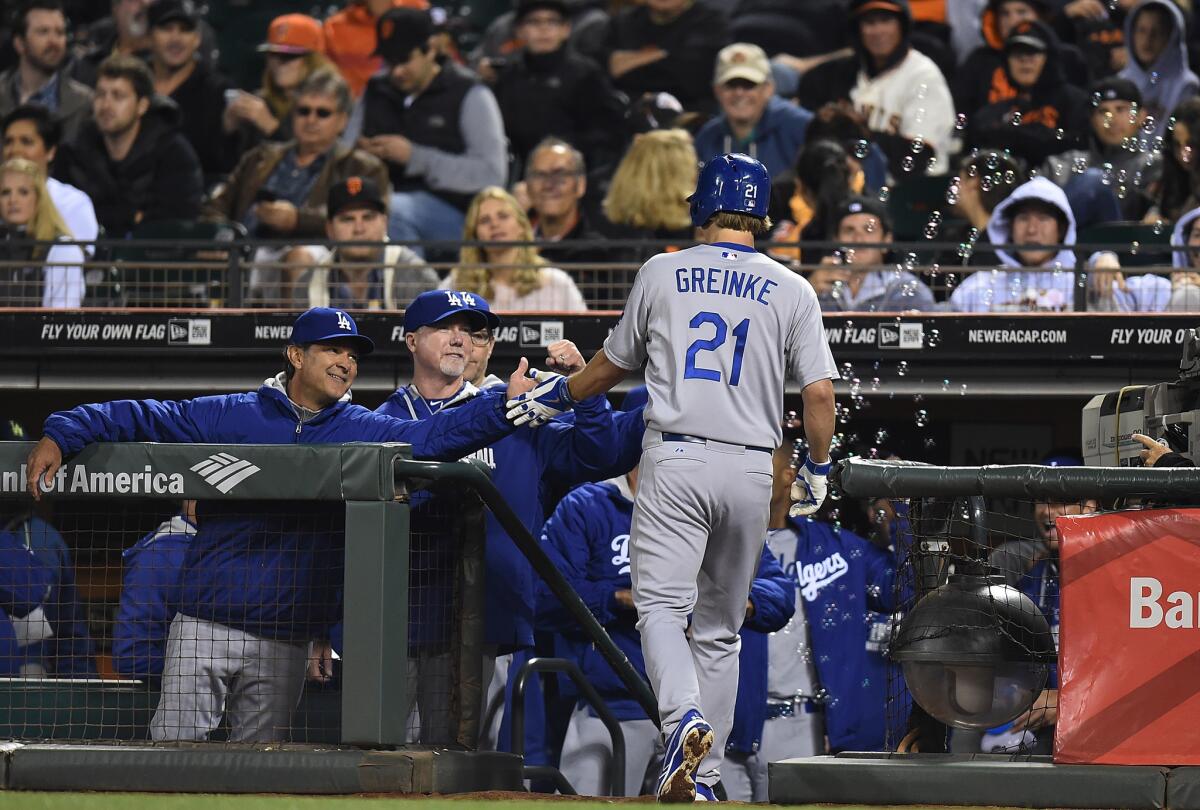 SAN FRANCISCO -- The Dodgers have no idea when Hyun-Jin Ryu will pitch again this season, or for that matter whether he will pitch at all.
For a night, they cast their worries aside and threw themselves a raucous party on enemy territory. The Dodgers crushed the San Francisco Giants, 17-0, a verdict so ruthless and merciless that the Giants pulled Buster Posey from the game in the third inning.
The Dodgers piled up 24 hits, the most in the history of AT&T Park by any team, including the Giants.
Who hit well? Who didn't? In addition to his six innings, Zack Greinke hit a home run, and a double too. Matt Kemp doubled twice and drove in three runs. Carl Crawford drove in three runs. Hanley Ramirez had four hits, Yasiel Puig three.
The Dodgers scored four runs in the first inning, four in the second and four in the sixth. They scored in six of the first seven innings.
All of which guaranteed the Dodgers would leave San Francisco on Sunday in first place. They lead the National League West by two games over the Giants, with 14 to play — and Clayton Kershaw pitching Sunday.
Ryu left Friday's game after one inning because of what the Dodgers called irritation in his left shoulder. His fastball velocity was down 3 mph in that inning. Rookie Carlos Frias is expected to make his second major league start Wednesday, in place of Ryu.
The Dodgers will send Ryu for an MRI examination Monday in Los Angeles, after which they hope to have a diagnosis of his injury and a timetable for his return.
In April, Ryu spent 22 days on the disabled list because of what the Dodgers called inflammation in his left shoulder. The Dodgers are cautiously optimistic that this injury is no more severe, and that the conservative rehabilitation schedule afforded by an early-season injury can be accelerated without undue risk.
The regular season ends in 14 days. If the Dodgers win the NL West, they would open the division series in 19 days.
That makes it even more imperative for the Dodgers to win the division and avoid the wild-card playoff. If the Dodgers need to use Kershaw for a wild-card playoff, they would have him for one game instead of two in a potential division series.
"Nobody wants to have to put their season on the line for one game," Kershaw said.
The Dodgers are 19-4 when Kershaw starts, 16-9 when Ryu starts, 16-12 when Greinke starts and 33-39 when anyone else starts.
"When we're all going the way we're supposed to, and with the way [Dan] Haren has been throwing the ball the last month, when Ryu is healthy, we've got four guys that can win on any given night," Kershaw said.
Ryu's potential unavailability could put the Dodgers where they were in October, scrambling to find a fourth starter. In the division series, they used Kershaw on short rest to avoid using a fourth starter. In the league championship series, they used Ricky Nolasco, who lasted four innings.
Dodgers General Manager Ned Colletti said it was too soon to discuss whether the Dodgers would consider Kershaw on short rest again, since the Dodgers have not clinched a playoff spot and have not gotten a diagnosis on Ryu.
"If you have the four lined up, it doesn't guarantee you anything," Colletti said. "Sometimes, somebody might surprise you."
Manager Don Mattingly said a significant Ryu injury would not necessarily doom the Dodgers.
"I kind of look at what the Angels went through when [ace Garrett] Richards went down," Mattingly said. "Everybody said the world was coming to an end. They've been on fire ever since."
Said Kershaw: "They rake. They have a really good offense."
On Saturday, so did the Dodgers.
Twitter: @BillShaikin
Get our Dodgers Dugout newsletter for insights, news and much more.
You may occasionally receive promotional content from the Los Angeles Times.