Dodgers are swept by San Francisco Giants; Alex Guerrero homers again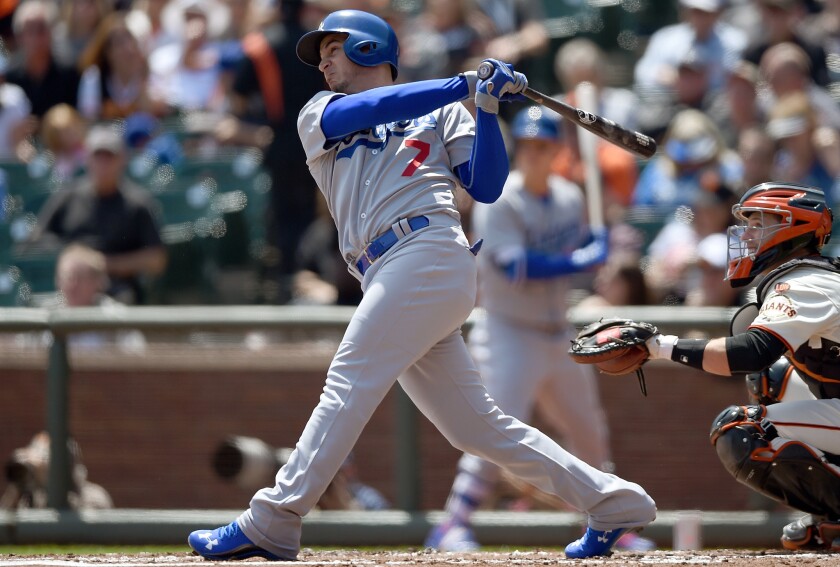 Reporting from SAN FRANCISCO —
In a three-game sweep by the San Francisco Giants that concluded Thursday with a 3-2 defeat in 10 innings, the Dodgers scored a total of six runs.
Four of them were driven in by Alex Guerrero.
So, as the Dodgers traveled to San Diego to open a three-game series against the Padres on Friday, the debate regarding Guerrero's playing time continued.
In the series finale against the Giants at AT&T Park, Guerrero started for only the third time this season and responded by belting his fourth home run, sending a second-inning offering from Ryan Vogelsong over the wall in left-center field.
He also homered the previous night as a pinch-hitter.
Guerrero is batting .474. He has only 19 at-bats, but is tied for eighth in the National League with 12 runs batted in.
However, the 28-year-old rookie is perceived as something of a player without a defensive position.
He was a lifelong shortstop in his native Cuba, but the Dodgers didn't think he had the range to play the position in the major leagues and tried to turn him into a second baseman last season. That didn't work and Guerrero spent most of the season in the minor leagues.
Dodgers management now appears to be most comfortable with him as a third baseman, which places him in direct competition with Juan Uribe.
Uribe is 36, but still considered one of the best defensive third baseman in baseball. He is also one of the most popular players on the team.
Other players acknowledge Manager Don Mattingly has a difficult decision to make.
On one hand, how can Mattingly not play Guerrero if he's hitting like this? On the other, is it fair to Uribe to demote him less than three weeks into the season?
Guerrero made clear he wants to play every day. But he was also diplomatic, saying in Spanish, "I'm not in charge. If they don't put me in, I have to make the most of the chances I get. I have to respect the decision of the manager."
Based on what Mattingly said before the game Thursday, it sounds as if Uribe will remain the primary third baseman for now.
Mattingly said the decision to start Guerrero that day was made days earlier and wasn't the result of the home run he hit Wednesday night.
"We know we have a long season, a long way to go," Mattingly said. "You put things together during the winter knowing who your personnel [are] and how you think you see it working. Sometimes, you stay with that course. Other times, you have to get off that course. We've played, how many games? I just don't think we're willing to just go run in a whole 'nother thing."
But Mattingly said he would be remain open-minded.
"We'll see," he said. "We're not going to be hardheaded to the point where we're going to say, 'This is what we said we're going to do and we're going to stay with it.' You make decisions based on where you're at, where you're going."
Mattingly appeared uncomfortable with the line of questioning. Asked if he considered designating Guerrero the starting third baseman and turning Uribe into his late-game defensive replacement, Mattingly responded with a question of his own, asking what he should do with utility man Justin Turner, who batted .340 last season.
"Where does J.T. fit in your plan?" Mattingly snapped. "Does he not play? Should he not start and then somebody come in for him? I know the people are chanting for Alex right now, but there's other guys, too, that probably have swung the bat better. J.T. hits .340 last year, leads the league in hitting, basically. Now, because he's not the flavor of the day, we start talking about somebody else. That's where we can't get involved with what happened over a 10-day period. We have to make decisions based on long term and what we see and project, but also with the fact that things change. Not discounting Alex, but you still have a full roster we know we'll use over the course of the season."
Twitter: @dylanohernandez
---
Get our Dodgers Dugout newsletter for insights, news and much more.
You may occasionally receive promotional content from the Los Angeles Times.