Zack Greinke dazzles in Dodgers' 8-2 win over Brewers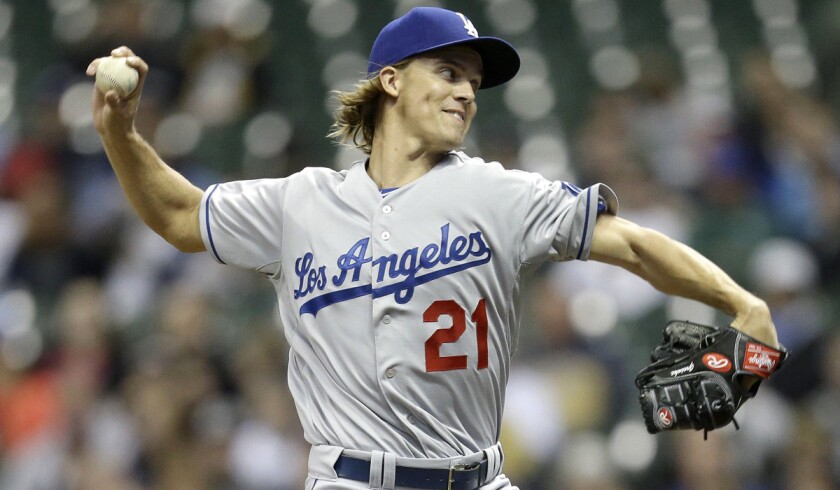 Reporting from MILWAUKEE —
There were two strikes in the count when Zack Greinke gripped his bat, dug in the batter's box and checked his swing. The call was close, so Milwaukee Brewers catcher Martin Maldonado pointed to the first base umpire for an appeal.
So did Greinke.
Typically, a hitter facing a potential third-strike call doesn't like to aid its arrival, but with the way Greinke was pitching, what difference did it make? The appeal did not work in Greinke's favor — he was called out on strikes — but that just meant he could get back to the mound.
Subscribe to our free Dodgers newsletter here
It was hard to blame him for wanting to return quickly. Greinke dazzled in the Dodgers' 8-2 win over the Brewers on Tuesday. He breezed through 7 2/3 innings, the deepest a Dodgers starter has gone this season. He gave up two hits and an unearned run, and struck out seven batters.
It was a performance not unlike many others in his previous two seasons with the Dodgers. But with Clayton Kershaw not quite back to his mesmerizing self, Greinke has shined.
"He may get overlooked because he's a little quieter," Dodgers Manager Don Mattingly said. "And really what Clayton's been doing over the last four or five years has just been off the charts, and so anybody that was here would kind of get a little bit overlooked. But I think within baseball circles they know how good Zack is."
Greinke has started well in each of his three seasons with the Dodgers, but this year has been his best. His 1.59 earned-run average is fourth in the National League. He is 5-0 in six starts and has not lost since Aug. 9.
He is 10-0 with a 1.99 ERA in that span, which has covered 14 starts. It is the longest winning streak of his career. To Greinke, that meant little.
"Of all the ones that we've talked about, I think that's the most worthless of all of them, probably," he said.
Greinke said he has settled into such a productive stretch because, paradoxically, he has accepted less than his best. He no longer tries to throw every fastball at 95 mph, he said. Even with two strikes, he has allowed some bite to leave his slider. That has helped him avoid mistakes and stay consistent.
The approach has bought him time to figure out a changeup that has proven stubborn. The pitch is moving too early, he said, making it difficult to throw for strikes.
That was hard to notice against the Brewers because he was so dominant. He did not allow any runners in scoring position (the run he gave up scored from first base on a botched fly ball by center fielder Joc Pederson). He walked only two batters.
He has averaged two walks per nine innings this year. They are so rare that, in the eighth inning, when Greinke walked Elian Herrera, Greinke had to remind him that it was ball four.
The outing was Greinke's third this season of at least seven innings with zero earned runs. He also had his second hit, a double over the center fielder's head, and his first bat flip.
"It's always there," Greinke said of the flourish. "Just haven't hit one hard like that in a while."
By the eighth inning, when he appealed his check swing, Greinke had done enough at the plate. He said that he stole the idea from Texas Rangers third baseman Adrian Beltre, who always appeals his swings.
That was the first time it hasn't worked, Greinke said. But there was no harm done.
"Sometimes," Greinke said, "you've got to conserve your energy to pitch."
---
Get our high school sports newsletter
Prep Rally is devoted to the SoCal high school sports experience, bringing you scores, stories and a behind-the-scenes look at what makes prep sports so popular.
You may occasionally receive promotional content from the Los Angeles Times.