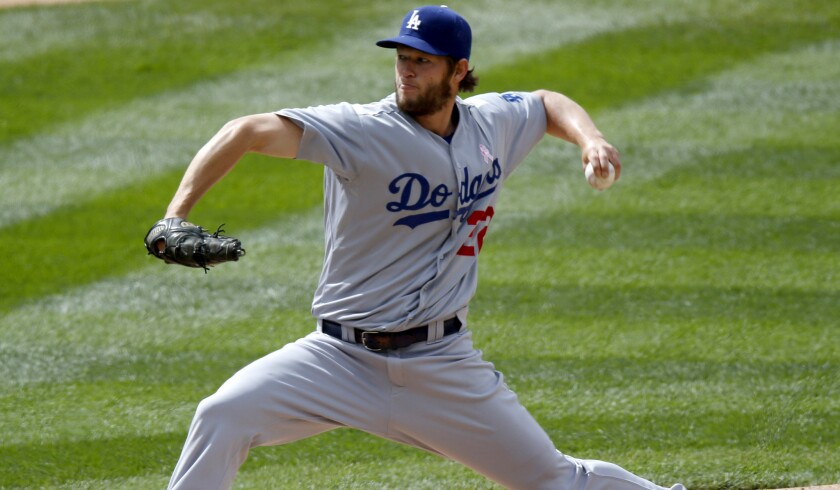 Reporting from Denver —
Dodgers pitching coach Rick Honeycutt walked slowly to the mound where Clayton Kershaw stood wiping his brow. He approached the three-time Cy Young Award winner, extended his hand and gave him a consoling pat on the back.
There was little else to do in the middle of Kershaw's worst regular-season inning in nearly a year, a five-run fourth in the Dodgers' 9-5 win over the Rockies on Sunday. He was throwing mostly fine, even if he wasn't as sharp as usual.
But Kershaw had made the mistake of walking the leadoff batter. Then he had the misfortune of yielding two excuse-me hits on pitches in on the hands, a five-foot single that died in front of the mound, and a two-RBI chopper — to the opposing pitcher, no less — that bounced over Kershaw's head and into center field. In all, he gave up one hard-hit single in the inning.
Only after the last hit did Honeycutt make his visit, perhaps as more of a breather than anything else. In his fourth attempt at his 100th career win, Kershaw left after another frustrating start. He lasted 5 2/3 innings and allowed five runs, eight hits and four walks, one intentional. The last time Kershaw allowed five or more runs in an inning during the regular season was May 17 of last year, against the Arizona Diamondbacks, when he allowed seven.
He also had an indelibly bad seventh inning against St. Louis in Game 1 of the National League division series in October, when the Cardinals scored eight times to erase a 6-2 deficit. The first six of those runs were charged to Kershaw.
"It's tough to analyze I guess," he said Sunday. "You just see five runs on the board, so obviously not a good start."
Kershaw has started seven times this season, and the Dodgers have won only three of those games. His earned-run average has ballooned to 4.26, and his record remains 1-2.
The Dodgers have persevered without their ace at his peak. They improved to 20-10 with their win Sunday, when Justin Turner's pinch-hit two-run home run broke a 5-5 tie in the eighth inning.
Despite injuries, the Dodgers have the second-best record in the league, and a 4 1/2-game lead in the NL West. Zack Greinke has been perhaps the best pitcher anywhere. The lineup has produced, the bench has filled in admirably and the bullpen has been as good as any team's. Kershaw has been one of the few missing pieces.
"It's a pretty complete team," Kershaw said. "So start doing my part, we'll be pretty good."
The team is waiting for last year's Kershaw to return, when he was NL MVP in addition to winning the Cy Young Award. They don't believe he is far off.
"I don't think anything's any different with Clayton," Manager Don Mattingly said. "Some years it doesn't go that way, the way you want it to early on."
He added: "There will be a point where it turns, and then it'll be what it's always been."
In part, Kershaw has been a victim of well-placed hits. Opposing batters are hitting .342 on balls in play against him this season, the fifth-highest average among NL pitchers. Over his career, that figure is .273.
Kershaw's ERA is high, but his fielder-independent pitching statistic, which typically estimates ERA, is closer to his norm. He is striking out 11.2 batters per nine innings, which would be the highest rate of his career, and he fanned the 1,500th batter of his career Sunday with a knee-buckling curveball.
Still, Kershaw remains frustrated.
"I don't really believe in luck," he said. "You either pitch good or you don't."
Catcher A.J. Ellis partially attributed Kershaw's sluggish start to hitters adjusting.
After a rainout Saturday, Ellis watched video of Kershaw's first six starts last season and his first six this season. There wasn't much of a difference, Ellis said. Later, he reviewed the statistics and said, if anything, Kershaw has been slightly better.
"You guys all know, you guys have watched him the last few years," Ellis said. "It's coming."
Few on the Dodgers would disagree, but that has been of little consolation for Kershaw, who is used to dominating hitters.
"You'd like to hope so," Kershaw said. "But you can't really bank on that."
---