Dodgers outfielder Andre Ethier is playing like old self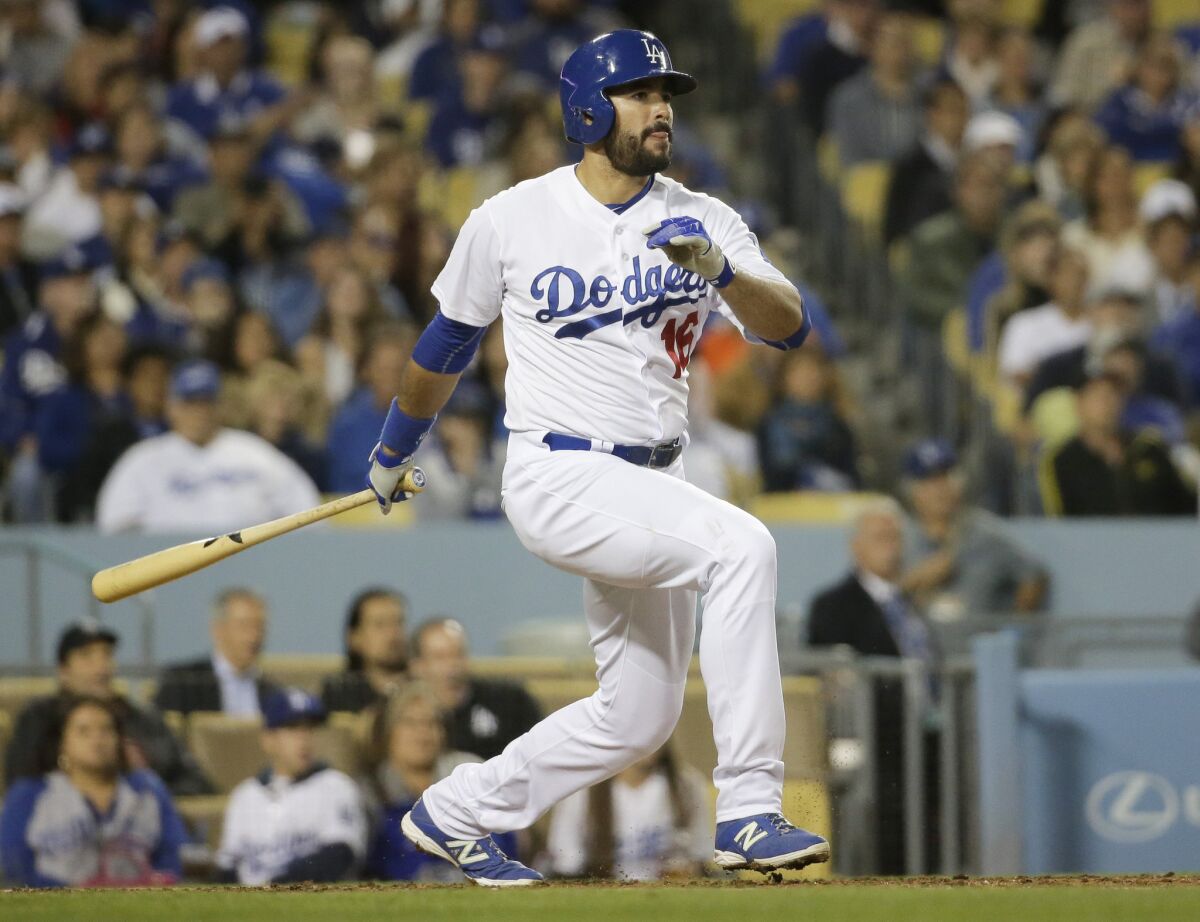 Andre Ethier was stumped. He couldn't recall the last time he felt as he does now.
"Maybe 2012?" Ethier wondered aloud.
That was his last 20-home run season.
Or perhaps, he said, it was before he injured his ankle late in 2013.
"I don't know," he said.
Ethier has not only turned back into an everyday player in the absence of Yasiel Puig, he's hitting again as did when he made two All-Star teams.
The 33-year-old outfielder was batting .321 entering Thursday, when the Dodgers opened a four-game series against the Colorado Rockies at Dodger Stadium. The Dodgers were leading, 4-2, in the seventh inning at the deadline of this edition. Ethier already had five home runs, which is one more than he hit all of last season, when he was relegated to a bench role.
"Andre has bounced back and looked like the Andre of old," Manager Don Mattingly said.
And when Ethier has played, the Dodgers have won.
Ethier started in right field for the 21st time Thursday. In the previous 20 games he started there, the Dodgers were 15-5. With Puig as their starting right fielder, the Dodgers were 6-5.
This wasn't what the Dodgers envisioned in the off-season.
Ethier was aware of that, which was why he insinuated in December that he wanted to be traded, saying he wanted to start, whether it was with the Dodgers or another team.
The Dodgers sent Matt Kemp to the San Diego Padres later that month, but Ethier's situation remained largely unchanged. Puig was supposed to start in right, Carl Crawford in left and rookie Joc Pederson in center. Ethier was still owed $56 million, which made him difficult to trade.
When Ethier reported to spring training, he didn't back down from the comments he made in December. But he now says he was already starting to adjust his mentality.
"Once I showed up to spring, it was, 'This is the spot I'm in,'" he said. "It's not a one-foot-in, one-foot-out type of thing. It's all or nothing.
"I'm going to take care of what I can. That's to play the way I'm capable of playing. Whether it was going to work or not, who knows?"
Ethier said he tried to convince himself he would get a chance to play.
"I didn't know if that was going to be true, but that's what I had in my mind," he said.
The opportunity came when Puig strained his left hamstring last month. Puig is expected to be sidelined for at least a couple more weeks. Crawford, who has a torn side muscle, is also on the disabled list.
If Ethier continues to perform like this, the Dodgers will presumably find places to play him even when Puig and Crawford return.
"He said he wanted to play every day," Mattingly said. "He's forced that. He's really backed that up with his play."
Ethier said he's been able to do that because he's healthy for the first time in several years. He has been plagued with a variety of injuries since he made the All-Star team in 2011.
"It's frustrating, but not everything's going to go good and go the way you want it to be," he said. "You have to grind through things. You're going to have ups and down, not only in the course of the year but in the course of your career. You have to figure out a way to ride them out and keep fighting and keep finding a way to improve and make adjustments."
What he's endured in recent seasons has made him appreciate his current situation.
"You realize you don't want to take for granted those opportunities you have to play this game without those little nagging things," he said.
Twitter: @dylanohernandez
Get our Dodgers Dugout newsletter for insights, news and much more.
You may occasionally receive promotional content from the Los Angeles Times.