Dodgers' Yasmani Grandal will continue to rest his strained forearm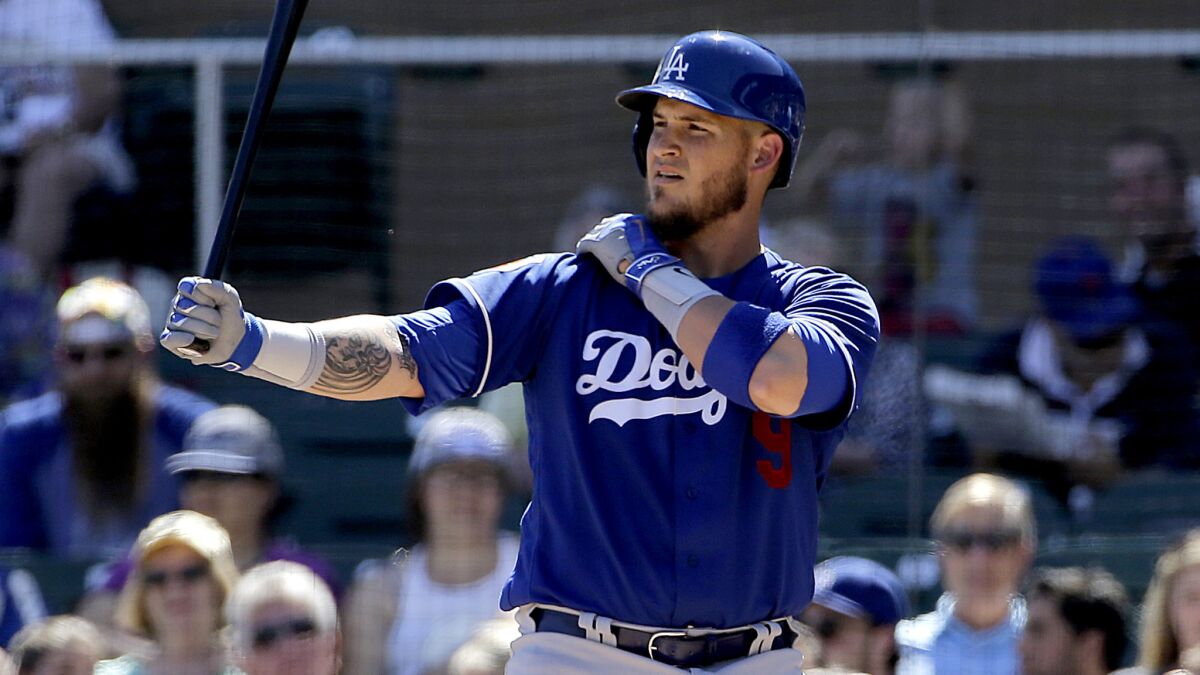 Reporting from Phoenix —
The Dodgers instructed Yasmani Grandal not to swing a bat or throw a baseball until Sunday as he attempts to quell the soreness in his strained right forearm. His readiness for opening day becomes another question for the organization to sort out during the next 10 days.
Grandal underwent an MRI exam on Tuesday that showed "nothing of significant damage," Manager Dave Roberts said Thursday at Camelback Ranch. But he will continue to rest as the Dodgers hope to avoid a recurrence of the injury.
Grandal may not play in a major league game this spring, so the team could backdate a stint on the disabled list if he is not ready for opening day.
At best, Roberts explained, Grandal may not appear in a minor league game until Monday. Grandal relayed a more vague timetable. He minimized the severity of the injury.
"They didn't set a date yet," Grandal said. "All they said was 'Hey, we don't want to go out there too soon and [reinjure] it again. Let's just step back and work on different things.' It's not like I feel bad when I'm playing or anything. I feel like I'm ready. If the season was to start tonight, I could start tonight."
Grandal aggravated the soreness in his forearm while taking a swing Monday. Roberts removed him from the game as a precaution. He may have to miss a full week before he can return to action.
"For us, it's more of doing everything we can to get him healthy," Roberts said. "And so he can sustain being on the field for multiple days."
Seager gets work
Corey Seager took four at-bats in minor league games in his first live action since spraining his left knee on March 12. He has not been cleared to run the bases at full speed, but his schedule called for him to play six innings of defense in another minor league game.
Seager remains confident he can be ready to start at shortstop on opening day.
"I've had no problems so far, so that's nice," Seager said. "Mentally, it's been great, because there has been no pain. It would probably be a little more frustrating if there was a little pain, if I had any setbacks, that would mess with you mentally. So far it's been good on both sides, physically and mentally."
Ethier can only wait
Outfielder Andre Ethier returned to Camelback Ranch three days after a CT scan discovered a fracture in his right tibia. The broken leg will sideline Ethier 10 to 14 weeks.
The injury derailed him during a productive spring. He figured to play a significant part in the team's offense at the start of the season, in part as the leadoff hitter against right-handed pitchers.
"I'm not trying to toot myself too much, but I feel like I was at the point where I was making a difference again, and helping this team to a certain extent, and proving to be a guy that can make a difference for them," Ethier said. "When that gets taken away on something so freak like this, that makes it tough."
Follow Andy McCullough on Twitter: @McCulloughTimes
---
Get our Dodgers Dugout newsletter for insights, news and much more.
You may occasionally receive promotional content from the Los Angeles Times.