Dodgers are in position to acquire some roster help before trade deadline
As he walked across the Wrigley Field diamond on Wednesday afternoon, Dodgers manager Dave Roberts burst into a smile. Cubs pitcher Yu Darvish had just completed a simulated game and came over to visit with former teammate Kenta Maeda. Roberts extended his hand to embrace Darvish. His affection for the player outweighed the bitterness over the ending of last season.
"Yu-san! How you doing, Yu?" Roberts said. "We miss you. Kenta misses you. You look good in this, but better in a Dodgers uniform."
Acquired with minutes to spare at last summer's trade deadline, Darvish's legacy as a Dodger will always be sullied by his final two starts against the Houston Astros. He helped the Dodgers capture their first National League pennant since 1988. Then he imploded twice in the World Series, including Game 7.
Despite the ugly denouement, the Dodgers pursued re-signing Darvish during the winter, while still trying to hew beneath the sport's $197-million luxury tax threshold. Darvish opted for a six-year, $126-million deal from the Cubs over a less lucrative offer from the Dodgers. As the Dodgers pursue upgrades for their roster again this summer, they will remain restricted by their insistence on avoiding penalties from the competitive balance tax.
Before this season, the Dodgers had been penalized for five consecutive seasons for violating the threshold. By staying beneath the limit in 2018, the Dodgers can reduce their taxation rate from 50% to 20% in 2019 as they consider a free-agent class expected to include Clayton Kershaw, Bryce Harper and Manny Machado.
With this in mind, the Dodgers practiced a winter of austerity. They signed only one player to a multiyear contract, and that was a two-year, $2-million deal for 39-year-old second baseman Chase Utley. Their frugality left them with room to maneuver before the July 31 trade deadline — but not much.
The team's luxury-tax payroll is estimated to be $181.5 million by Cot's Contracts. That figure does not include Maeda's bonuses, which averaged $5.875 million from 2016 to 2017. If Maeda reaches his incentives at a similar rate this year, that would afford the Dodgers a buffer zone of less than $10 million to add without crossing the threshold.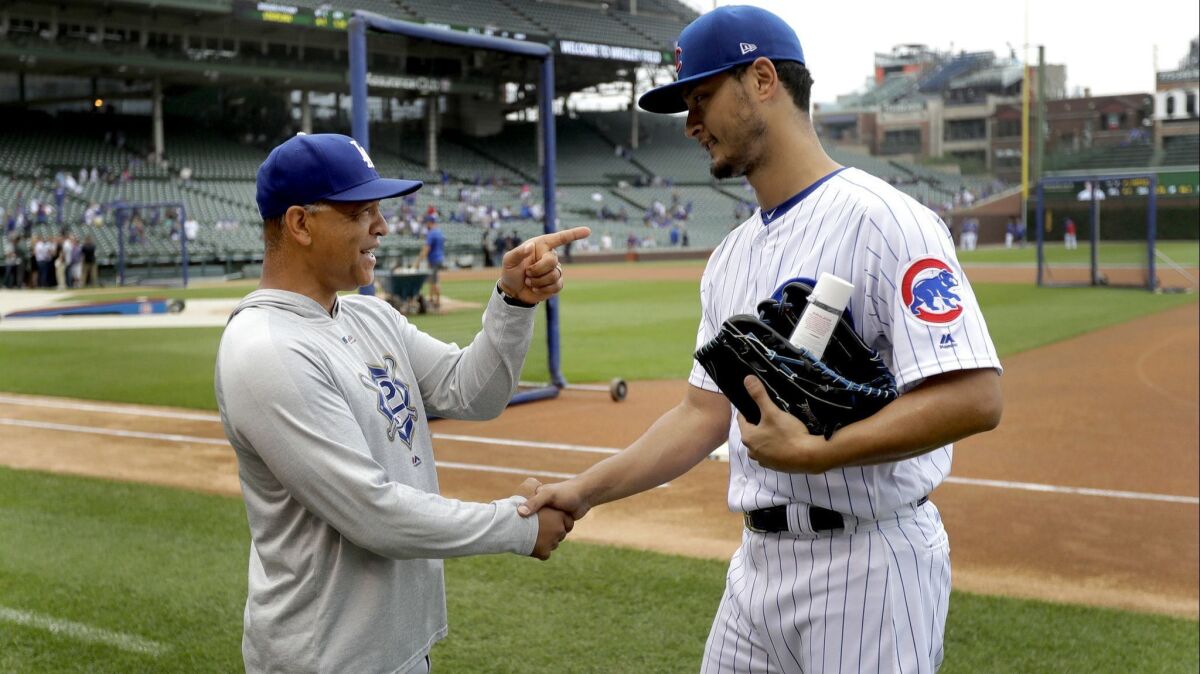 The Dodgers could convince their trade partners to absorb salary, but they would have to pay by giving up additional prospects. That complicates any potential negotiation.
With perhaps only one significant financial bullet in their holster, the Dodgers must determine what their most pressing need is. That remains unclear as the team waits for a few key contributors to return from the disabled list. The starting rotation has dealt with an onslaught of injuries, with Kershaw, Rich Hill, Hyun-Jin Ryu, Walker Buehler and Maeda all shut down at various points.
"A week or 10 days ago, I think we would have been eager to add someone" for the rotation, general manager Farhan Zaidi said.
The team's prospects look brighter now. Hill was excellent in six scoreless innings against the Cubs on Tuesday. The team expects Kershaw and Buehler to return in the next two weeks. The Dodgers can probably afford to observe the market for starting pitchers.
Outside of the Mets' duo of Jacob deGrom and Noah Syndergaard, there are few pitchers expected to be available with the ceiling of Darvish or Hill, whom the Dodgers acquired at the deadline in 2017 and 2016, respectively. The Mets are not believed to be seriously fielding offers for either young ace, but the Dodgers possess the sort of talent capable of pulling off a deal for either, according to rival executives. The other candidates include Texas left-hander Cole Hamels, Toronto left-hander J.A. Happ and San Diego right-hander Tyson Ross.
The Dodgers bullpen lacks a reliable setup man to station beside closer Kenley Jansen. Maeda filled part of that role last October, but the team has yet to find a replacement for Brandon Morrow. Tom Koehler, one of the few free agents signed by the Dodgers this winter, has yet to pitch in 2018. Scott Alexander could play a prominent role after rebounding from an April swoon.
Machado, the Orioles shortstop, is the most dynamic player expected to be on the market. The Dodgers have engaged with Baltimore about Machado in the past, but the Orioles are notoriously difficult to consummate trades with. Machado will earn $16 million this season, although a significant portion of that amount has already been paid by Baltimore.
After losing Corey Seager for the season because of a torn elbow ligament, the Dodgers slid Chris Taylor in at shortstop. Taylor's production at the plate has picked up after an early slump, but he could also help by moving over into the biggest hole in the lineup: second base.
Logan Forsythe has performed below expectations the past two seasons at the plate. Utley posted a .381 on-base plus slugging percentage in May before landing on the disabled list. The team has started to use upstart utility man Max Muncy at the position. Even so, as a group, the Dogders' second basemen ranked 29th in baseball with a .614 OPS heading into Thursday's games. Muncy might improve that.
"Our interest in adding obviously changes with the dynamic of what we have internally," Zaidi said. "Once you start getting into the rental market, obviously with those guys, there's more of an incentive to act sooner, knowing the benefit you're actually getting gets less and less every day. I would guess that we might have more incentive to add sooner in a rental scenario, just to feel like we're getting some value back."
Twitter: @McCulloughTimes
Get our Dodgers Dugout newsletter for insights, news and much more.
You may occasionally receive promotional content from the Los Angeles Times.