Dodgers are hoping A.J. Pollock is their everyday answer to consistency issues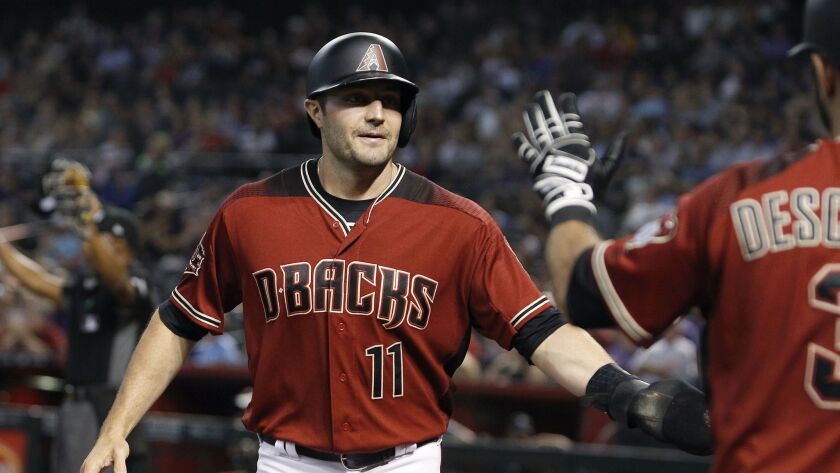 Andrew Friedman believes the 2018 Dodgers were the most talented team he has constructed, but for a few reasons, bad luck included, it was not the best. The Dodgers president of baseball operations assessed that roster and decided it should've won more than 92 games. Inconsistency, he deduced, was the culprit, and he has sought to correct the flaw this offseason.
Enter A.J. Pollock, the oft-injured but talented all-around player the Dodgers signed to a multiyear contract Saturday to help counter the inconsistency. Pollock gives the Dodgers a true center fielder with strong defensive skills and a proven right-handed presence for a lineup that needed one. The metrics also say he's a very good baserunner. He's the kind of player the Dodgers believe counters the boom-or-bust trait that afflicted them last season.
"The consistency is something we're going to harp on a lot," Friedman said after Pollock's introductory news conference Saturday. "And being able to have our talent come out on a nightly basis way more often, I think is something that is important. So balancing out a little more the versus-right, versus-left was important for that."
That's all moot if Pollock, 31, isn't on the field. He has not played close to a full season since his All-Star campaign in 2015. A broken elbow and strained groin limited him to 12 games in 2016. He played 112 games in 2017 and 113 last season for the Arizona Diamondbacks.
"I felt like a lot of them were impact injuries, kind of freak stuff," Pollock said. "I feel like I do a really good job keeping my body in shape. And I just got to keep trusting the process. I feel like some things haven't gone my way as far as injuries. But absolutely I think a lot of my injuries, they weren't really overuse. It was kind of freak stuff."
Friedman said the Dodgers examined closely the injury history. They prodded for information about Pollock's work ethic and lifestyle. They concluded the injuries, which Friedman pointed out included only one significant soft-tissue problem, did not represent a worrisome pattern.
The Dodgers expect Pollock to play center field every day, which means Cody Bellinger, who started 78 games in center field last season, will play more corner outfield in addition to first base. At-bats will be scarcer for Alex Verdugo and Joc Pederson unless another move is made to address the surplus.
"I don't think you go out and sign a player like that, to even bring in the word platoon," manager Dave Roberts said. "You look at last year, I think he hit right-handers better than he did left-handers. So he's a guy that, I think … he's going to play every day. But I think that the idea of giving him days off, getting ahead of things, with the rigors of a long season, that's something I'm going to have a conversation with him. But when you're talking about every day versus not every day, he's an everyday player."
Pollock said he had his eye all offseason on signing with the Dodgers. He felt it was a fit. He worked with Robert Van Scoyoc, the Dodgers' new hitting coach, last season in Arizona, he loves Los Angeles and he wants an opportunity to win.
But like most of his free-agent peers, Pollock found an unforgiving market. He ultimately signed a complicated contract that could keep him in Los Angeles anywhere from three to five seasons for $45 million to $60 million; the deal includes an opt-out after the third season if he reaches a certain amount of plate appearances and a $10-million player option with a $5-million buyout for the fifth season.
"It's different out there right now," Pollock said. "There's a lot of stuff going on, but what it came down to was we couldn't put a number on a good fit, a place where we could win. Me and [his wife] Kate absolutely love it out here. It's a beautiful place. The weather's amazing. … We feel really grateful and blessed to be here. That's kind of where our heads at. I didn't think too much more beyond us, and what's best for us and the fit."
For competitive balance tax purposes, Pollock's deal is worth $60 million over five years, making him an annual $12-million hit on the Dodgers' CBT payroll. With the signing, the Dodgers are about $7.9 millon under the $206-million CBT threshold, according to Cot's Baseball Contracts.
Sign up for our daily sports newsletter »
Twitter: @jorgecastillo
---
Get our Dodgers Dugout newsletter for insights, news and much more.
You may occasionally receive promotional content from the Los Angeles Times.