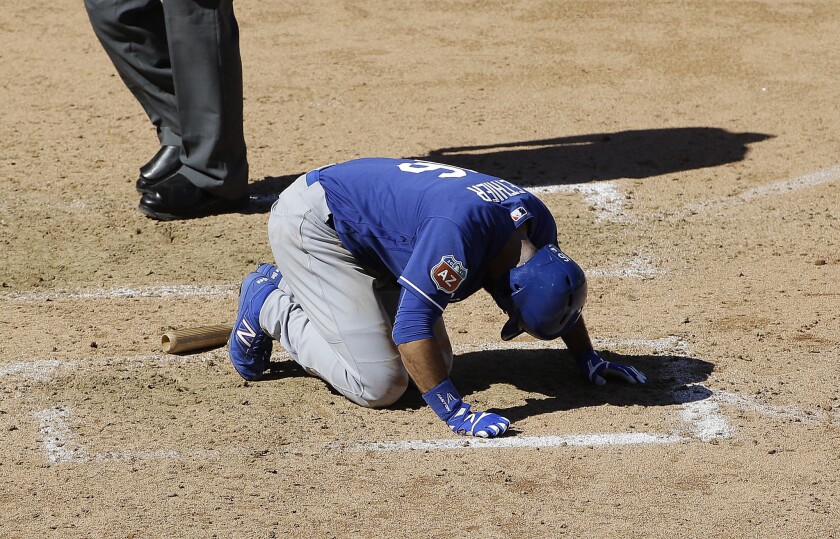 REPORTING FROM PHOENIX —
The winds swirled and the stadium's speaker system blared "Don't Stop Believing" as Andrew Friedman, the Dodgers' president of baseball operations, met with a pack of reporters near the back entrance of the team's complex at Camelback Ranch on Tuesday. The principal topic was Andre Ethier's right leg, the latest source of consternation for a team already besieged with injuries.
Three days after an X-ray showed no damage, a CT scan had revealed a fractured right tibia. Ethier will miss 10 to 14 weeks, the team said, robbing the Dodgers of one of their leadoff hitters and forcing Friedman to dip once more into his carefully constructed roster.
"No one's going to feel sorry for us," Friedman said.
The spring has not treated the team kindly. Neither the pitchers nor the hitters have been spared. Brett Anderson underwent back surgery. Hyun-Jin Ryu fell behind the team's initial timetable. Mike Bolsinger strained an oblique muscle and won't be ready for the first week of the season.
The team's infield has yet to unite for a Cactus League game. Third baseman Justin Turner delayed his spring debut as he recovered from microfracture knee surgery. Shortstop Corey Seager has a sprained knee. Catcher Yasmani Grandal has a strain in his forearm that required additional testing Tuesday.
And now Ethier may be idle until June.
The onslaught led to a defiant tone from Friedman. The front office heard criticism this winter when it allowed Zack Greinke to depart in free agency and elected to retool along the margins on its roster. The strategy, in his eyes, left the organization capable of handling a hellish spring like this one.
"We talked a lot about depth in the off-season, and it falls on deaf ears," Friedman said. "It's not something that really manifests itself until halfway through the season. Unfortunately, we're tapping into it a little early. That being said, we're excited about the guys that we have on hand for just this situation."
Friedman conceded the timing of the injuries, all accrued before even entering the proving ground of the season, complicated the club's vision for 2016.
"Ideally, you never want it tested," Friedman said. "If it's going to be tested, ideally it's staggered over the course of the year. When it's concentrated, it certainly puts a strain on your depth. . . . It's something we'll sit down as a group and work through together."
Manager Dave Roberts suggested Carl Crawford would platoon with Scott Van Slyke to fill Ethier's place in left field. The team intended to pair Van Slyke, who excels against left-handed pitchers, with Ethier anyway.
The gap between Ethier and Crawford is sizable. Ethier posted a .900 on-base-plus-slugging percentage (OPS) against right-handed pitchers in 2015. Crawford managed a .712 OPS against right-handers. Crawford is also a significant injury risk. He has averaged 80 games per year since 2012.
Trayce Thompson looks like the sole beneficiary of Ethier's injury. Thompson, a talented defender acquired in the off-season, can handle all three outfield positions. Roberts could utilize him as a pinch-runner or defensive replacement.
Weeks ago, after Anderson went down and a series of scrapes dinged his infield, Roberts declared his team had experienced enough injuries for one spring. The latest malady tested his patience and reminded him of the game's cruelty. Ethier is sidelined for months because he struck a baseball in the precise spot between his shin guard and his knee pad.
"It's just the irony that he had two different pads, and it's the three-inch expanse that he could get hit in and hurt himself — and that's where the ball hit," Roberts said.
Roberts told Ethier to relax for a few days with his family away from the complex. Both Friedman and Roberts relayed his mood.
"He's frustrated," Friedman said. "It's a freak injury. You see it all the time where guys foul balls off their leg, and very rarely does it result in this."
andy.mccullough@latimes.com
Follow Andy McCullough on Twitter @McCulloughTimes
---