Dodgers' Andrew Toles is ready to take his place on the field again
Reporting from phoenix —
His facial hair gave him away.
For Game 7 of the World Series, the Dodgers offered tickets to a few players who weren't on the playoff roster. The players filtered into Dodger Stadium seats that weren't "in the nosebleeds, but they were too high," chuckled Andrew Toles, a member of the group.
The location deposited them among the diehards, and a steady drumbeat of fans asked Toles for pictures. As the team on the field sputtered to defeat, Toles had no hope of remaining incognito.
"There aren't too many short black dudes with beards just walking around," Toles said. "We've got good fans. They keep track of all that."
It was easy to lose track of Toles last season. After he suffered a torn anterior cruciate ligament in early May, he underwent season-ending surgery and faded from sight. His appearances at Dodger Stadium became sporadic. During the summer, manager Dave Roberts invited him on several occasions to visit the team. Toles usually declined.
Toles had long been something of an enigma. He took a circuitous path to the Dodgers, with stops at two colleges, an unsuccessful tenure with the Tampa Bay Rays and a brief stint as a grocery bagger at Kroger as he took a year off from baseball.
He rocketed from Class-A to the majors in 2016, posting an .870 on-base plus slugging percentage during the regular season before batting .364 in 11 playoff games.
Toles broke camp with the Dodgers last year as a starting outfielder. He hit five homers in 31 games before he crashed into the left-field corner at Dodger Stadium chasing a ball. He had wedged his right knee into the wall, and his ligament surrendered.
The same injury ended the NFL career of his father, Alvin, who had played linebacker for the New Orleans Saints. The symmetry jarred Toles at first, but he recognized the leaps made in orthopedic surgery since the late 1980s. Toles had seen NFL stars such as Adrian Peterson, Tom Brady and Tyrann Mathieu bounce back quickly from ACL tears. He figured he could do the same, and threw himself into the rehab.
"You don't have anything else to do," Toles said. "You might as well. You know what I'm saying? What am I going to do, feel sorry for myself because I'm hurt? I really don't have anything else to do but rehab."
A little more than 10 months after the surgery, Toles has reemerged as a potentially crucial part of the Dodgers outfield. He was a full participant in Cactus League games, and displayed the same combination of speed, unexpected power and hand-eye coordination he showed during his breakout performance in 2016.
His approach at the plate caused general manager Farhan Zaidi to describe Toles as "a little bit of a wild card, in a good way."
"He has an element of unpredictability to his game, which adds a different energy to our team," Zaidi said. "He can hit a ball very hard in any count, in any situation. That makes him a difficult guy to game plan for."
Toles' place on the opening day roster was uncertain as camp drew to a close. On the surface, during spring games, he outperformed Joc Pederson, the former All-Star who already lost his starting role in center field to Chris Taylor. Pederson and Toles were the two left-handed hitters competing for time in left field, with Matt Kemp also figuring to see time as a right-handed batter.
Pederson regressed as a fielder in 2017 and batted .212 with a career-low .738 on-base plus slugging percentage. The team demoted him in August after acquiring Curtis Granderson — only to discover Granderson had seemingly lost the ability to make contact with a baseball. Granted reentry to the playoff roster, Pederson hit a trio of home runs in the World Series, a reminder of his ability.
As Pederson underwent a summerlong drama, Toles dealt with the tedium of rehab. He spent the first portion on crutches, limited to exercises designed to improve his range of motion and cardio sessions on a stationary bike. He would ride the bike, ice his knee, stretch some and then go home.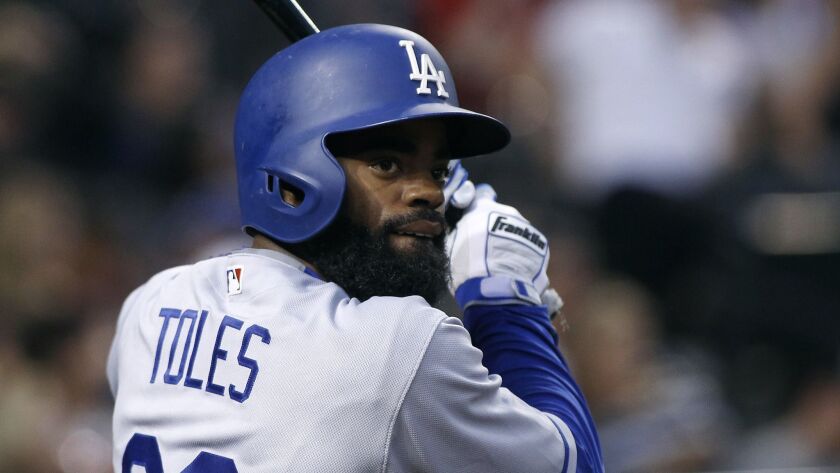 After that, Toles graduated to a more strenuous phase. Working out at Camelback Ranch, he broke up the scar tissue around his knee through exercises with strength and conditioning coach Brian Stoneberg. "It was really painful," Toles said.
Summer in the Salt River Valley can be miserable. Temperatures reach triple digits, and stay there deep into the night. The complex at Camelback Ranch in Arizona is relatively empty, with small groups of injured players rehabbing in the dry heat.
"It's just a grind," Zaidi said. "You try to do what you can to negate it."
The Dodgers try to keep things loose. They usually give the players Sundays off. The staffers encourage the players to visit the the geographic wonders of Arizona cities such as Sedona, Page or Payson. Toles reconnected with some friends from around the game and found a more appealing destination nearby. "Scottsdale's fun, everybody knows that," he said.
He was also finding a tempo to his days, which explained his response when he heard from Roberts. The manager wanted to make sure Toles, who had dealt with anxiety earlier in his career, "didn't feel ostracized," he said.
"I called him numerous times to check on him," Roberts said. "I wanted him to still feel connected to us. And so I gave him multiple opportunities to come join us. And he just felt that his rhythm, and what he was doing here, was more than adequate. He wanted to stick with the routine."
As Toles rebuilt the strength in his knee, the training staff aimed to improve his sense of control on the field. Stoneberg commended Toles for his exertion on the field, but suggested a few tweaks to regulate himself. Toles learned to apply the advice to the basics of exercise — a 20-minute run, for example, did not need to be a full-on sprint — before extrapolating them to the diamond.
"He's such a freak athlete that he can do anything," Stoneberg said. "But just being able to take that freak athlete and tie it into a little bit of body awareness, and knowing that 'Hey, you don't have to give 110% all the time. There's a proper time to go 60, 70, 80, 90 and 100. And that's going to be more sustainable throughout your career.'"
The visit to Dodger Stadium for Game 7 reminded Toles about all he missed. By January, he was taking swings in the batting cage. When camp began, Roberts suggested Toles would be slightly behind his outfield teammates as he shook off the rust. The lag did not last long; Toles swatted a triple in one of his first Cactus League games and sprinted around the bases.
Asked if he was enjoying his return, Toles nodded vigorously: "Hell yeah. I mean, rehab sucks. Everybody knows that. Just to be back on the field. Sometimes I don't even care if I'm in the game. I just want to watch it. I like practice. I like all those things."
Toles may not begin the season in the majors. But he expects his presence to be felt in 2018. And all the lessons he learned during his lost year of 2017 will only aid that pursuit.
"I just feel rebooted," Toles said. "A new mind-set. Trying to enjoy baseball."
Twitter: @McCulloughTimes
---
Get our high school sports newsletter
Prep Rally is devoted to the SoCal high school sports experience, bringing you scores, stories and a behind-the-scenes look at what makes prep sports so popular.
You may occasionally receive promotional content from the Los Angeles Times.