Dodgers pitcher Ross Stripling continues to shine in 3-1 victory over Angels
The Dodgers fully expect Kenley Jansen to be selected Sunday to his third consecutive All-Star team. The closer rebounded from Friday night's meltdown to strike out two of three batters in the ninth inning of the Dodgers' 3-1 victory over the Angels on Saturday and notch his 24th save, second-most in the National League.
Among Jansen's travel companions to Washington for the July 17 game could be pitcher Ross Stripling, a 28-year-old right-hander who opened the season in the bullpen, made one April start and in May, after injuries sidelined starters Clayton Kershaw, Rich Hill and Hyun-Jin Ryu, emerged as the team's de facto ace.
Stripling fashioned another gem, this one in 100-degree temperatures in Angel Stadium, giving up one run and three hits in six innings, striking out seven batters and walking none to improve to 7-2 and lower his earned-run average to 2.22, second-best in the NL behind New York Mets ace Jacob deGrom.
Using a four-pitch mix that features one of baseball's best overhand curves, Stripling has racked up 103 strikeouts and walked only 13 batters in 891/3 innings.
"It would be awesome for him to go," Jansen said. "He started the year in the bullpen, and then Kersh, Rich and some other pieces went down. For him to hold this team up and help us stay in the race … he's turned his career around."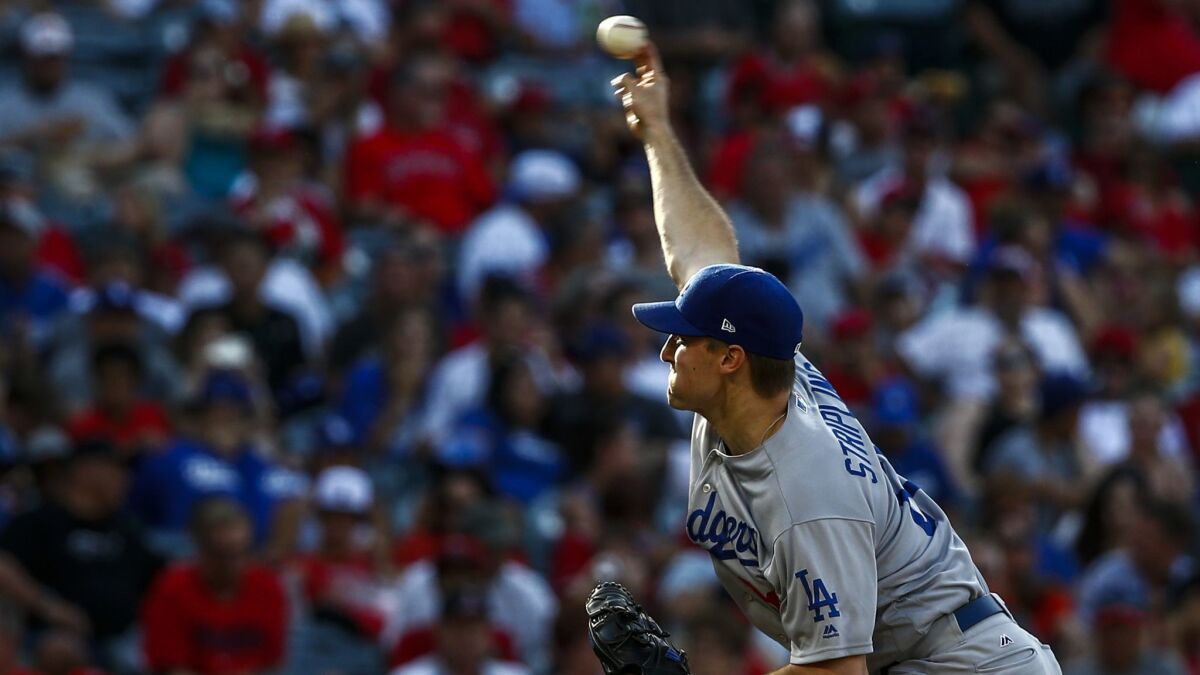 Left fielder Matt Kemp, whom many thought would be traded before the season, is expected to be voted by fans as an NL starter. Infielder Max Muncy, who opened the season at triple A, could be on the team on the strength of his 20 home runs and 1.027 on-base-plus-slugging percentage.
"At the beginning of the year, if you thought guys like myself, Kemp and Muncy were gonna be our potential All-Stars, guys would have told you you're lying," Stripling said. "But that's what we're looking at. If I'm one of the guys who is chosen to represent the Dodgers in the All-Star game, it would be awesome."
Stripling, partly aided by the shadows created by the late-afternoon start, did not give up a hit to a batter not named Mike Trout.
The Angels star had all three hits against Stripling, singles in the first and third innings, and a home run — Trout's 25th — to center field in the sixth inning that cut the Dodgers' lead to 2-1.
"He's got good stuff," Trout said. "It's very hard to see in a 4:15 p.m. game. Shadows are tough. It's a battle. It's kind of uncomfortable."
The Angels mounted two two-on, two-out threats in the first and third innings, but center fielder Joc Pederson made a diving catch of Albert Pujols' fly ball in shallow left-center field to end the first inning, and Justin Upton, who is batting .161 with runners in scoring position, flied to right field to end the third.
Outside of Trout, the Angels didn't create much hard contact against Stripling.
"I think his ball moves late in the strike zone," Dodgers manager Dave Roberts said. "His ability to change speeds and to speed hitters up, slow them down, work in and out gives him the ability to keep the ball off the barrel."
Roberts will manage the NL squad in the All-Star game but won't have a say in the selections. If he did, Stripling would be on the team.
"The case is solid," Roberts said. "You look at the numbers, what he's done against the competition … he's an All-Star."
Right-hander Deck McGuire, pressed into the rotation because of injuries to Nick Tropeano and TylerSkaggs, threw three scoreless innings for the Angels, giving up one hit, striking out six batters and walking two.
The Dodgers scored twice against Taylor Cole (0-1) in the fifth. Yasiel Puig led off with a single, Enrique Hernandez walked and Pederson advanced the runners with a bunt to first base, the second sacrifice hit by a non-Dodgers pitcher this season.
"He bunted on his own," Roberts said. "I like the unselfish play out there."
Muncy struck out, but Cole couldn't get a 95-mph fastball by Justin Turner, who lined a single to right to drive in Puig and Hernandez.
Puig tacked on an insurance run in the ninth when he pulverized a Noe Ramirez 92-mph fastball, sending a 419-foot home run to center field.
Edward Paredes, Erik Goeddel, Daniel Hudson and Scott Alexander combined for two relief innings to get the ball to Jansen, who said he got only a few hours of sleep after Friday night's 3-2 walk-off loss to the Angels.
Jansen walked Shohei Ohtani after starting him with two strikes Friday. He failed to hold Ohtani on, allowing him to easily steal second. He failed to back up home plate, allowing the winning run to score on an error.
"Shoot, I was hard on myself last night," Jansen said. "I mean, once in a while, you're gonna blow a save, but four straight balls, not holding the runner at first, not backing up home plate? That was on me, I lost that game.
"Man, it was tough. I had a rough night. But I woke up this morning, told myself to just forget about it, be ready and try to get locked in. I got in, and it felt good. I get to sleep tonight."
---
Get our Dodgers Dugout newsletter for insights, news and much more.
You may occasionally receive promotional content from the Los Angeles Times.